In high school I decided that I didn't want my career to be focused on making rich people richer or even to make myself rich, I wanted to focus on having a positive impact on the world in some way. I thought this was a simple enough goal to guide my career path, until Junior year in college. My friends started prepping for LSATs, talking to on-campus finance and consulting recruiters and I quickly noticed there were no not-for-profit (NFP) recruiters coming. In my mind working for a NFP meant that you were a volunteer or paid next to nothing because all of the money needed to go to the cause. I didn't realize there were real jobs to be had in the sector.
It wasn't until I came across Idealist.org that I realized there were real jobs and careers in the NFP sector. The very knowledge that there was a site with job postings from quality NFP's changed my career path and made it tangible. Idealist.org became my on-campus recruiter.
Why use Idealist.org?
A Google search for "job websites" yields 91.3 million results. There are huge players like Monster Jobs, Career Builder, Hot Jobs and Craigslist (to name a few). As an organization, the problem is that if you're looking for a quality hire it can be incredibly difficult to find them on these sites because of the amount of noise. There are auto reply job application systems, job recruiter spammers (these guys suck) and job shoppers (just looking -- not committing) that you have to weed through to find quality NFP applicants.
TheLadders.com is a job website "where $100k+ talent finds $100k+ jobs." The site focuses on the $100k job market and attracts a community with the qualifications for these types of jobs. Idealist.org does the same thing for passionate people interested in working for NFP's. The key difference is that job seekers know they can earn huge paychecks from law firms and investment banks -- they don't always know there is a way to work for a cause they care about.
Idealist.org is a unique job website in its ability to inspire a career thought-shift of this level. I know because it happened to me.
How to Land a NFP Job
Timing is key, the summer is the wrong time to vacation if you're looking for a job in the NFP sector. According to six years of Idealist.org's data, the peak season for postings is July and August.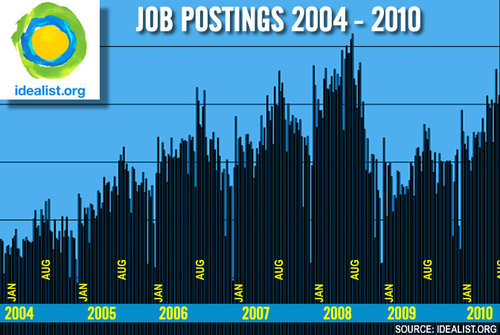 At DoSomething.org, an entry-level Idealist.org job posting yields 200 plus resumes from younger applicants. We require resumes, cover letters, ways to improve our org, and some other funny questions. An applicant that doesn't include everything in an application is already sending a clear message to us -- I don't care enough.
We then have follow up emails with 25-40% of applicants, where we ask for something extra written. When an applicant responds quickly, with the right info, it is a great sign that they are hungry and can stay on top of their email. The top 5-10 people from this group are then interviewed by their future direct report.
Every interview includes this question: "Why did you choose to apply to DoSomething.org?" A guaranteed way to bomb this question is to answer, "I just wanted to work at a NFP and do good." There are 1.5 million NFPs in the U.S., covering just as many causes and a bland intention to work for the sector doesn't cut it for us.
The last phase is a series of group interviews with the staff to see how applicants mesh with the office culture. A good sense of humor, energy and passion play very well.
We post every open position on Idealist.org and have found people like Melanie who stood out with her energy and great work around New Orleans. She has now worked with us for 2 years and has been a huge asset to our business development team. She still says "Idealist.org changed the course of my life."
To the NFPs
Teach for America (TFA) has an acceptance rate that rivals Harvard Law School (11.8%). This year 46,000 college graduates applied to TFA and only 12% were accepted (TFA release).
Responsibility is like a drug to the newly graduated -- TFA offers the opportunity to change a classroom which is why it attracted 12% of all Ivy League graduates. NFPs have to use the allure of growth opportunity in job postings and Idealist.org to recruit top talent. By collectively using Idealist.org NFPs create a TFA atmosphere, where an abundance of talented graduates can find the jobs that will shape their careers.
Full disclosure: I've donated $50 to Idealist.org