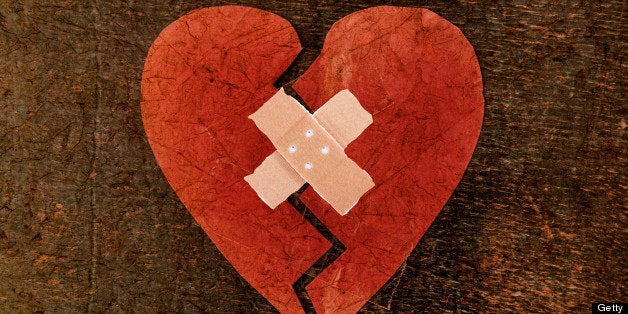 The breakup of a romantic, significant relationship can be painful, overwhelming, and filled with tears and recriminations for our self or the other person. We can feel as if someone has physically wounded us, pierced our heart, and left us without an emotional compass to find our way out of the pain.
We can become obsessed with trying to figure out what went wrong or how we can get that person back into our lives. We often talk non-stop about the break-up: telling anyone who will listen our tale of woe, going over and over again what happened and how we might have made the outcome different. We can find ourselves at the bottom of an emotional abyss desperate to stop the hurting.
Divorce can be an especially painful breakup as there are many components to the split -- emotional, financial, legal, geographical and sadly often the issue of child custody. We may think that we "should know better" than to act this way or "are stronger than this" and we "shouldn't be" in such a state of grief or feel so torn asunder that we cannot stop the feelings of the wanting, needing, craving and obsessing over the relationship.
For those of us who have been through a painful divorce and experienced the tsunami of emotions that can accompany the end of a romantic relationship, there is new research and information to help us understand better what is happening to us and help us to know how we can better cope with the intensity of a relationship break-up.
This new research comes from Dr. Helen Fisher, Ph.D., Biological Anthropologist, research professor, and member of the Center for Human Evolution Studies in the Department of Anthropology at Rutgers University. She is the Chief Scientific Advisor to the Internet dating site Chemistry.com (a division of Match.com), has conducted extensive research, written six books on the evolution and future of human love, human sexuality, marriage, gender differences in the brain, as well as how your personality type shapes who you are and who you love.
Currently, she is the most referenced scholar in the love research community. Her first book The Sex Contract was published in 1983 which examined the nature of human behavior. In 2004, she published the remarkable Why We Love: The Nature and Chemistry of Romantic Love, and went on to publish several more books that present her groundbreaking research in which she conducted multiple studies using MRI brain imaging on thousands of subjects.
Dr. Fisher and her research team conducted these studies in the U.S. as well as in China to demonstrate the universality of brain function and romantic love. Dr. Fisher says that romantic love is "really a drive -- a powerful, primordial, primitive drive to attain lives ultimate prize -- to win love." She began her research with trepidation which she states is due to the fact that "love is regarded as being part of the 'supernatural' -- the mysterious, unexplainable component of the human experience."
For those of us in health care practices, it is common to hear from clients the pain and heartbreak of their romantic relationships and whether or not they feel they can "ever trust or love another person again." After being deeply wounded, many of us would like to be able to just "put it behind us" and move on but Dr. Fisher and her team's research now explains why it is so painful and difficult to bounce back quickly from a broken heart and how desperate we sometimes feel during that experience.
The research conducted identifies the areas of the brain (the caudate nucleus and the ventral tegmental area) that show romantic love to be far more powerful and urgent than we may have previously believed. She says that romantic experiences "...are way below the emotional center and in fact are not emotions at all, but rather a powerful drive and need that is shared by all human beings."
She further explained the anterior insula which is the part of our brain that regulates physical pain and is now known to be the same pain center in the brain connected to emotional pain (such as the pain of loss and grief that can occur during a breakup of a significant relationship -- the experience of "heartbreak.")
As communication within relationships is the focus of the research I have been involved in for several decades, in addition to being a strong personal interest, having the opportunity to speak with Dr. Fisher about her well-documented research with attachment, the "reward system" of the brain, and the connection between physical pain and emotional pain was enlightening and awe-inspiring.
She states that loved, happy people are healthier and less stressed and can handle adversity better than those of us who are not, as well as the fact that brain circuitry is the same all over the world. Her international studies were conducted to show how universal these human drives and brain functions are in all people, regardless of culture, race, or geographical location.
There are additional studies, such as the Tylenol study out of the University of Kansas, College of Arts and Science, as well as the work of Geoff MacDonald, Ph.D., associate professor of psychology at the University of Toronto (who is also an expert in romantic relationships) that show that "our brain centers cannot tell the difference between physical pain and emotional pain."
The Tylenol study demonstrated that this simple aspirin-like compound can lower the discomfort of heartache as well as a headache, due to its effect on the anterior insula. So if you should find yourself soothing your heartache through your sweet tooth, consider taking two Tylenol before you reach for the Ben and Jerry's. Dr. Fisher reminds us that recovery from a broken heart takes time and process, but there is light at the end of the heartache tunnel -- and that we certainly can and do move on to love again.
If you want more information about this fascinating subject and how to help yourself overcome the heartache of lost love, visit www.helenfisher.com where a book list and further information on her research is available. If you would like a link to my interview with Dr. Fisher, contact me at gd@niwh.org.