Late Sunday, the U.S. Army Corps of Engineers (USACE) modified its original statement, and after consultation with tribal leaders, issued a new statement saying it has no intention of forcibly removing occupants of the Oceti Sakowin Camp at Standing Rock.
"The Army Corps of Engineers is seeking a peaceful and orderly transition to a safer location, and has no plans for forcible removal. But those who choose to stay do so at their own risk as emergency, fire, medical, and law enforcement response cannot be adequately provided in these areas. Those who remain will be considered unauthorized and may be subject to citation under federal, state, or local laws."
It is unclear how, if or when the USACE intends to enforce "unauthorized" camping at the site.
2,000 Veterans are scheduled to arrive on December 4, raising the population to near 10,000, the size of a small city.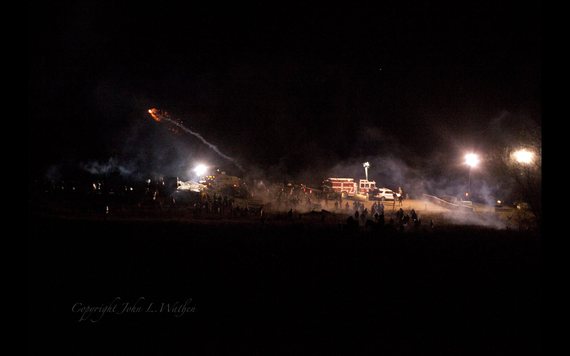 Image by John Wathen
Senator Al Franken (D-MN) joined a growing chorus of voices concerned about the use of water cannons for crowd control in sub-freezing temperatures. In a letter to the Department of Justice, Franken expressed alarm about the increasing use of violent and extremely dangerous force by local law enforcement in Morton County, ND.
"Native American populations have struggled for decades under the complex burden of historical trauma, and I have witnessed and admired how these communities have turned to their cultural foundations to build strength against that burden," Franken wrote.
On a more positive note, Thanksgiving dinner at the Fort Yates school included activist and actress Jane Fonda, who donated bison to feed the water protectors.
Energy Transfer Partners issued a statement on November 8, 2016 declaring that the Dakota Access Pipeline has not voluntarily agreed to halt construction of the pipeline in North Dakota.
"Dakota Access has now completed construction of the pipeline on each side of Lake Oahe and is currently mobilizing horizontal drilling equipment to the drill box site in preparation for the tunneling under Lake Oahe." Dakota Access maintains it has all other regulatory approvals and land rights to complete the crossing of the Missouri River at Lake Oahe.
USACE maintains that it has not issued the final drilling permit, and uncertainty has increased tensions at the camp.
The $3.7 billion pipeline, 1200-mile pipeline would carry 470,000 barrels of crude oil a day through North Dakota, South Dakota, Iowa and Illinois. Already the construction has destroyed culturally significant sacred lands. If completed, the Standing Rock Sioux Tribe maintains that it would jeopardize clean water for generations to come.