Crystal Balls

On Monday, The Army Corps of Engineers admitted flood waters currently contained by 27 levees along the Mississippi River could spill over about two dozen levees along the river in Iowa and Missouri "unless people top the levees with enough sandbags," spokesman Ron Fournier said.
Attempts to reach Fournier for a clarification resulted in a call from his office saying the "quotes were accurate," and that Fournier stood behind them.
The Chicago Sun-Times did make contact.
There is no way to predict whether these levees will break, Fournier told the Sun Times.
''That's a crystal ball that nobody has,'' he said.
Senator and Chairman of the Senate Agricultural Committee, Tom Harkin (D) confirmed in a press release that in eastern Iowa the flooding has washed out railroad lines, major roadways are closed and Mississippi barge traffic has come to a halt. 38,000 people have been displaced, but that is a shifting, incomplete number.
Harkin: "The situation is overwhelming our local agencies"
Today (Tuesday) Harkin's press office announced a federal disaster declaration of 13 Iowa
counties out of 99. This was after the powerful committee chairman sent what amounted to a pleading letter to FEMA on June 13 which read, in part, "Governor Culver has already issued an Emergency Proclamation for nearly all of Iowa's 99 counties, all experiencing significant damage due to the combination of severe rainfall, winds, and flooding. The situation is overwhelming our local agencies."
Now, the Army Corps of Engineers is bracing for more flooding near St. Louis and closed Mississippi River Locks 24 and 25 at Clarksville and Winfield.
In a brilliant public relations spin on their webpage, the Corps says sand is being moved and water is being contained on the east, or protected side of the Chain of Rocks Levee in Illinois. Not to worry though. The corps maintains that "this is not because of flooding."
What?
Corps authorities explain it is a "prudent precaution." After all there are "possibilities of water under seepage along the levee," the corps added. This possibility is buried several levels under the web index page. A fluff piece on lighthouses is featured on page one.
Someone should get a photo of this area and ask the question why, if there is no danger, the corps does not move its heavy equipment north and help move a few of those nearly two million sandbags.
No one seems to have asked the question, so this writer will ask it here. With the epic dimensions of this flood and the scope of the levee and infrastructure failures, how can the Army Corps of Engineers go before the devastated people of central Iowa and those threatened in Missouri and tell them they had better get busy and "top the levees?"
Armies of Industrious Amish and Mennonites
As of June 12, a total of 1,676,700 sandbags and 79 pumps have been issued to support state requests for assistance. But, someone has to lift those monstrously heavy sandbags. Nearly two million sandbags! The Associated Press reports that in Missouri, "armies" of industrious Amish and Mennonites, along with convicted felons and students are heave-hoeing those sandbags.
Whose responsibility is this anyway? Where is the outrage? People are too busy running for their lives to argue, one would assume.
Is this just another example of Naomi Klein's concept of disaster capitalism? The price of corn and grain is about to go through the roof, but America's collective eyes are elsewhere.
The New Orleans advocacy and watchdog group, Levees.org, has issued a statement on the Nola News Ladder saying that the flooding in Cedar Rapids Iowa has been "accurately compared to the flooding in New Orleans when levees breached during Katrina."
That is a noteworthy statement coming from an organization which has fought fiercely to ensure that government failures in the aftermath of Katrina remain in the public eye.
The contention is that the catastrophic failures in New Orleans and now throughout the Midwest can no longer be conveniently blamed upon "God" or "Mother Nature." Levees.org claims that what happened in New Orleans could happen anywhere, but this problem is not being addressed. "There are more people in the state of California in danger of catastrophic levee failure than in the states of Texas, Louisiana and Florida combined," says organization head, Sandy Rosenthal. "This is not just a New Orleans issue."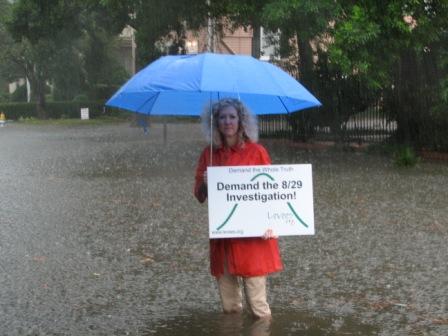 This photo shows Rosenthal in New Orleans on Sunday.
When asked about the Corps's suggestion that residents get busy with sandbagging, Rosenthal told me, "Properly built levees should be the right height and should be designed to withstand a few hours of overtopping -- in the event of a 1,000 year storm -- without danger of breaching."
In a recent statement, Senator Mary Landrieu of Louisiana (D) concurs, and has called for an independent investigation. She places the blame with "dangers presented by declining infrastructure."
In fact, the United States spends today roughly two-thirds less on civil works investment than it spent in 1960, relative to the gross domestic product," Landrieu said. Read the bill: 8/29 Investigation, Senate Bill 2826.
Reports from the flooded areas are beginning to take on feeling of a déjà vu.
Similar to stories in 2005 that slowly came out of New Orleans, there are reports of frustrated residents who want to return home being turned back at gunpoint, severely polluted waters due to the flooding of livestock areas and broken sewer lines, and water marks that reach up to eight feet on area homes.
So as not to diminish the tragedy of Katrina, it should be stated that most residents of the Midwest floods had the means to escape the rising waters. There are no photos of residents stranded on rooftops or on highway overpasses and so far at least, Blackwater has not made an overt appearance in the area.
How does one quantify the failures and suffering -- if at all?