A rock star-turned-environmentalist, a coach morphed into a master gardener, an inspired Vietnam Veteran author, plus memoirists, novelists, and writing coaches are part of the fantastic lineup at this year's Fourth Annual Savannah Book Festival. Rolling Stones keyboardist and environmentalist Chuck Leavell; former University of Georgia coach and master gardener Vince Dooley; and Beth Hoffman, author of the Savannah-based novel Saving CeeCee Honeycutt, will be joining war veteran Karl Marlantes, author of the novel Matterhorn:
The novel is set in 1969, the year after the Tet Offensive and the assassinations of the Rev. Martin Luther King Jr. and Robert Kennedy, a time when political tensions threaten to boil over into self-destruction. In the rear, racial agendas dominate the enlisted ranks, but in the bush, desperate Marines need one another more than they need Panthers and Klansmen. Fighting their way up the hillside of their former firebase, hatred and jealousy evaporate, even the Corps itself disappears. Every grunt bleeds red and craves only one thing -- to get out. Yet here Lt. Mellas achieves a clarity he gets nowhere else. He does his duty, not to God, country or ideology, but to the men hunkered beside him, for whom he feels an emotion he can only call love.
In addition to the roster of many fine authors, and as a warm up for the festival, there will be multi-media exhibitions by three renowned Georgia artists from February 3 through 19 in the Trustees Gallery at the Jepson Center for the Arts in downtown Savannah. The show will feature Rose Lane Leavell, Steve Penley and Cindy Wallace, all of whom will also be participating in the Festival, which will take place in and around Telfair Square on February 18 through 20 in Savannah's historic district.
This is a comfortable, non-pretentious festival, presented in the shadows of Telfair Academy, and Trinity Church, and sheltered beneath magnolias and moss-draped oaks. Kissed by the sea, the late winter air promises sweet spring and temperatures often in the low 70's. Savannah's artistic pedigree runs deep and true-- Flannery O'Connor, and Johnny Mercer lived here, and Savannah was also the setting for John Berendt's Midnight in the Garden of Good and Evil. If you want your mind and soul fed in a setting that positively drips southern hospitality, you can't go wrong at this gathering of world-class creative artists and writers. Find the complete list here.
The outdoor setting is inviting, beautiful, and there is always a surprise just around the corner. I attended last year on a writing assignment for the music offerings, but a chance encounter with a writer's workshop to fill up some down time presented a new creative path.
Through some mutual friends in Atlanta, I was lucky enough to make contact with slam poet James Navé. Navé happened to be conducting an abbreviated version of "The Imaginative Storm" writing workshop with Allegra Huston last year. For reference, Allegra is the half sister of Anjelica and daughter of famed director John Huston. I say "for reference," because once you have had the opportunity to work with Navé (his preferred appellation) and Allegra, you realize you are in the company of individuals who have honed their crafts to incisive art forms. No need for famous relatives to pad the resumes.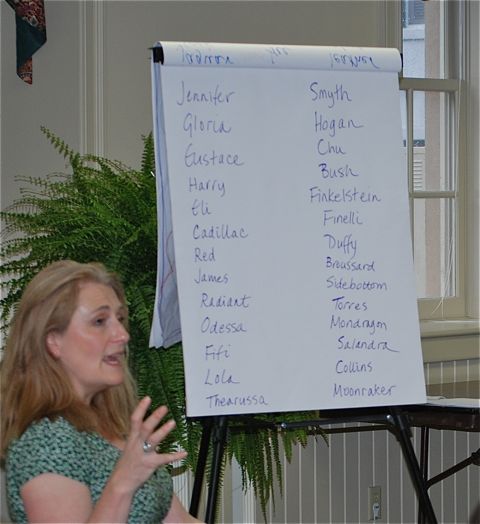 Huston unleashing her creative storm in Savannah
This chance encounter led me to a full-fledged version of their workshop in Taos last August. Their unique, unfettered format resurrects the oft-censored creative muse with a hurricane of wordsmithing that will literally reduce writer's block to a pile of rubble. Take your inhibitions, destroy them, pummel them, and use fresh words to build something beautiful.
Easy-going folks seemed drawn to the Taos workshop, and lasting friendships were forged in a small conference room attached to a coffee house. Huston wrote her memoir Love Child there and fine-tuned her short film "Good Luck Mr. Gorski" in the gardens there.
The bottom line is you have no idea whom you will meet in Savannah, what inspirational nuggets workshops will provide , or where friendships will emerge if you are open to all the Festival has to offer.
Most of the events are free and open to the public, including the Friday Night Keynote Address and the actual festival on Saturday. Festival costs are underwritten by donations of individuals, corporations, and the arts and literary funds of the Savannah community. Fundraising events will include a special Saturday evening talk with Sandra Brown and her son Ryan, and a Sunday Brunch talk with former UGA football coach Vince Dooley.
Savannah is a two-hour drive from Jacksonville and Charleston, 4 hours from Atlanta, and two hours by air from New York City.
Follow the festival organizers and updates on Twitter @SavBookFestival, and on Facebook.