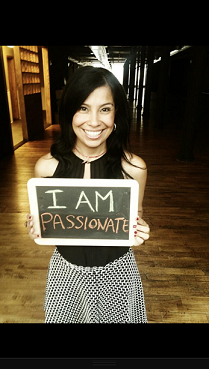 Last month, I had the honor of attending Claudia Chan's S.H.E. Summit in New York, a remarkable representation of women leaders changing the landscape for women in business. I was asked to share what one word was to describe me and where I was in my life right now for an event video for the conference. I thought the question was timely and also fit in nicely with the theme of the conference of "How Women Can Climb to the Top."
When I think of one word to describe me and where I am in my life at this very moment, a couple of words came to mind, but the one that struck home was "passionate." Right now, I am passionate about continuing to explore and go after my dreams and goals and overall fulfillment of life. I am passionate about discovering my purpose on this Earth and how to integrate that into my daily life. My heart is full with passion after achieving a life-time goal of summiting Mt. Everest in May of this year for a cause I care deeply about, as that served as my inspiration for climbing the peak in the first place. It has been passion that has pushed me to go further in life and break down personal limits, passion that has helped me conquer fears, and passion that reminds me to keep an open heart.
Claudia Chan opened up the conference with the thought that she didn't know one woman who didn't have an internal mountain that they were climbing. In the end, we all have a SHE Summit of our own, she said. I couldn't agree more, I had one in the literal sense of climbing the world's highest peak, but as I look to women entrepreneurs, I see their journey as an Everest of its own. What is your one word right now and how will that get you to your next pinnacle point? If you do not like your current "word," what would you want that to be and what can you start doing today to shift in that direction?
I left the conference inspired and full of momentum as a result of all the amazing speakers and incredible women I met there that are truly paving a new road for women in business. A couple of key messages have stayed with me since:
"Change is inevitable, but growth is optional." -Suparna Bhasin, Founder & CEO, She Creates Change
"Be willing to let the universe have a far greater plan than you do." -Gabrielle Bernstein, Motivational Speaker & Author, May Cause Miracles
"Don't hold back, we all have a gift, so give it and offer it up." -Agapi Stassinopoulos, Author, Unbinding the Heart
"You are exactly where you need to be." -Agapi Stassinopoulos, Author, Unbinding the Heart
The last point can at times be the hardest to believe when you are climbing up the mountain and you feel like you have so much further to go, or you are not sure you are going to make it, or you wonder if you should have gone another route. It is in those moments of doubt and fear in life that it is hard to trust that life has an awesome plan for you and that all the trials and lessons learned have been for a reason and to get you further in your journey up the peak.
Along our journey for whatever our next mountain may be, it is important to know who we are, what we want and be clear about the steps we need to take to get us to that next summit. Along the way, don't be intimidated to ask for what you want or for help along the way. Look at your fears in the face and work past them, and surround yourself with people that believe in you and will encourage you to keep going.
I had never really thought of myself or my life in terms of one word, but in doing so, it opened the door to needed self-reflection, and has made me more conscientious of how I want that word to evolve as I continue on my own journey and pave new trails. The S.H.E. Summit was an incredible, thought-provoking event that gathered a group of amazing women to share ideas, share our stories, support and encourage one another, and share our plans as to how to continue to break through ceilings and climb up mountains to make our dreams and goals come true both in business and in life.