Every once in a while in our lives we have encounters with people who are truly inspirational, who capture our hearts and our minds and are unforgettable. Mr James Brown Jr. was one of those people. He touched my life from a very early age, as a young African girl growing up in Zimbabwe. I vividly remember listening to his music on a small portable radio my father had bought for us and watching him perform on our black and white TV.
I believe James Brown is one of the most inspiring musicians in the world, whose influence will be shared and felt by generations to come. His magical influence on today's music can be felt through musicians like Michael Jackson, Prince, and Cee lo Green.
Recently, I had the honor and the privilege of connecting and talking to Mrs. Deanna Brown-Thomas, Mr James Brown's daughter. I wanted to learn more about the living legacy her father had created before his passing on Christmas day 2006.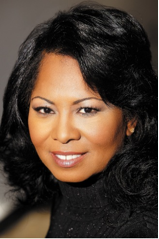 Mrs. Deanna Brown-Thomas is the president of the James Brown Family Foundation, an organization her father started by giving turkeys and toys during the holidays, over 20 years ago. She explained that this was his vision and she describes herself as just the construction work girl on the site, still continuing to build upon the foundation that he had started. She takes no credit but realizes that God has graced her with the strength to be able to do this work along with so many great people who help.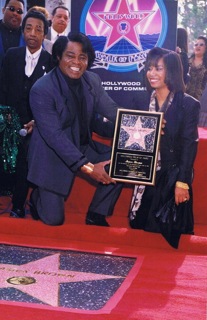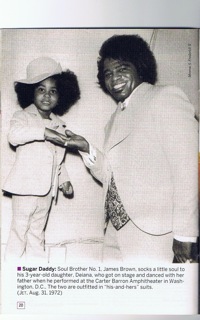 At the beginning of our discussion she shared that my first name Gertrude was synonymous in her life for a couple of reasons. Firstly, one of the women who helped raise her and was on the road with her father was called Ms. Gertrude Sanders, whom she used to call "Aunt Gertie."
"Gertrude Saunders was like everybody's mama. She was like the guard at that dressing room door, she was the valet, she took care of his clothes and made sure he had his food. She took care of my mom and of course my sister and I." Secondly, Gertrude was her mother-in-laws's name.
Needless to say, this made my day. I was speaking to Mr. James Brown's daughter and the second thing we had in common besides our love for her father was my unusual, old fashioned misspelt German name.
However, it does not end there; on doing further research I found that according to Wikipedia, in a career that spanned six decades, Mr. Brown profoundly influenced the development of many different musical genres. He moved on a continuum of blues and gospel-based forms and styles to a profoundly "Africanized" approach to music making. A third factor that we shared and when I watch him dance, I see his improvised dance skills showed the raw talent, that I have witnessed in a lot of African dances performances.
After she graduated from college, Mr. Brown insisted on Deanna going to broadcasting school and she graduated from Columbia School of Broadcasting, just outside of Washington D.C. She studied radio, television and film but the best life teaching for her was being on the road with her dad. She was able to see him at work, on stage and off stage.
Deanna remembers her father at one time travelling with a doctor, who after each show had to put IV fluid into him because he would be dehydrated from sweating while dancing and being on stage. He had an electrifying stage presence but he was just as electrifying at the round table when he got down to business. Besides the music and the dance, Mr. Brown was a very astute businessman.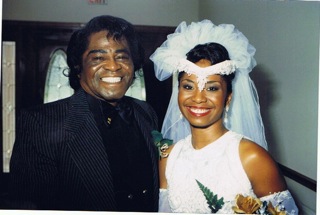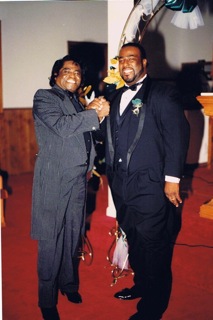 Mr. James Brown was a giver; he was a man with compassion for his fellow human beings. Deanna recalled an incident when she was driving with her father one day in South-Central Los Angeles in a long white limousine. She described how she could see the homeless lying on the sidewalk and how they seemed like dead people. Some were under card boards and dirty old blankets and her father suddenly told the limousine driver to stop the car.
What was incredible was the reaction of all those homeless people, when they woke up and opened their eyes and saw it was James Brown. They ran over to him and her father started giving out 50 dollar bills, 100 dollar bills and she remembers him approaching one young man and say, "Take this, go get some food for yourself, go and clean yourself up and just take care of yourself, there is hope out here for you." Deanna's father was giving people hope; he was trying to inspire them to realize that they still had a chance to turn their lives around. That showed her the power of not just who James Brown was but the power of being a person with a willing and giving heart.
The Annual James Brown Turkey and Toy give away was started in Augusta, Georgia in Mr. James Brown's home town. He was the type of person who did not forget where he came from. He had humble beginnings, he could not go as far as the seventh grade because he had to stop going to school in order to work and help care for the family in South Carolina. His family was very poor, wearing the same clothes and shoes with holes in them all year round. He did not forget where he came from and although he got out of the poverty, he still went back to make a difference.
On Tuesday, November 20, 2012, Vy Higginsen hosted the 2012 James Brown Family Children Foundation Annual Turkey Giveaway at the MAMA Foundation for the Arts in Harlem, NY.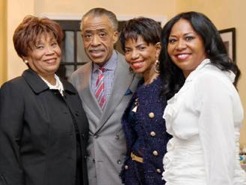 Pictured, left to Right: Vy Higginsen, CEO Mama Foundation for the Arts ,
Al Sharpton Baptist Minister and Civil rights activist,
Melba Moore, and Deanna Brown-Thomas.
Credit: Kevin Paige
Deanna said, "The Turkey and Toy Give Away was special because the community would come and get the opportunity to shake Brother Brown's hand and maybe even take a picture with him. He was able to reunite with people he went to school with who just did not make it out of the same situation he was in. And there he was just Brother Brown, not the God Father of Soul. He was just your brother in Christ on that day. "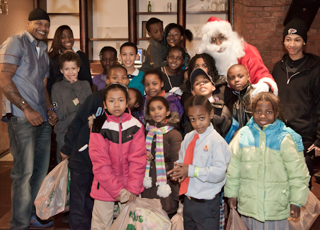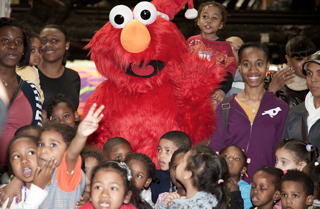 Mr. James Brown was a visionary, although he started this annual event over 20 years ago, The BFCF, a 501(c) (3) non-profit organization, was created to celebrate James Brown and to carry out his wishes. The family realized that there was a much deeper meaning to this event. Education was very important to Mr. James Brown and he talked about it all the time. He drilled the importance of getting an education into his children because he did not have that opportunity. The important of music education was crucial for Mr. Brown. It has a very special place in his heart, and although he never got to study music, he had a raw talent that was truly God given.
Deanna plans to expand this music education program nationally in 2013, said that the best gift she could get this Christmas was to see people sponsor a child to go to the James Brown Music Academy also known as JAMP. "Placing an instrument in a child's hands can change a life forever. Please give the gift of music this Christmas." -- Deanna Brown-Thomas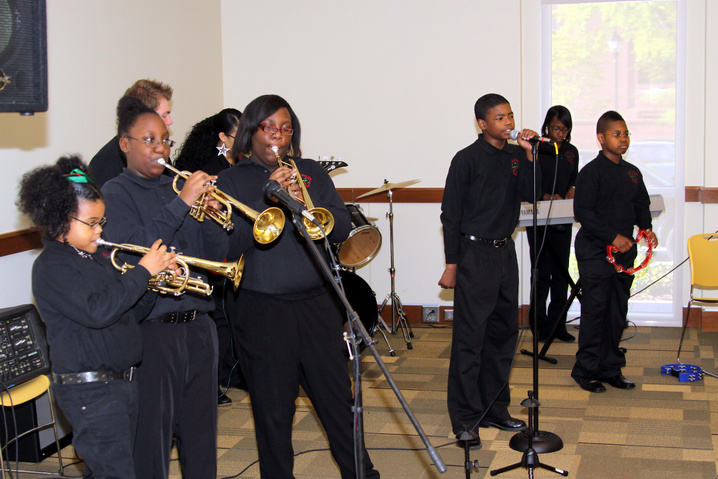 To sponsor a child to attend the James Brown Music Academy click here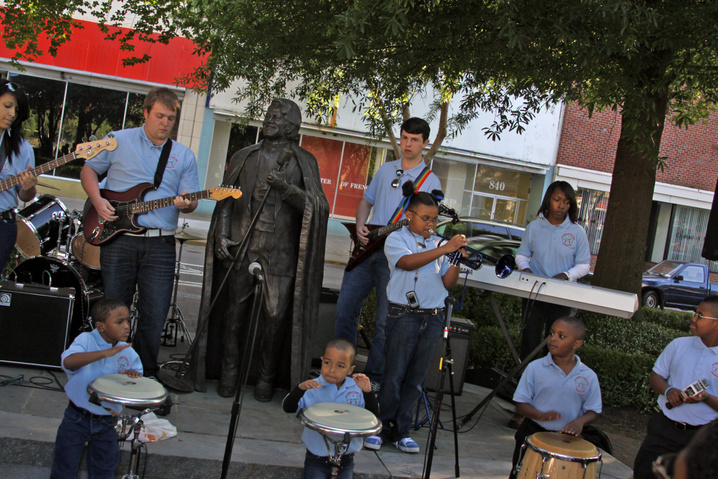 To learn more about the James Brown Family Foundation, click here.
For more by Getrude Matshe click here.
Follow Getrude Matshe on Facebook: http://www.facebook.com/gmatshe