A couple of weeks ago I was speaking to Taco Bell CEO Greg Creed, who also serves as co-chairman of the Taco Bell Foundation for Teens, a nonprofit 501(c)(3) committed to inspiring and enabling teens to graduate high school and reach their full potential. I was reminded of a quote from Rick Warren's book called A Purpose Driven Life, "When you give someone your time, you are giving them a portion of your life that you'll never get back. Your time is your life."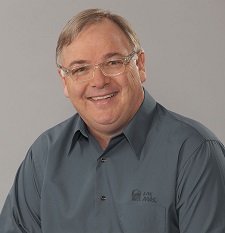 I was exploring the role of the big organization's corporate responsibility programs and was amazed at just how much Taco Bell is giving back. Greg Creed said that there are two things people can give. It's usually money or time people give, but the most precious thing is actually time because people find it easier to write a check, yet when they write a check they feel absolved from doing anything else. Greg described how his own personal mentor, who was about 10 years older than him, took time to coach and look after him. He was a very successful lawyer, but he spent a lot of time just to talking to him. He would ask about Greg's life, ask what was happening and talk about the choices that, as a teenager, he had to start thinking about in life. What college to go to and what career choices to make were also discussed.
Greg described how it's difficult for teenagers to make the right choices in life, and that there are lots of choices. Sometimes the choices teenagers make are not the bright ones, and there's a lot of charity done in the world but there is not a lot for teenagers to help them make better decisions. So Taco Bell has rallied around a single-minded focus, which is to help teenagers graduate high school. He stressed that the decision is not necessarily to attend Ivy leagues or universities but to have a very sound education. Greg feels it is critical to help set up the youth of the future.
Greg said:
"In the United States there is one teenager dropping out of high school every 26 seconds. Society's obligation is to offer our children education; because I think for most people education is really the only chance you have to change the life that you have. There are kids who think they might be in the NBA, they might enter the NFL, they might become a professional golfer, but the fact is about less than 200 kids a year that make it to the pros. So I think giving kids the reasons to stay in school, helping them with the choices to make and really focusing the Foundation on getting the teens to graduate is imperative. So we set the bold goal that we want to get 100,000 teens more to graduate high school than are currently graduating high school in the United States."
Taco Bell also primarily focuses all their energy around that cause. They work with the Boys and Girls Clubs, and also with a lot of other organizations primarily to get kids to graduate high school and go on to lead a more productive life by contributing to society. Every year, the Foundation serves more than 100,000 teens in more than 180 communities across the country and awards more than 300 grants and scholarships focused on education and career preparedness. Since 1992, the Foundation has awarded more than $42 million in support of more than 1,000 teen-serving organizations in the U.S. through customer, franchisee, employee and vendor-partner donations."
Taco Bell and its Foundation believe in "Living Más" -- which means doing more, expecting more and, most importantly, giving more. Taco Bell believes this starts with a high school education, and since 1992, has supported teens through core programs, partnerships and direct financial assistance.
Here are a few examples of the work being done:
1. Sherice Neal is a young girl who spent her high school years living in hotels and wondering how to change her fate for the better. Taco Bell provided her with a college scholarship AND a job! Sherice, now in her freshman year at Shaw University, is an outstanding Service Champion for Taco Bell and has a bright future ahead of her.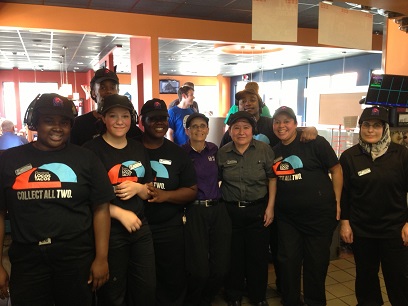 Sherice is the third from left in front row
2. Students at a conference who have benefited from Taco Bell Foundation for Teens support, received information and inspiration they need to succeed!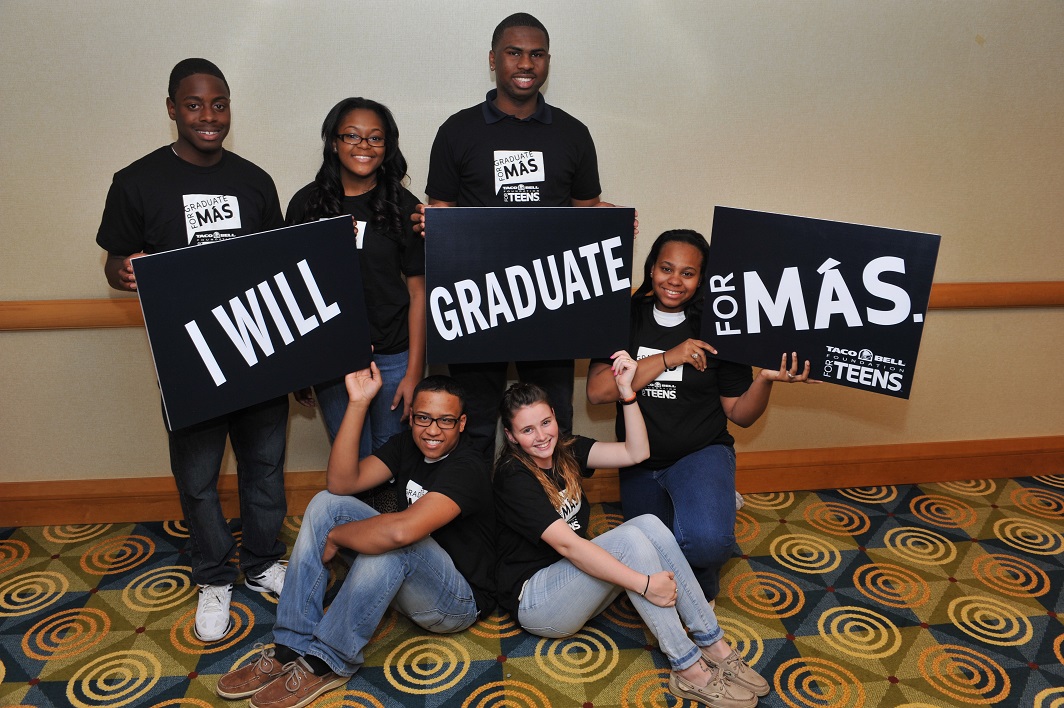 Greg Creed said, "although at Taco Bell we don't cure cancer, maybe we can help a young teenager graduate and want to become a doctor and that person cures cancer. That's how our model goes -- how do we help teenagers graduate high school and go live productive lives in society?" What amazed me is that the work does not stop there, Taco Bell's supports the UN From Hunger to Hope Project basically sponsors the school lunch programs in El Salvador, Nicaragua and Haiti. This program intrinsically links the need for nutrition in food with the desire to help more people get an education. "Our parent company, which is Yum, works with the World Food Program, and what we have done within Taco Bell within Yum is to intrinsically link school lunch programs which then links getting to school, getting a hot meal traditionally and then obviously getting an education at the same time."
Taco Bell also has a corporate program called Angel Care. What Angel Care is is an opportunity for the company to provide free flights to take sick patients when the corporate jet is travelling from place A to place B.
Greg talks a bit more about his company in the video below.

For more information visit tacobellforteens.org, and find us on Facebook at http://www.facebook.com/TacoBell4Teens.
For more by Getrude Matshe, click here.
Follow Getrude Matshe on Facebook: http://www.facebook.com/gmatshe