Last year, I watched a TEDx video by Ernesto Sirolli called "Want to help someone? Shut up and listen! ", it was filmed in Christchurch, New Zealand shortly after the earthquakes that destroyed that beautiful city in 2011. Not only was I drawn by the title, it was the passion; humour and enthusiasm of the speaker that held me captivated till the end of his talk. He not only took me back home to Africa through his funny stories of his life as a young missionary living and working in the Zambezi Valley, teaching the local peasant farmers to grow Italian tomatoes, but what intrigued me most was his brutal honesty about the ineffective programs sometimes implemented in our communities by well-meaning but often condescending foreigners.
I grew up in Zimbabwe, and was an observer standing on the sidelines unable to express my disappointment and sadness when aid programs failed and millions of dollars went to waste. Programs implemented without the consultation with the communities concerned. It was refreshing meeting Ernesto Sirolli and his wife in person and over a breakfast meeting in Sacramento I was able to understand the Enterprise facilitation programs he has implemented around the world.
Ernesto talks about the three key elements of business -- product, marketing and financial management -- and how most entrepreneurs fail because they are busy trying to work in all three areas. His enterprise facilitation program helps entrepreneurs to see their blind spots, to identify their weaknesses and to outsource these areas to trained individuals in those areas and creating organizations where all parties are working in their areas of strength.
"80 percent of new businesses fail with the first 5 years, whereas our businesses, we have communities where 80-85 percent are still open up to 10 years. The difference is that none of our entrepreneurs started alone," He said.
The Sirolli Institute trains enterprise facilitators who are living and working in communities. They are locals, they speak the local languages and they understand the local culture. They help 20-40 new businesses starting every year in the villages. There is total commitment. They are professionals; they are paid to be enterprise facilitators at community level.
"I have just discovered that there is a massive mushroom in the Western world with thousands upon thousands of organisations that have micro lending funds, they have technological know how and expertise, they have a million volunteers, travel every year into the developing world, who are willing to help. One million. " Mr. Sirolli said
These organisations have already lent $150m from donations which are $20 each from western world into specific projects and they are growing so fast. The issue is there is a missing link which we find with the enterprise facilitator. We should have an enterprise facilitator in every village and since the wage of the enterprise facilitator in the Congo for example is something like US $300 a month, with $4000 a year there would be a fulltime wage for a facilitator in a village in the Eastern Congo. So with $15 000 in wages these organisations can help create 180 new businesses which employ 750 people."
What fascinated me with this model was that with $15,000, 750 jobs could be created without giving the entrepreneurs a cent. In other words enterprise facilitators don't give people money or funnel micro lending to the client. It's only done by teaching those villagers the basics of business management. This is the most empowering business concept I have ever heard, it means entrepreneurs in the developing world can start a business without a cent if they grasp these simple business principles.
The Sirolli Institute teaches the entrepreneur the following: when you are small business owner, you still doing physically something that you love to do. Remember you are the CEO, so the minimum requirement is for you is to do what you love doing and what you physically can do. If it's sales, you concentrate on doing that beautifully but make sure that you have people who have different characters from yours who compliment your skills in the other areas. So by doing that, this program has been able to help rough diamonds to become splendid monomaniacs in communities, those fishermen who only love to fish, and those farmers who only love to farm, farm.
This means we will not make one ounce of intelligence go to waste in our communities. We help our own, and we create this network. It's like a rotary club on steroids. We will pass our network, our contacts. The stories are beautiful, absolutely beautiful. Ernesto says that this methodology is not his. He simply took growth psychology ideas and empowerment philosophy and has applied it to the field of good works, and I think the work is a blessing. He believes the work is the only way we can transform our talent into a return to the world.
So remember if you ever want to help someone, "Shut up and Listen", listen to what THEY want, find out their PASSION and you can never go wrong supporting inspired entrepreneurs.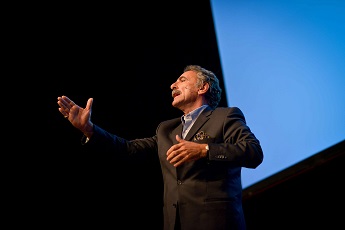 To learn more about Ernesto Sirolli visit his website .
For more by Getrude Matshe, click here.
Follow Getrude Matshe on Facebook: http://www.facebook.com/gmatshe