When 30 Rock ended in January, it left a gaping hole in NBC's lineup; especially with reviews of the Dan Harmon-less fourth season of Community being mixed and the recently lackluster The Office drawing to an imminent close.
For Tina Fey, the exit was graceful and calculated.
"It was a very bittersweet ending, but the fact that we knew it was ending was such a great thing," Fey told me in a recent interview on behalf of her new film Admission. The creator approached NBC prior to 30 Rock's last season, requesting that she could wrap up the show with thirteen final episodes. Fey said the network obliged because her show was "freakin' expensive."
In Admission, directed by dramedy extraordinaire Paul Weitz, Fey plays Portia Nathan, a stuffy, by-the-books Princeton University admissions officer, whose cold visage melts away when love and child come knocking. It is a timely analysis of motherhood for Fey, as she raises a 7-year-old (Alice) and one-year-old (Penelope), aglow in the light of fame cast on their mother.
Fey has addressed the challenges that accompany motherhood in her writing before; one of 30 Rock's lengthy stories entails Liz Lemon's attempts at adoption. So it comes as no surprise that she can live the mother role onscreen with an earnest tenderness, which draws upon life experience.
Admission is a perfectly inoffensive, bland tale that aims to wrench heartstrings with the same kind of forced earnestness that occupies most heterogeneous blends of comedy and drama. And it amounts to a pleasant, but far from memorable viewing experience.
While it was nice to see Fey play a romantic lead of sorts, opposite doe-eyed Paul Rudd, Admission's script tempered her mile-a-minute humor to fit her role of nervy, compassionate professional and mother.
She admitted that like Liz Lemon, she wants to have her hands on the steering wheel at all times in her work.
"If there were a guild for backseat directing, I'd want to join that," Fey said. As a writer, she was able to "annoy" directors, consulting with them about exacting the perfect execution of her scripts. This provided her television work with consistency, a brand, a noticeable and potent werewolf Bar Mitzvah-vibe.
As she forges ahead with various film projects, a sequel to The Muppets amongst them, Fey has acknowledged some of the unique challenges that accompany raising an internet-famous child.
"Becoming a little bit famous, it's fun for a second, and then quickly can become kind of unnerving and make you kind of anxious," Fey said.
Her position on top of the comedy world has earned some undesirable attention for her daughter Alice. Fey said she had to hide a series of memes featuring Alice walking goofily down the street, positioned next to the likes of Leonardo DiCaprio and Michael Cera amongst others. There's even a tumblr devoted to her creatively called fuckyeahalicefey.tumblr.com.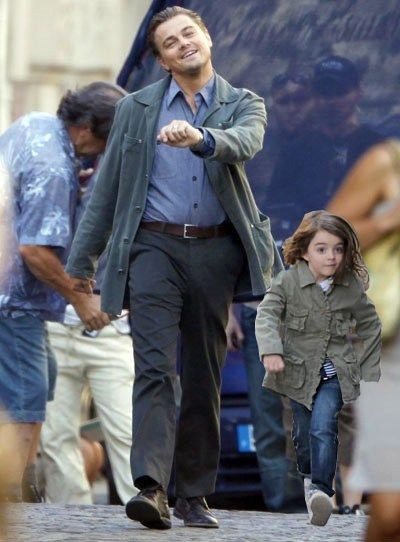 For now, Fey can obscure this Internet celebrity from her young daughter, despite the fact that Fey herself thinks the memes are funny. But she said it's going to be weird when Alice gets older and googles herself, discovering that her name yields about 6,110,000 results in a single search. To put that in perspective, Tina grabs 82,400,000.
The Internet creates a problematic zone for celebrity daughters in general. Upon searching those two keywords ("celebrity daughters") alone, four out of the first six results include stories with the words "hot" or "sexy." There is a safety net, albeit a small threadbare one, for these young women in that bloggers take some precautions to not describe anyone who is not of legal age as being "hot." Certainly that helps everyone rest more easily!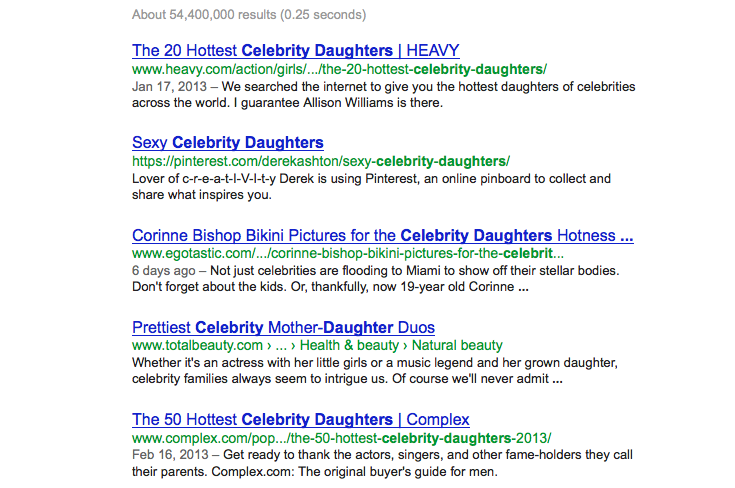 But the fascination still exists no matter the age. Ava Phillippe, the 13-year-old daughter of Reese Witherspoon draws 8,890,000 google search results, most of which focus on her uncanny likeness to her mother. When the mother-daughter pair is discussed, there are often references to what each is wearing. In the best of cases, words like "beautiful" are ascribed to Ava, as opposed to other frequent Internet adjectives reserved for older women.
The discretion of parents is of course a determinant of how much attention a celebrity daughter receives, among other factors like search engine optimization working wizardry on bringing celebrity photos to the fingertips. But no amount of restrictions can prohibit a photo from emerging online.
Kaia Gerber, the 10-year-old daughter of Cindy Crawford, has already appeared in modeling campaigns, most notably featured in a Versace one. While Crawford alleges that she is precluding her daughter from wearing make-up on photoshoots, in an attempt to slow down her burgeoning model career, there is no stopping the attention that is and will be directed at Kaia.
Having a daughter in the public sphere of Hollywood spells a future online presence, whether desired (see the Kardashians) or not.
It can be as harmless as a silly meme or as problematic as an analysis of one's bikini body. The unspoken presumption that exists for famous daughters is that they should be the subject of aesthetic consideration.
And going out to eat, walking the dog or heading to school becomes the result of a google search.