There's something to be said for the value of aesthetic pleasure in travel. No doubt, history, art, cuisine, cultural immersion are appealing and valid reasons to visit a place. But there's nothing like having your breath taken away by sheer physical beauty. It's refreshing. It's humbling. It is, at least partially, why we travel.
Hence, today's dose of eye candy. We're bringing you the most awesome and magnificent images from China and telling you where to find them. Find them, take a picture, and then put your camera down. You'll love these places almost as much as your camera will.
1. Mount Huangshan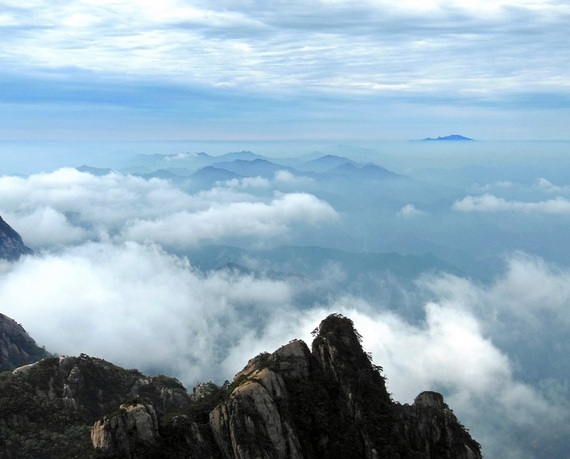 Flickr: Dimitry B.
Consisting of at least 154 square kilometers of peaks, Mount Huangshan in China's Anhui province boasts cloud-bathed mountains such as Lotus, Brightness Apex and Celestial Capital. "The Yellow mountains" are open to tourists year-round and have an agreeable temperature throughout the year. Visitors can hike up the peaks or take a cable car up. More info at anhui.travel/en/.
2. Suzhou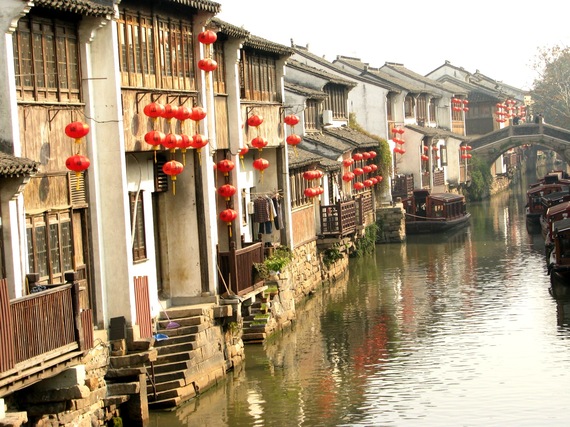 Image: Gina Ciliberto
Just a 25-minute train ride from the bustle of Shanghai, Suzhou's quaint canals, draping trees and hanging lanterns are a sure city break. Suzhou's old-fashioned gardens and Pintan opera shows (an opera sung in Suzhou dialect) are well-toured, but, in this waterside hub also merits lazy afternoons, teahouse visits and, of course, a canal boat ride. Read more about Suzhou at travel.cnn.com.
3. Jiuzhaigou Valley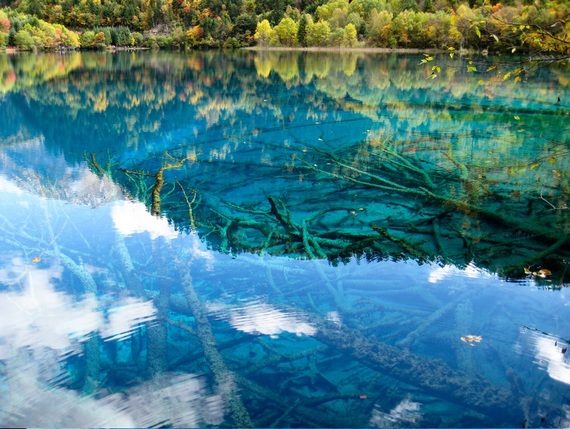 Flickr: rduta
Many years ago, when the the mountain god named Dago had a crush on the goddess Semo, Dago gifted her a mirror made up of wind and clouds. Then the devil showed up and the mirror fell to the ground, smashing into 108 pieces, or 108 colorful lakes. Jiuzhaigou Valley was born.
Today, the Valley is not just 108 lakes, but also waterfalls, mountain peaks and vibrant foliage (particularly in autumn), and tribal people that comprise the UNESCO World Heritage Site. The dynamic scenery in the park is noted for its "dreamlike, fairyland" quality. Visitors can arrive via flight or car; there are also buses from Songpan, Guangyuan, Jiangyou and Mianyang. Learn more about the Jiuzhaigou Valley at travelchinaguide.com.
4. Red Beach, Panjin
Located in the Liaohe River Delta, about 30 kilometers southwest of Panjin City, the Red Beach gets its name from red-colored sea weed that flourishes in saline-alkali soil. The weed starts growing during April or May, remains green during the summer, and turns flaming red in autumn. Only a small section of the beach is open to tourists. Source. For more info, check out travelchinaguide.com.
5. Zhangjiajie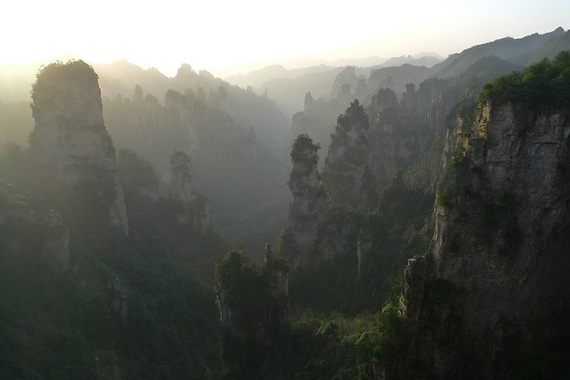 Flickr: Kristoffer
It has mountains, sandstone pillars, lakes, streams, caves, gorges, fauna and UNESCO-World-Heritage-Site status, but Zhangjiajie isn't your average national park. For one, it is said to have inspired Avatar, specifically the "floating" Hallelujah Mountains. It also has the world's highest natural cave, and an outdoor elevator on a mountain (it just happens to be the "world's fastest, tallest and largest load lift"). With natural spectacles galore, this scenic experience promises to be more than a walk in the park. Find out more at zhangjiajietourism.us.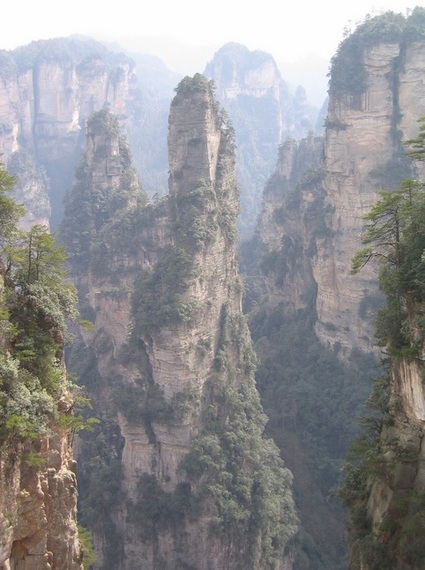 Flickr: Ken Marshall
6. The Sun and Moon Pagodas, Guilin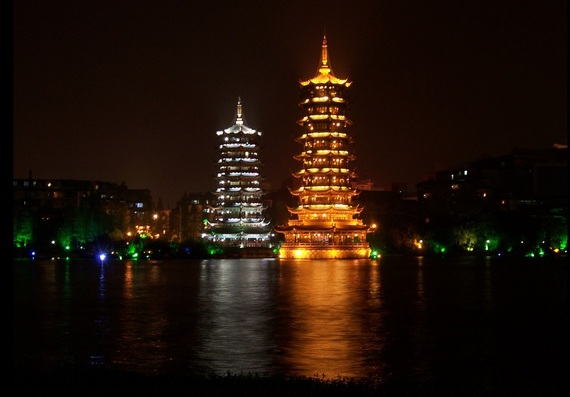 Flickr: McKay Savage
Guilin, in the Guangxi province of China, has its share of attractions. There's the Li River. There are neon caves. There's this mountain that looks like an elephant trunk.But there are also the Sun and Moon pagodas on the shore of Banyan Lake. The Pagodas break a number of world records: the world's the highest copper tower, the world's tallest buildings in bronze, the world's tallest water tower. Visitors can climb to the top floor of the Pagodas. To add to the coolness, an 18-meter underwater aquarium links the towers. Travelchinaguide.com has more info on Guilin.
7. Xinjiang yurts on the Karakorum Highway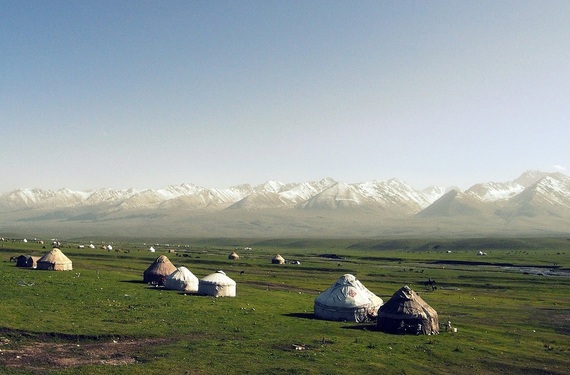 Flickr: momo
High in the Tianshan mountains, the Karakorum Highway provides more than just a lofty view. The highway is also a rocky border between Pakistan and China, and it is in desperate need of repair. While some parts of the road are hazardous and others are sealed off, it might be best to approach the scenery of mountains and roadside huts with a tour for now, or to hold off until some of the improvements upon which China and Pakistan agreed this past July are instituted. The Pakistani Northern Areas of Transport Corporation has bus schedules for the route at their site, https://www.natco.com.pk/. Companies such as Xin Jiang Travel also offer tours. Check out their site, xinjiangtravel.com.
8. Karakul Lake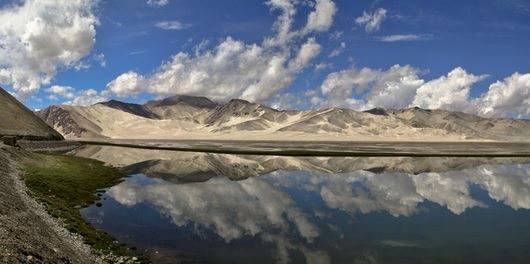 Flickr: Ricky Qi
Another stop on the Karakorum Highway, Karakul Lake is also located in the Xin Jiang province between Pakistan and China. At an altitude of 3,600m, it is the highest lake of the Pamir plateau, near the junction of the Pamir, Tian Shan and Kunlun mountain ranges. There are two Kirgiz settlements along the shore of Karakul lake, a small number of yurts about 1 km east of the bus drop-off point, and a village with stone houses located on the western shores (staying with locals is possible). Horse, camel and moto rides around the lake are available, as well as trekking. Summer is the best time to visit, though it's cool year round in this mountainous area. Wikipedia has a travel guide: wikitravel.org/en/Karakol_Lake.
9. Sichuan Opera, Sichuan Province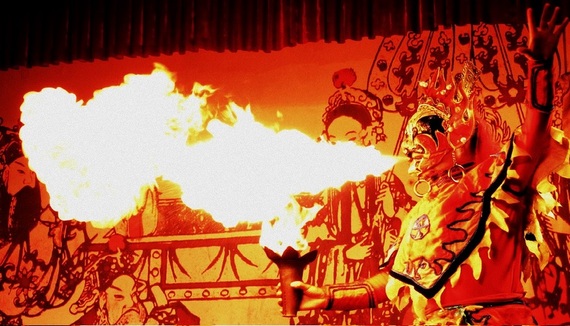 Flickr: momo
Characterized by melodic singing, refined acting and rich percussions, Sichuan opera is a famous attraction in Chengdu. Shows often involve face(mask)-changing, shadow playing, marionette figures (stick-puppets), fire spitting and sword-hiding, just to name a few! Favorite places to enjoy the shows are Wu Hou Ci Grand Stage also called Chengdu Old Stage (Chengdu Gu Xitai in Chinese), the most famous and oldest stage in Sichuan. Shufengyayun is another, situated in Chengdu Culture Park of the famous jewelry street -- Qin Tai Lu and is just next to the historical site -- Qing Yang Gong. Many theaters also offer complimentary tea and sometimes dim sum. Learn more about the show at chinatourguide.com.
10. Yuanyang Rice Terrraces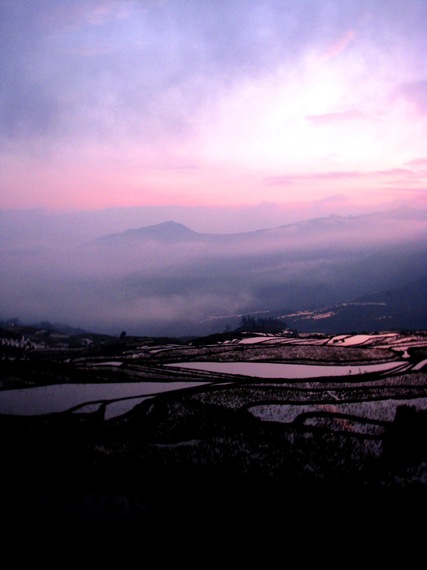 Image: Gina Ciliberto
We know, you've already seen the rice terraces in the Philippines, in Vietnam, maybe even in China. But the Yuanyang rice terraces are really worth seeing. Really. We're not sure what's better: the gorgeous pools, the quaint village surrounding them, or the fact that you don't need to pay entrance to a viewing deck to see the incredible scene. More at travelchinaguide.com.