Mention Sundance, and people immediately think indie film. But the institute is evoking its "story first" ethos and branching out into the world of episodic content. Sundance will hold its inaugural episodic story lab at the Sundance Resort in Utah from Sept. 27 - Oct. 2.
"There was a huge demand for it in all of our storytelling labs," Michelle Satter tells me. Satter is the founding director of the Sundance Institute's feature film program and a guiding presence at all of the story labs. When you hear indie filmmakers wax poetically about how "Michelle changed their lives," -- that's her.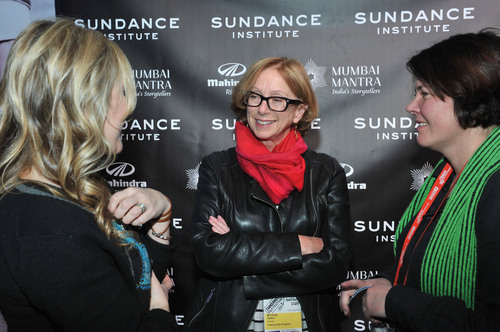 Michelle Satter (photo courtesy of the Sundance Institute)
With many of Hollywood's most prominent new voices emerging from episodic series, Satter sees the need to shepherd writers in creating shows with unique visions.
"We're seeing an explosion of opportunity in the space," says Satter. "And there are a lot of people in the system who are at the beginning of their careers... The labs have always been a point of entry."
The labs are highly competitive workshops for artists that occur each year in Park City. Until recently, they focused primarily on feature films, but now also include theater and transmedia projects.
At the episodic story lab, writers will work with established showrunners, television executives and producers, participating in one-on-one creative story meetings, a simulated writers' room to break stories, pitch sessions and group conversations about the creative and business environment of television writing and producing.
Similar to the other labs, the new episodic story lab will feature mentorships from industry heavyweights. Mentors include Michael Ellenberg (Executive Vice President, HBO Programming), Peter Friedlander (Vice President, Netflix Original Series) and Tana Nugent Jamieson (Senior Vice President, A&E Studios). Creative advisors for the lab include Greg Daniels (co-creator, Parks and Recreation), Michelle Ashford (creator, Masters of Sex) and Felicia D. Henderson (creator, Soul Food).
While several studios and networks already incubate talent with workshops, Satter feels that the Sundance Institute's extensive follow-up program with each artist will prove more valuable after the lab has ended.
"We build out support on a year-round basis," says Satter. "Plus, our labs are fully immersive, a chance to get away from the clutter from one's life. In that kind of protective environment, a lot of work can get done."
The goal is to "graduate" a diverse group of writers with unique voices.
"Our job is to customize the experience for each writer," says Jennifer Goyne Blake, senior manager of the episodic story lab. "A lot of what these people need is just strategy. How do you get from a position as a writer's assistant to a job as a writer."
So does this mean the Sundance Film Fest will begin to embrace television? Maybe. The fest did screen "Top of the Lake" at the fest in 2013, but discussions about regularly including episodic content at the fest are still in the early stages.
And don't worry if you didn't hear about the submission process. That's because the initial round of writers was selected from over 900 recommendations from the industry. Subsequent labs will be open to applications.
Here's the list of the writers who made the labs and a few of the Sundance alums currently working in television.