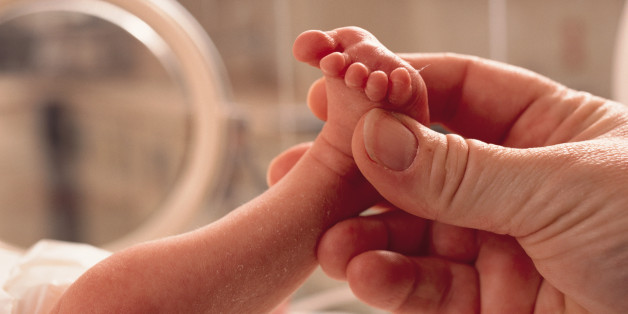 Monday was World Prematurity Day, a day aimed at bringing awareness to the global problem of premature birth. And a day that makes me feel eternally grateful to a small group of people that helped me after my first child was born: the nurses in the NICU.
An ultrasound at 35 weeks of pregnancy showed that my stubborn placenta hadn't migrated north and out of the way of my cervix and had suddenly stopped functioning. My son was measuring an entire month behind where he should have been, and the perinatologist thought my baby would survive better outside the womb than inside my body.
Then he asked when I had last eaten.
As my husband and I sprinted home to grab a few things, my mind started to swirl as I tried to wrap my head around delivering a small premature baby via c-section. As a twin, I was born eight weeks early, weighed 3 lbs 8oz, and heard plenty from my mother about what it took to get a premature baby out of the hospital.
Eight hours later, my baby was delivered. All 4 lbs 2oz. of him. They thought he would be closer to three pounds, so everyone was excited he was bigger and healthier than anticipated.
Still, I didn't feel we were out of the clear. Our pediatrician had prepared us for the worst -- that my son might not come home from the NICU until his expected due date.
So, there we were, in the hospital, hundreds of miles from family, alone.
Except we weren't. Our lovely NICU nurses stepped in and became our surrogate family.
From the hour my son was born, the NICU nurses were a Godsend. After the initial check up of my son, once they were sure he was stable, my son was moved to an incubator. Immediately, they welcomed my husband to our son's bedside.
This wasn't a hands-off nursery. We were expected to parent our child as soon as possible: to take our son's temperature, change his diaper and try to swaddle him, all done under the patient guidance of a NICU nurse.
The nurses introduced kangaroo care (skin-to-skin contact) with me as soon they could, while my son was still tethered to machines. They had my husband do it, too; a gesture that spoke volumes about the staff's position on parents roles in a child's health and well-being.
I relied on those nurses probably more than I should have. They taught me how to breastfeed my son, how to burp him, change his diaper, and clean his umbilical cord. They also gave me tips to getting my, uh, digestive system back on track after surgery.
They were my stand-in mother, friend and therapist. They were my support system, helping me through the uncertainty of premature babies with grace and patience, and never once made me feel stupid for asking a question. They celebrated every ounce my son gained along with me. They filled me in on cute things he did while they held him in my absence, and knew him as well as I did, if not better.
One morning, we came in to the NICU to find a handmade sign attached to my son's bed and I burst in to tears.
Made by one of the night nurses, it displayed my son's name in bold, block letters, intricately made out of baseball bats, stackable rings and crescent moons. That name sign made it home with us and sits, framed, over my now-8-year-old's full-size bed.
It was that gesture that made me realize how much these nurses care for every single baby in that unit.
Even though my experience was nothing compared to those families who spend months in the NICU, I caught a glimpse at what these nurses provide: immeasurable comfort, reassurance, care and compassion.
Case it point: I cried the day we were discharged from the NICU. If I could have paid these nurses to come home with me, I would have.
Five years later, I took my son back to the hospital to donate the box of preemie clothes we had stored in a box, grateful to return the favor after finding ourselves unprepared to clothe a baby so early.
The NICU wing had been renovated, and while the some of the staff had changed, I recognized a good number of nurses, still soldiering on, taking gentle care of preemies and performing what I can only imagine is an extremely difficult but rewarding job.
A nurse graciously took my box of onesies after chatting with us about our time in the NICU and admired how big my son had gotten, with a generosity I hadn't expected. Even though I didn't know her, I had to hug her and thank her for keeping my son's stay in the NICU a healthy one.
As we walked out of the NICU, I glanced up above the beds of the current patients, all of them equipped with their own handmade signs, and prayed their parents would be able to take them home and frame them one day, too.
This post originally appeared on Full Of It. You can follow Gina on Facebook and Twitter.