Get ready people -- the pizza takeover is about to begin. As a dietitian and foodie in NYC, I tend to see the waves of food trends crest from tiny shops in Bushwick, Brooklyn to large corporate restaurants all over the country. Luckily this next wave is one of America's cheesy favorites and, believe it or not, it can be a part of a healthy diet.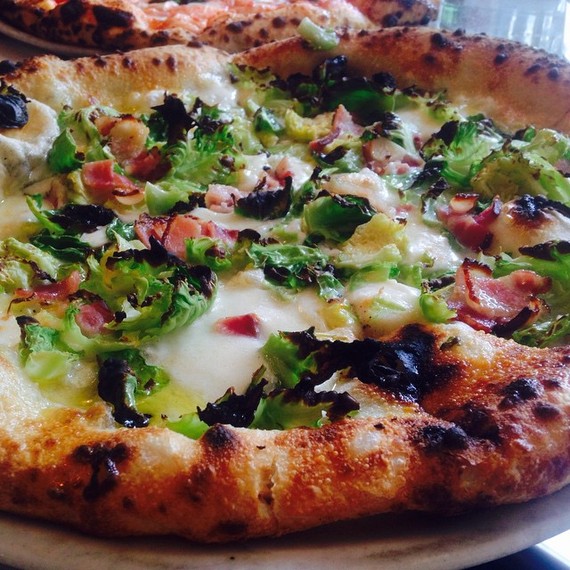 Pizza itself can be a great base for fresh and healthy ingredients. Like all things in nutrition, it's about choice. In fact, we know Italians love their pizza but tend to have a lower BMI than most Americans. According to the World Health Organization, Italy has 23 percent less obesity than the United States. When we look at nutritional breakdowns of pizza from national chains here in the States, we can see that pizza has a broad scope, from a whopping 1,705 calories and 115 grams of fat for half of a regular-sized deep dish Chicago Classic from Uno Pizzeria and Grill, to roasted artichoke and spinach pizza with chicken from California Pizza Kitchen with a more manageable 625 calories and 22 grams of fat for half a pie. So, here are three things you can do to keep your pies on the nourishing side:
1. Make it a meal by adding lean protein and vegetables. This is by far my favorite rule for all food, not just pizza. When you are ordering your pizza, remember to add fiber and protein to each slice. As always, chose lower saturated-fat meats. According to the American Heart Association, eating foods that contain saturated fats raises the level of cholesterol in your blood. High levels of LDL cholesterol in your blood increase your risk of heart disease and stroke. That means you should try lean(er) proteins like sliced chicken breast or even Canadian bacon over regular bacon to cut your fat by 60 percent. Then add complex carbohydrates like spinach. Luckily for you, a large part of this new pie revival is that restaurants will be offering tons of topping options.
2. Think Thin. Choosing thin crust can cut off tons of carbohydrates and calories from your menu. Additionally, eating the thinner slices can actually make you feel fuller because we perceive the felling of quantity to being satisfied with the meal. Having three thin slices may make you feel as satiated as one large slice.
3. Memories and Moderation. Make pizza meals fun and special but eat it in moderation. Most of us remember pizza parties from our youth or a great first date that started over a piping hot pie. These memories are special not just because of the food, but also the company. Head out for a pie no more then a few times a month and try not to mindlessly grab a slice between errands. Sit down, eat, and give the pie the time and respect this mouthwatering meal really deserves.
Pizza, like all great foods, can be nutritious if we choose for it to be healthful. With a few small modifications both to nutrition and lifestyle, we truly can transform the menu with all of the passion and none of the pounds.