Whether we rent or own our home, there's one thing we can all agree on: Nobody likes wasting energy. Energy is money -- the less you waste, the more you save. In most cases, energy production means producing harmful byproducts, like the carbon pollution fueling climate change. In fact, the largest source of carbon pollution in the United States comes from energy generation needed to power our homes and appliances.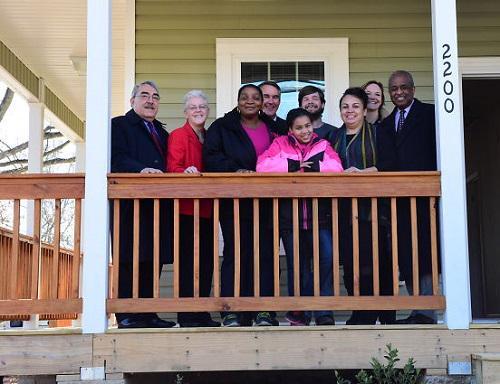 The good news is, cutting energy waste is good for our pocketbooks and the planet. Homeowners can save money and help fight climate change just by purchasing and living in more energy-efficient homes.
Over the past 20 years, ENERGY STAR's Homes program has helped American homeowners save more than $4.7 billion and reduce carbon pollution by over 53 billion pounds. Those savings could power more than two million homes a year.
The blue ENERGY STAR label that identifies thousands of energy-efficient products -- like light bulbs and appliances -- also gives homebuyers an easy way to identify better built, more comfortable, energy-efficient homes. ENERGY STAR certified homes are up to 30 percent more efficient than a standard new home, and reduce greenhouse gas emissions by 3,700 pounds each year (compared to a home that is not ENERGY STAR certified). That's equivalent carbon pollution from burning 189 gallons of gasoline.
ENERGY STAR homes are designed for energy efficiency from the ground up, following a rigorous certification process that verifies each energy efficiency feature, many of which are hidden behind walls, in the attic, and under the foundation. These features include:
A thermal enclosure system with comprehensive air sealing, quality-installed insulation, and high-performance windows to deliver improved comfort and lower utility bills;
A high-efficiency heating, ventilating, and cooling system that's designed and installed for optimal performance;
A comprehensive water management system to protect roofs, walls, and foundations from moisture damage; and
Energy-efficient lighting and appliances that keep utility bills low while providing better performance and longevity.
Today, nearly 1.6 million ENERGY STAR certified homes have been built in the United States. This includes homes in urban and rural areas, custom-built and production homes, and single-family and multifamily homes. It also includes affordable housing made available through funding programs from the U.S. Department of Housing and Urban Development and through ENERGY STAR partners such as Habitat for Humanity.
By choosing an ENERGY STAR certified home, Americans can save on their energy bills, reduce their impact on our environment and our climate, and help us preserve a healthier future for our children and generations to come.
If you're looking for a new home, a list of ENERGY STAR builders is available at energystar.gov/partnerlocator. If you want to improve the energy efficiency of your current home, there are a lot of easy steps you can take. Start with the ENERGY STAR Home Advisor at energystar.gov/homeadvisor. If you want help from a professional, find out if Home Performance with ENERGY STAR is available near you at energystar.gov/homeperformance.