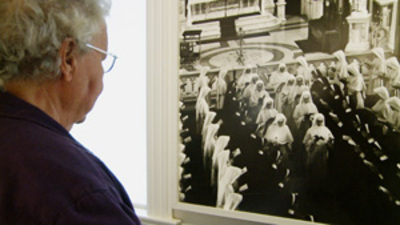 Many believed Pope Francis would reverse criticism of U.S. nuns for behavior deemed conflicting with Church teaching; instead however, he reaffirmed the Vatican's reprimand of the Leadership Conference of Women Religious (LCWR) and US nuns were "thrown under the bus."
In a statement issued on May 8, 2014, the LCWR explained that meetings with the Congregations for the Doctrine of Faith (CDF) resulted in sadness because they learned that "impressions of the organization in the past decades have become institutionalized in the Vatican, and these institutionalized perceptions have led to judgments and ultimately to the doctrinal assessment." Regardless of "maximum efforts," it seems that "communication has broken down" and "mistrust has developed." Nonetheless, US nuns remain committed to dialogue.
According to the LCWR
,
Passion for all that the Church can be deepens our commitment to stay at the table and talk through differences. We want to be part of the universal Church rooted in the Gospel, a Church that hears the cry of the poor and is united in its response. At the same time, we cannot call for peace-making in Syria, the Middle East, in South Sudan, unless we too sit at tables with people who hold varying views and work patiently and consistently for a genuine meeting of minds and hearts.
The gasp was heard around the world last year when the LCWR, representing more than 90 percent of US Catholic nuns, was publicly criticized for "serious doctrinal problems" under the direction of Pope Benedict XVI. According to the Vatican, these rogue nuns were pushing "radical feminist themes" that were inconsistent with the teachings of the Catholic Church.
Although poverty receives the greatest attention from the nuns efforts, they were heavily criticized for their support for the Affordable Care Act. The Vatican also claimed that the nuns were not focused enough on condemning same sex relationships and reproductive rights. Nuns on the Bus was launched in direct response to the reprimand and American Catholics received the effort with overwhelming support.
U.S. nuns have stood firm stating that their intentions have been misunderstood by the Vatican and remain steadfast in their efforts to work for social justice. The LCWR explains, "At our meeting with the CDF officials, we experienced a movement toward honest and authentic conversation on some of the matters that lie at the heart of our faith and our vocation. We have come to believe that the continuation of such conversation may be one of the most critical endeavors we, as leaders, can pursue for the sake of the world, the Church, and religious life."