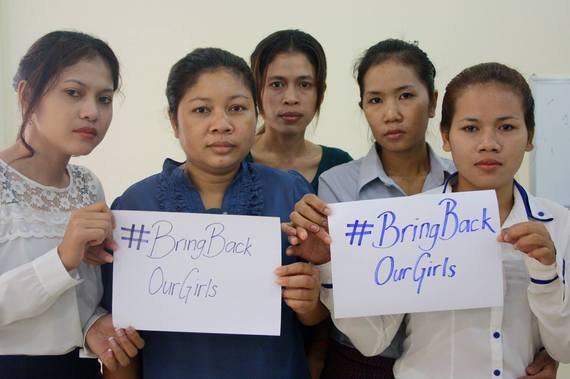 "I abducted your girls. There is a market for selling humans. I will sell them," said Abubkar Shekau, the leader of the Boko Haram Islamist militant group claiming responsibility for kidnapping nearly 300 schoolgirls April 15, 2014. Two hundred and seventy-six of those girls are still missing, and most may never be recovered. Boko Haram roughly translates to "Western education is a sin."
The government of President Goodluck Jonathan -- now that it had succeeded in passing legislation making gay relationships punishable by 14 years imprisonment -- had hoped to pivot world attention to its new, suddenly mushrooming economy, now Africa's largest.
It's response to the kidnappings was slow and ineffective. Until the brave parents of these girls took matters into their own hands, publicly protesting -- and in some cases going into the bush alone to find them -- the incident went almost unnoticed.
What is happening to these young women is nothing new. They are victimized because they are girls. This happens every day all over the world. The institutions that ought to protect them not only fail to do so, but instead ignore them or else actively support their victimization.
Simply put, it is their gender that increases their vulnerability to crimes this monstrous.
Particularly in countries like Nigeria, where corruption and cultural norms oppressive to women are in place, it is not surprising that these young girls (ages 12 -15) have been used as bargaining chips and targeted for violence.
Girls lack power and are victimized.
But it's more than that, too. As with trafficking, it shows the degree to which young girls have become commodities -- often reduced to nothing more than the value their bodies hold in a male-centric marketplace. Selling humans for sex remains and immensely profitable global industry.
Shekau's insistence that girls -- who were allegedly taken because they dared to attend classes -- should forgo education is telling. In the marketplace for their bodies, rather than their minds or skills, education actually reduces their value rather than enhances it. A wife or sex slave who knows more than you do is not an asset -- she is an affront, an embarrassment, a potential complication.
In any case, he has succeeded in deeply embarrassing the Nigerian government of President Goodluck Jonathan. And it is not as if Shekau only attacks girls. Only weeks ago, his troops allegedly attacked and then slaughtered over 40 young men -- some burned alive. But they were killed, not abducted, raped and sold -- because they had no value as sexual commodities.
Moreover, news of these horrors -- the abduction of Nigerian schoolgirls or the slaughtering of young men -- was overlooked and under-reported. Instead, daily reports on the long-missing MH370 airliner were at the top of the hour for months. Rather than reporting on the fact that innocent children had been abducted or tortured to their deaths, the international news media and the American government were remiss.
Yet finally, after three long weeks, the United States government has finally declared that it will help find these young women. It is the right move, but hard to determine if they will succeed. Many of the girls may already be across the border in Cameroon and Chad.
It is worth noting that Al Queda -- with whom he is allied as a fellow Muslim militant -- has backed away from Shekau's violence towards these girls. When even Al Queda thinks you've gone too far in your barbarity towards young women, you've crossed some kind of boundary.
But there's a larger dialogue on gender that has gone missing. The world needs to pay more attention and do more to ensure that the subject of gender is woven into the fabric of how we discuss these issues.
Part of that lies in supporting girls' education and empowerment. By encouraging women young and old, to speak up and speak out, we can fight against the extreme forces that seek to silence them. #BringBackOurGirls.