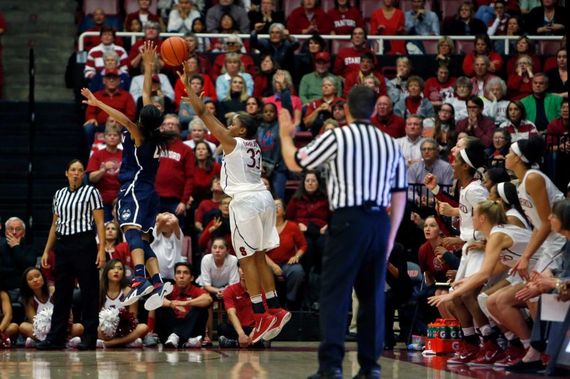 I know, I'm a sucker. I love underdogs. I love their grit, their feisty, never-say-die relentlessness. I love their refusal to read the writing on the wall that spells out their inferior status. I love their eagerness to take on any opponent, their readiness to step up to a challenge -- especially an outsized one.
I especially love watching underdogs win.
Last Monday night I watched the Stanford women's basketball team, ranked a mere sixth in the country, defend their current streak of 27 home court wins against the University of Connecticut's powerhouse squad. The UConn women are current NCAA champions, working on extending their two year reign to a third, ranked first in the country by a seemingly endless mile, and were sporting their own 47-game winning streak. Although the college basketball season has just opened, this was a big game, aired nationally on ESPN2.
Neither a Stanford nor a UConn graduate, but a WNBA franchise owner whose team holds the number one draft pick for next season, I was not watching the game as a fan, but as a talent evaluator. No horse in this race -- neither my blood pressure, nor my pulse had any reason to rise. I was simply there to watch UConn's senior, No. 23, Kaleena Jordan Mosqueda-Lewis, the oft-mentioned candidate to go first in next year's draft, and to marvel at her teammate, 6'4" junior Breeana Stewart. But, somehow, Stanford's pair of 5'7" guards, Amber Orrange and Lili Thompson, distracted my focus, disrupted my calm, and at least for a few moments, converted me to a fan.
Admittedly, it took some time for me to start feeling agitated and anxious, to shift from nonchalance to engagement. For most of the game, my wife sat beside me and we traded comments about the inevitability of UConn's approaching win. Stanford couldn't seem to infiltrate UConn's defense. For five long minutes in the middle of the second half, nearly an eternity, Stanford didn't score one point, allowing UConn to rack up six unanswered ones.
By the time the game clock ticked down to 6:32 left, Stanford was down ten. That was more than enough time to catch an ordinary opponent, but a long row to hoe against the national champs. After all, UConn is not known for playing a merciful game, but for solidifying its lead, once obtained. Squeaking by opponents by a mere handful of points is not in the DNA of their coach, Geno Auriemma; stampeding over them with wins of 40+ points, is.
But something happened along the way to Stanford's expected succumbing to the inevitable. Amber and Lili didn't seem to realize all hope was lost. They kept showing up with the ball, playing like they were having fun instead of under pressure, loose, not tense. And you know something? They probably were having a blast, doing what they loved, in the thick of a great contest, not thinking about the outcome, just focusing on the opportunity at hand. Lili scored 14 of her 24 in that second half, while Amber scored her team's last seven points in the game's final 25 seconds of regular time. With a mere 1.4 seconds on the clock, she evaded her UConn defender and hit the game-tying three-pointer with an easy grace, devoid of panic or despair. In the ensuing five minutes of overtime, the pair combined to hit all three of Stanford's field goals, with Orrange making the go-ahead jumper with 1:38 left.
Sports played out, as it often does, upsetting the apple cart of predictability and expectations. And I loved it. Isn't it the best, watching hungry athletes defy the odds, paving the way for the rest of us to do the same in our own lives, away from the hype and the hubris of the spotlight?
In the ensuing 48 hours, the Stanford Cardinal ascended to the top-dog position, getting re-ranked to first the day after their big win, passing the underdog baton to their next opponents, the University of Texas. Then, as sports would have it, they promptly lost that next game, ending their unbeaten home record at 28, in overtime. Don'tcha just love it?
There's nothing like the merry go-round of underdogs nipping at top-dogs, giving all of us hope that we, too, can rise up and challenge the predictable in our own lives and win the day, like Amber and Lili, regardless of what may follow tomorrow.