The next few postings are going to examine the period from 1979 to 1984 when Suzanne and I were under professional management.
While aspiring musicians today have many more options for self-promotion through social media, trusted and competent career guidance remains essential if you want to break into the big time. Our experience began with high expectations, but ultimately we were unable to repackage ourselves into the kind of commercial act that our manager envisioned. Despite good faith efforts by all involved, we never got the record deal we hoped for. I hope that the lessons we learned the hard way will prove instructive for anyone presently seeking professional representation in an arts-related field.
Like a million other show business tales, it all began with a listing in the "Public Notice/Music" section of the Village Voice. Newly married in June 1978, Suzanne and I had been trying to support ourselves by doing music full-time since I quit a promising job at a downtown Manhattan law firm that October. We were fresh-faced folksingers, writing and performing achingly sincere songs about love, world peace and environmentalism. I sent out a ton of letters looking for bookings (which I still do) and we managed to work somewhat regularly at New York City coffeehouses and college pubs. The income was modest, but so were our expenses.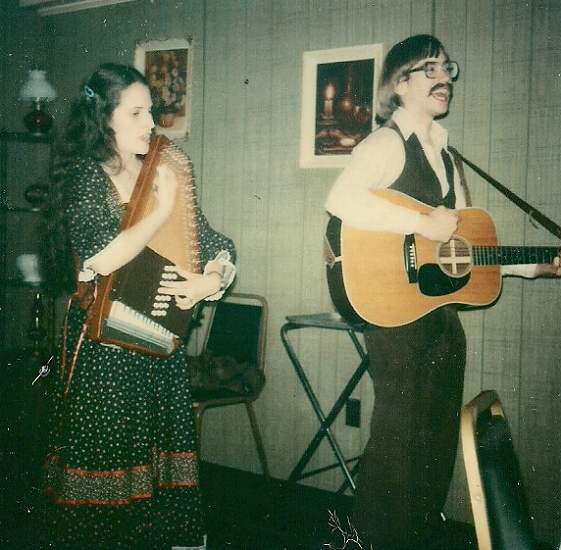 Sometime in November 1978, we saw the listing in the Voice that told of this fellow named Marvin D*** who was looking to represent musicians. Earlier in the year, we had been scammed out of $750 by "Star Talent Unlimited" and were skeptical that anyone reputable would look for clients this way. But we made a phone call and followed up with a photo and a cassette. The cover letter reminded him that "we are able to travel and have a sound system," the minimum requirements for Marvin to consider working with us.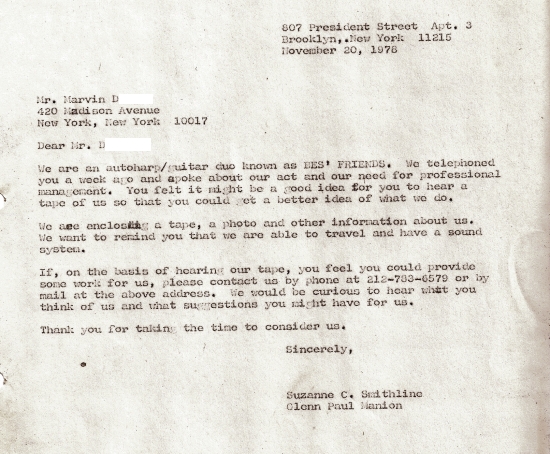 We set up a private audition at a cabaret called The Bushes on the Upper West Side of Manhattan. We put together a program of material we felt was "commercial" and accompanied ourselves on acoustic guitar and electric autoharp: Harry Chapin's Circle, Just The Way You Are, Anticipation, Daniel, Handy Man, Send In the Clowns, Bye Bye Love (we still do that one) and our wedding song Wouldn't It Be Nice.
We were thrilled when Marvin got back to us and said that he would like to take us on as clients. Finally, someone inside the business had responded positively to our music. We eagerly went to our first face-to-face meeting at his Madison Avenue office, convinced that we were on our way to full-time work as musicians and perhaps a record deal.
Marvin was well-dressed man in his early 50s, with his grey hair just long enough to let people know he was still a little "hip." His main business was public relations, but most of the names he mentioned were unfamiliar to me. Who was Billy Eckstine? He mentioned Steve Lawrence and Eydie Gorme: we had heard of them, but what did that have to do with us? His office was cluttered with celebrity mementos, including a signed poster from Rodney Dangerfield ("It Ain't Easy..."). The sign on his desk said "Marvin D....Public Relations" on the front and "Marvin D....Sex Relations" on the back. He certainly acted like someone who was comfortable dealing with the "show biz" people who stood between us and mainstream success.
Marvin was very upfront about his lack of musical knowledge and he never tired of saying "I'm as square as they come." But he had extensive contacts in the entertainment industry, including major record companies. His idea was simple: the two of you do the music and leave the selling to me. This way, we each do what we know best. It sounded like a sound proposition.
He presented two key elements of his management philosophy: first, you have to be in it for the long haul. You can't just "give it six months" and then quit. You must have a realistic plan to support yourself while you pursue career opportunities. The other key element is that you must plan on becoming successful, which means tracking your expenses, paying your taxes and generally conducting your business in such a way that you will not have regrets when your life comes under celebrity scrutiny.
Marvin proposed that we have a reliable income stream by performing in cocktail lounges. This would make music our full-time job and give us plenty of time to develop our talents in a real-world setting. We would be expected to perform four or five 40-minute sets a night, consisting of standards, show tunes and middle-of-the-road pop songs of the day. There was no reason why we couldn't include some of our own material now and then, especially if it had commercial appeal.
We asked whether we could speak with other acts he represented. He was insulted at the implication that we needed to check his veracity with others and would not give us any contact information. But he told us about the two other management clients he presently worked with: a Billy Joel-styled singer-songwriter named Jim Moses and a young Hispanic couple who played hard rock music under the name Antenna (later The Ants).
Within a few weeks, Marvin presented each of us with a five-page, single-spaced management contract. Fortunately, I still had friends at the law firm I recently quit and we were able to get objective advice about the agreement.
In my next posting, I will go over the details of the contract, the changes that our lawyer friend recommended and the inauspicious beginning of our lounge career in Wilkes-Barre, PA.