I got an email from my old friend Jon last week. After various travels in South America, he finally got to check out our new website. He said "I am very pleased to see that you have been so successful. Keep up the good work."
I replied that I was glad our website gave off "the sweet smell of success" rather than the "funk of abject failure."
Jon is Professor E. Jon de Revere, one of the first people I met when I arrived in New York from Syracuse in 1974. Among my fellow freshmen singers in the NYU Choral Arts Society was my upstairs neighbor in the Weinstein dorm, Suzy Smithline from Long Island. We started singing together that fall and did our first Hoot Night at Folk City on October 15, 1974.
We've never stopped singing together.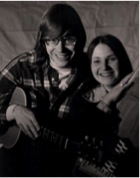 Are we famous? No. Are we rich? Don't make me laugh! Did we ever get signed to a major label? No. Did we have professional management? Yes, for five years, but that's a story for another day.
What we are is full-time musicians in an age when most of the traditional outlets for musicians to make money have gone the way of the cassette tape. Clubs that pay real money? Rare for unknowns. Wedding band work? Lost to DJs. Studio work? Everyone's got a home studio. "Full-time" means every dollar that comes into our house comes from Suzanne and/or myself pulling out an instrument. Sometimes from me teaching guitar to kids from affluent families (good for keeping my musical tastes from getting too crusty), but mostly from singing in front of an audience. I started keeping track of our gigs in 1988 and the total as of today is... 5,178. Two-hundred and 12 individual engagements in 2012; with some involving multiple performances, the total number of shows last year was 264.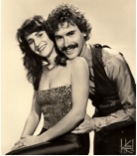 So are you expecting me to give you tried-and-true career advice, based on our fabulous accomplishments? There are plenty of online resources that can help you with day-to-day issues. What about the big picture? Beware of anyone who offers pat answers to the existential career questions only you can figure out.
What I would like to share with you is stories that detail how Suzanne and I came to terms with the reality of the music business and our place in it. Some stories will point out how much things have changed; other will show how some things have stayed pretty much the same. But I promise that every story will be an entertaining, quick read and give you a little inspiration to stick with your career goals, even when the world seems indifferent or downright hostile.
We did it; so can you.
For today, I will take issue with F. Scott Fitzgerald's contention that "there are no second acts in American lives." Rather, today's musician should take a cue from Charles Darwin: "Adapt or Die." And in the spirit of "a picture is worth a thousand words" here are various identities Suzanne and I have assumed over the past decades, each our latest reinvention to stay relevant or find a new audience.