I could not let the recent passing of Eydie Gorme, singing partner of Steve Lawrence go by without commenting on the connection Suzanne and I shared with them.
For those too young to know, Steve and Eydie came to prominence in the last days of the mid-1950s before rock and roll forever skewed the pop music world towards the tastes of teenagers. Wisely they did not try to remake themselves for the youth market, though their biggest solo hit records were penned by the best in the Brill Building: Gerry Goffin and Carole King (Go Away Little Girl, Number One for Steve in January 1963) and Barry Mann and Cynthia Weil (Blame It On The Bossa Nova, Number Seven for Eydie a few months later).
Instead, they favored a well-chosen repertoire of music now celebrated as "The Great American Songbook" (Rogers and Hart, Rogers and Hammerstein, Cole Porter, Irving Berlin, etc.). Their vocal performances, both together and separately, were impeccable, with Eydie especially having a flair for the dramatic. They developed a successful, long-running stage act with Steve in a tuxedo and Eydie in an evening gown. The show was punctuated with the kind of husband-and-wife barbed humor that was popular at the time.
But unlike many of their contemporaries, they never enjoyed the kind of career renaissance that would endear them to new audiences today. Frank Sinatra's best work has an underlying emotional angst shared by Lou Reed or Kurt Cobain. For sheer ebullience, nobody can touch Tony Bennett; Mr. B. has also had superb career guidance. Sonny and Cher updated Steve & Eydie's act for a rock and roll generation, with all the Vegas-glitz but none of their tasteful musicianship. But to most people born after the birth of rock and roll, Steve & Eydie remained strictly squaresville.
In 1979, Suzanne and I began a five-year management contract with New York based publicist Marvin Drager, which will be the subject of several future blog postings about the ups and downs of having a manager. Among his long list of show-biz clients were Steve & Eydie; pull out your copy of Steve's 1963 Winners! album (I know you've got a copy somewhere) and you will see Marvin Drager listed as the author of the liner notes.
Marvin had visions of Suzanne and me adapting the Steve & Eydie act for a new generation. The superficial similarities were obvious: we could sing well together and separately and we performed as husband-and-wife. He booked us into cocktail lounges where piano players would croon standards. While we worked, he encouraged us to develop "an act." This was several years before Linda Ronstadt began the trend of pop stars restarting stalled careers by mining the Great American Songbook. Who knows? Perhaps with Marvin's connections, we could have led the way.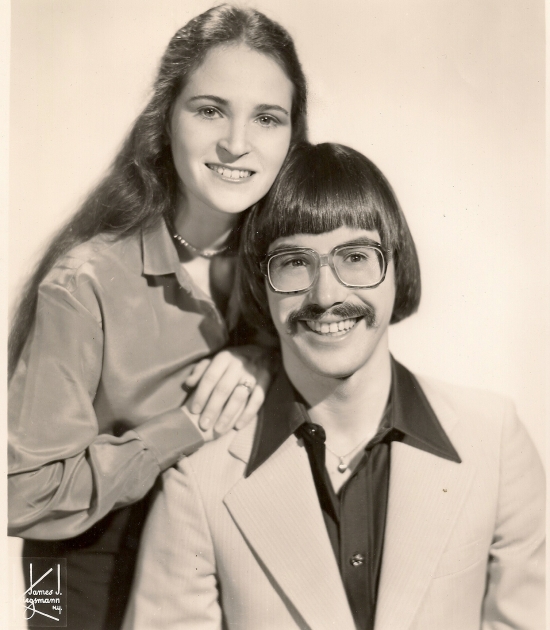 There was only one problem: Suzanne and I hated the kind of mainstream show biz sensibility that Steve & Eydie represented. Our generation came of age listening to the kind of rock and roll that put up generational barriers. Our heroes categorically rejected the existing entertainment establishment of our parents. At the time, Suzanne and I were folksingers; our idea of great songwriting was Don McLean, Steve Goodman and Kate & Anna McGarrigle.
http://youtu.be/S2Xs1gywNgI
Our elder statesman was Pete Seeger, not Frank Sinatra.
And then there was the issue of instrumentation. As a non-musician, Marvin thought that a good singer could put across a good song regardless of accompaniment. So what if we played acoustic guitar and autoharp?
We tried. Oh God, how we tried. As Time Goes By actually sounded pretty good when Suzanne played it on the autoharp. We worked on the Steve & Eydie onstage repartee, but we respected (and needed) each other too much to insult each other onstage, even in jest. We tried to create some backing tracks on a cassette recorder so we could be freed up from our instruments. We got an Electro-Harmonix drum machine to fill out our sound.
http://youtu.be/QEm_Klct7xw
But this was the age of Kiss, Queen, the Clash and disco. We spent the next five years getting fired throughout the Northeast. But I'll save those juicy stories for future posts.
Since those disastrous years, Suzanne and I have matured as singers and can now appreciate the challenges and rewards of well-written songs that predate rock and roll. With electric guitar and bass (upright and electric), combined with careful use of ProTools, we can give this material its proper setting. Our onstage banter is an honest reflection of our long years of working together and raising a family, along with gentle ribbing about our quirks. I'll bet we could do a hell of a lounge act now.
So here's to Steve & Eydie, the masters of a pop sensibility that we have come to respect now that we're older and wiser. Here they are at their best in 1967 (when all us kids were listening to Sergeant Pepper, the Doors and the Jefferson Airplane):
http://youtu.be/edGq1KuBAwg