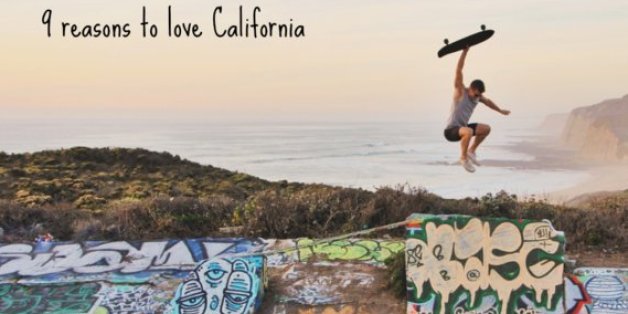 By Helen Anne Travis
California is a magical land of wine, tacos and startups. Here, you can climb up a desert dune, ski down a mountain, and swim in the Pacific Ocean all in the same day.
In most parts of the state it's sunny - all the time - and save for the occasional earthquake, living is good.
We asked our West Coast Yodelers to help us compile the following nine reasons to love California. Think we missed something awesome about the Golden State? Tell us about it »
1. The Golden Gate Bridge
With its Doritos-inspired paint job, Art Deco towers, and tendency to get romantically swaddled in fog, this 4,200-foot-long suspension bridge is the coolest in the USA. (Sorry, Brooklyn.)
Photo by Yodeler Tracy Zhang.
2. San Francisco
The best city in the world. Hands down. (Again, sorry Brooklyn.)
Our hearts swoon every time we see this photo by Yodeler Michael O'Neal.
3. Los Angeles
Our La-La Land Yodelers complain about traffic, egos and smog then brag about the beach, the burritos and the weather. This is a fascinating city of spray tans, highways and contradictions. And that's why we love it.
People gather in downtown LA to mourn the death of Michael Jackson. Photo by Yodeler Darren Ankenman.
4. Asking people what they do
Californians make their livings as actors, animal wranglers and lifeguards; photographers, forest rangers and food stylists. Grips and gaffers work on movie sets, and seismologists track the tremors of the earth. Dinner party conversations have never been so fascinating.
What did you do at work today? California Yodeler Michael Tighe took photos of Kiefer Sutherland while standing on a hotel balcony. Because California.
5. The sunsets
I mean come on, look at this!
Awesome shot by Yodeler Rusty Long.
6. The trees
Standing next to a 250-foot Redwood really puts things in perspective.
Photo by Yodeler Laura DeAngelis.
7. The skaters
Legend says the skateboard was invented by California surfers who wanted something to ride when the waves were flat. Y'all are so inventive!
Photo by Yodeler Mitchell Jordan.
8. The coastline
California is home to some of the most protected, untouched coastlines in America. 
Photo by Yodeler Greg Archer.
9. The middle of the state
The coastline is awesome, but inland is just as interesting. This is where you'll find deserts, fault lines and the Salton Sea, which Yodeler Dominick Bui calls "a very fishy, stinky, version of paradise."
Photo by Yodeler Dominick Bui.
Californians, did we miss something awesome about your home state? Tell us about it »