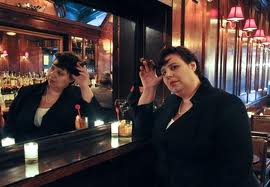 It is with incredible sadness that I pass along the information that the amazing beautiful light that was Michelle Dobrawsky passed away at about 3:45 today. My Love, you will be missed. -Ryan Shellito
We lost an amazing woman yesterday. Michelle Dobrawsky was, among many other things, a comedian, a lawyer, a fierce supporter of women in comedy, and an all around wonderful person. In her early 40s she lost her battle with rectal cancer. To say the news was shocking would not do justice to the state I and many others are in. I think we all assumed she would soon recover to return to the scene as the ballsy, badass comic we knew and loved. How can someone so fierce and full of life be gone? I am still trying to process the loss.
As the news spread across Facebook I tried to take it all in. Widespread outpourings of love and grief continue to fill her wall. And while the countless notes praising her "limitless generosity," her "beautiful spirit," and her "shining light" completely encompassed the woman we lost, I found myself drawn to the posts she would have gotten a kick out of the most. Ari Voukydis calling her an "intense weirdo" would have had her in stitches. Dale Sorenson, the man with whom she ran SuperEgo Comedy and one of her closest friends, posted this photo with the caption "Boobies!" -- which made me laugh in spite of myself. Friends in the improv community referred to her as "Gold Dust Woman" -- her IRC handle -- and linked to her blog in which she compared the feeling of a really good improv scene to an orgasm. That was Michelle: honest, raw, open, intelligent, insightful, golden and hilarious. But the thing Michelle would have loved the most I think is the resurgence of one of her many great causes: a campaign for South Park's Mr. Hanky to be the official mascot of rectal cancer. Through the end she had the ability to find humor in the most dismal situation. That takes balls and strength I'm not sure I possess.
Photo courtesy Jeff Scherer's Improv Mugshot Journal
I myself have many fond memories of Michelle. I have taken classes with her, performed with her and had wonderfully devious and delightful conversations with her. In her honor I planned on linking to a post she wrote on some of her favorite ladies in the comedy community and was devastated to see it sitting in the drafts of the GLOC dashboard, the victim of my scattered brain and a glitch in the post scheduling feature. I am completely beside myself that the post never went up and floored that she never said anything. I wish I could express my sorrow. I hope she knows and I hope you will take the time to read her post here.
I've asked others in the comedy community to share their memories of Michelle, which I'll post at the end along with two of her stand-up sets, but first: a post I came across yesterday while re-reading her cancer blog. This struck me as one of the great lessons we should take away from Michelle's short time on earth whether we had the immense pleasure of knowing her or not. Take pride in even the smallest of accomplishments in your life. Treat life like an adventure and you will live without regret. I am humbled by Michelle's legacy of laughter and love. I am honored to have known her and I will miss her greatly.
Rest in peace, my friend.
Kick the bucket? Drop the bucket?
by Michelle Dobrawsky

I think a bucket list is all wrong, wrong. Instead of being wistful and figuring out what you should/might do someday, it's sometimes way more fun to look back on all the fun and cool shit you've already done. Personally, I'm pretty impressed -- in an imperfect analogy, I've filled up way more than my share of buckets.

A few things (you may or may not know about) I've done, among many others I can't even think of at the moment

dissected a human corpse
saved a life or two
portrayed iconic characters on stage
chatted with a sitting Supreme Court justice while being sworn into the Court
flambeed
grappled
protested
raised thousands for charities
created stage poo (don't ask)
written and published naughty fiction (good luck finding those)
been podcasted
been televised (network, too!)
been professionally photographed
held a brand-new newborn
performed a one-woman show in NYC and on the road
experimented with DNA
had a near-death experience (which consisted solely of me not dying)
performed under the influence of blood clots in both lungs (see above)
breathed the air from Ground Zero
written and/or performed jokes, stories, songs, sketches, plays, music all over the country
traveled a little bit (many thanks for that special friend who got me to Dublin solely for a party)
tried cases in courts of law
lost a lot of weight
installed appliances
stood inside a redwood tree
skiied badly
taught people how to cook
attended many state fairs
loved
married
divorced
been to the top of the Empire State Building (and me, a Native New Yorker).

Chances are, of course, there are way more cool things to be done in the future. And I'll be doing them, for sure.

Chances are, I will never enjoy gefilte fish. I do not regret this in the least.
"I knew Michelle through improv many years before coming back to Stand Up. I emailed her one day and just asked "Hey do you know of any open mics?" She replied with: "Mine's pretty good." And there is the essence of her humility. She and Dale Sorenson ran the best mic in NYC and she just said it's pretty good. She supported so many of us with her laughter and wisdom. It was a joy to be her friend and hear her laughter week after week. This hurts my heart so much." -- Cindee Weiss
"In 2008 Michelle put together a benefit for Gilda's Club which she asked me to be a part of. We knew each other a bit through comedy but I don't think that Michelle knew that in 2007 my mother passed away from cancer and my weekly meetings at Gilda's Club were essential in helping me push through those first few months of grief. Were the roles reversed I have no doubt that Michelle would have hit reply immediately and signed on. I didn't perform in the benefit, I didn't even go. I was too afraid to be vulnerable or laugh about something as big and awful as cancer. What I'll remember about Michelle is that she fearlessly kept everything connected. She loved comedy. She had cancer. She built a community." -- Kate Tellers
"Michelle was the first comedienne who reached out to me and showed me a larger comedy community in 2006 when I was taking improv classes and struggling with all things funny -- she offered resources to other funny people and so much talent. Thank you Michelle for opening a door to a community. . .and for that I'll always remember you." -- Keisha Zollar
"I met Michelle in 2004. We both worked in the legal division of Pfizer. I was a temp, she a lawyer. I went to a few of her shows when she first started doing comedy. Then I started doing comedy. She was kind, funny as hell and she and Dale Sorenson ran a lovely mic where I never left hating myself. And Superego shows were always a blast. I'm so saddened that we lost such a fabulous woman and comic who had such a big heart and a fantastic laugh. The last time I saw her at the mic, I asked her "how's it going?" and she said  "You know, ass cancer-y." I adored her. Her passing is a true loss - for the comedy community and for all of us." -- Katherine Williams
"I remember meeting Michelle at Mo Pitkins like it was yesterday... the good 'ol days. She was smart, funny, friendly, and her smile lit up a room. My prayers are with her family and innumerous friends. Rest in Peace, sweet lady xo" -- Katina Corrao
"Many people knew Michelle as a comedian. But aside from that she was a lawyer (always helping the comedy community with various legal struggles) and she used to be a social worker where she helped the underprivileged. Michelle had a rich life and amazing stories to draw from. She seemed to have crammed in ten lives to her very brief time here with us. Michelle helped me out numerous times with her vast knowledge and kind advice. I am grateful to have met her, laughed with her, and laughed at her fearless comedy." -- Margot Leitman
"Michelle and I preformed in many shows together that included numerous wigs, crazy improv forms, and ridiculously fun nights. I will forever think of her standing in the spotlight, placing her arms on her hips, while throwing major sass out on the stage.
"She was always a great friend and I loved how brazen and ballsy she could get. I can still hear her say "Well fuck that!" when she didn't agree with how someone was being treated. She helped out just about everyone I know in the improv community in one way or another. She was someone you could count on. She had a great loving smile and an equal intensity that could scare the crap out of someone who was in her way. Her stories were always fascinating and her world was heartbreaking at times. She was really special and made a gigantic impact on the New York comedy scene. I am really sad to have heard of her passing and wish I had reached out to her sooner. I am sad I didn't get to say all of this to her face...although I think I have said most of it to her at different times while we were together. I am sad I am that I didn't get to return her boom box to her as promised. I am mostly sad that this world has lost a really sincere and wonderful gold dust woman. I feel lucky to have been able to do the funny with her and will forever miss that sassy stance." -- Amanda Allan
"Please include something about her stand up show at NYCC. She always reached out to me and it's so sad that it was ending this week anyway & I can't imagine what Dale Sorenson is going through. Always kind & the kind of friend who had your back always." -- Bridget Fitzgerald
"I will always remember her as lovely. She was very warm, with a quiet, calm strength. You felt good around her. She special and unusual. And blissfully funny." -- Livia Scott
"The fact that so many people weren't even aware she was sick shows you just how selfless she was. She generously gave of herself so that others could have stage time and be better once they got up there under the lights. For a while, she co-produced Super Ego Comedy at Ochi's Lounge, downstairs at Comix. When Comix started faltering and the owners niggled with Ochi's, I could always count on her to roll with the punches, to make the best of a bad situation. It's no wonder then that she would do the same with something as scary as rectal cancer; or, what she called it, the funniest cancer of all. I'm sad that she's gone, but happy that she taught so many of us how to exit the stage with honesty, grace, humor and love." --Kambri Crews
"I didn't even know she was sick. So sad. What a great person she was." -- Jamie Lee
"Michelle was the first female comic to tell me I was funny. The mic she and Dale ran at NY Comedy Club was were I basically went through comedy puberty and will always have the most special place in my heart. Her laugh was wild and magical and made you believe in yourself." -- Chrissie Mayr
"You couldn't just say that Michelle Dobrawsky was a "lady." You'd have to also throw in words like "broad" and "dame" to fully capture her bawdy, throwback sense of humor, style and womanliness. To Michelle, her fabulous boobs were as much an accessory as a string of pearls. When she and I teamed up to play at the charity event Scrabble For Cheaters, it was Michelle's idea for us to wear demure dresses. And to yank down the fronts, hike up the bottoms and call ourselves "Raging Hussy." Only a few months earlier, she and I had donned lingerie alongside each other for an all-female reading of Glengarry Glen Ross. (She'd used her legal prowess to convince the Mamet people to let us do a show previously restricted to men). I remember her helping me get my boobs up in my barely-there neglige as we practiced swearing at each other. Michelle lived at the intersection of sassy, classy and witty, and I'm pretty sure that she's out there somewhere hoping we all do the same. What a dame!" -- Jen MacNeil Danenberg
"Michelle was a sweet and hilarious woman. I will miss running into her and seeing her around the comedy sphere. She was a true person. I never felt like she was ever bullshitting and that is a rare thing in this world. I am really sad to hear about her passing." -- Becky Yamamoto
"I remember Michelle's smile and laugh above all. She would watch a show with such enthusiasm and joy. Similarly, watching her step out on stage, she was always filled with such excitement and love for being out there performing. She will be truly missed." -- Abra Tabak
"I thought it would be worth mentioning her work for Gilda's Club. For at least a couple of years (2007, 2008, and 2009 that I can remember) she put up comedy shows/auctions to raise money for them. I'm not 100% positive, but I believe this was before she was diagnosed with Cancer herself. I was really grateful for her presence as a woman in the community, always wonderful to talk to and bond over our lady struggles." -- Tiffany Morningstar
"I met Michelle Dobrawski several years ago at the fondly remembered Wednesday show at the Village Lantern. I then frequented her shows with Dale Sorenson at Parkside Lounge. It's one thing to make an open mic fun, but another thing to do it week after week. Michelle did that with her warmth, spirit, and talent. She was so generous of spirit to other performers. No matter if you felt sad, bad, indifferent, you could go to her show and feel welcome, supported, and have a bright spot to your day. She was so funny and smart, an amazing person. She was always involved in so many creative projects. And she was lawyer on top of of it all. I loved hearing about the law practice she ran out of her apartment on Avenue A, which she made professional by changing address on letterhead for Apt, say, 1020, to Suite 1020. Michelle was a dear person, a loved member of the comedy community and will be very missed." -- Hilary Schwartz
"When you share a stage with a comedian long enough, you begin to know their entire life story. During the years I spent at Super Ego I watched Michelle go from miserable lawyer, to stressed out single comedian, to a female comedian who built a New York comedy scene staple and met a man who loved and supported her very much. I am so fortunate to have seen just a sliver of the progression of her life. As an open mic host both Michelle and Dale were a lively, friendly and honest duo. They were able to joke about everything, no matter how personal, which made Super Ego such a safe environment to try out material. I've never seen anyone fight cancer with such humor, and even though she lost her battle, she left behind a legacy of laughter." -- Sue Funke
Michelle Dobrawsky at SuperEgo Comedy NYCC -- July 21, 2011
Michelle Dobrawsky, Lawyer Jokes -- November 10, 2010