With all due respect to one of the greatest ever- William Shakespeare said, " a rose by any other name would smell as sweet..." but I beg to differ. Tamsin Lonsdale, is most definitely not like any ordinary English rose. She is undeniably beyond intelligent, worldly by definition, unique and strikingly beautiful, jet-setting socialite with impeccable taste, witty as you'd expect from a refined English girl to be but yet she remains humble.
My featured interview guest is creative, sharp, and competitive but embodies a balanced personality with compassion, gratitude and sweetness. She is the sort of charismatic friend you'd want to dream up. She is intriguing with extraordinary hostess skills that are at first glance very traditional, like a young Martha Stewart, yet with applaudable freshness and modernity all at once. She's the sort of girl that goes on a hike in the morning, then meets you to go to a strenuous riding lesson in the Malibu summer heat in the afternoon (true story), then off to lunch and still has energy to go on an early evening surf lesson then out to dinner. I envy her peppiness, she barely breaks a sweat while building a huge brand called The Supper Club. She is most definitely the brainy girl that fits the what-it-takes mold to make a cover story of a magazine like Forbes thanks to her own brilliance and single handedly creating a fresh new version of the private members party scene by curating each event to be completely memorable for her members making her company relevant and current year after year.
She has lovely baby blue eyes, golden skin from suntan, blonde waves, contagious smile, her famous sultry voice is crisp with a very posh accent. She listens carefully when one speaks to her, and I feel this is because she perceptively studies people.
My interview with her is followed by these photo's of Tamsin hosting her events, and of several different Supper Club parties, and a couple of photos of her charming family....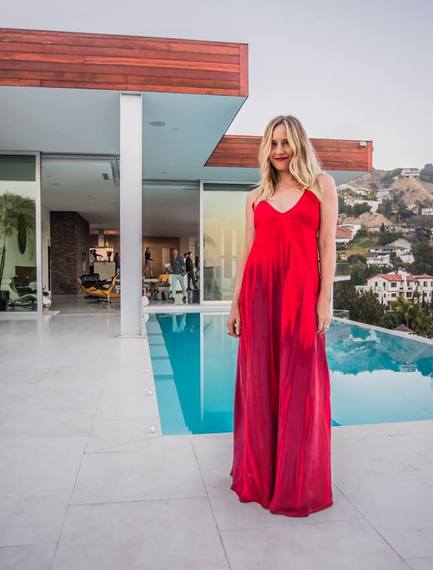 Tamsin Lonsdale at her Summer Solice Party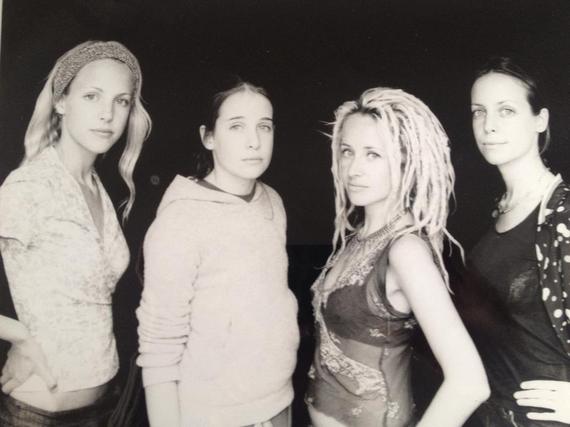 The Lonsdale sisters, Tahnee, Storm, Tamsin, Chloe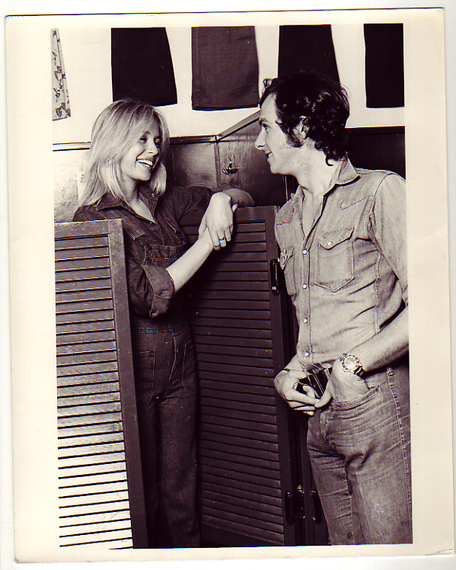 Model Chekkie Maskell and Tony Lonsdale, 1970's, London. Tamsins parents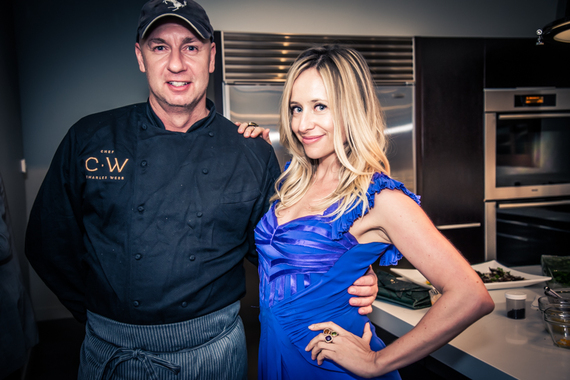 Tamsin with a featured chef, Charles Webb, for a Supper Club event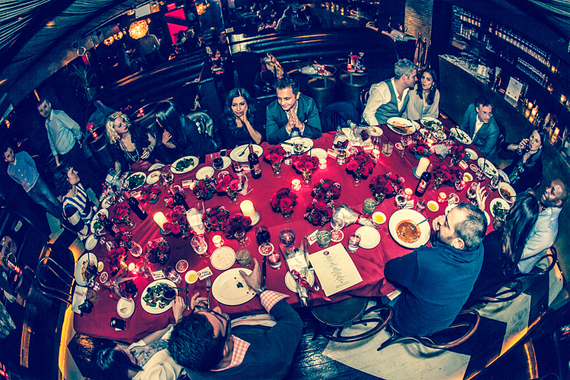 A Supper Club scene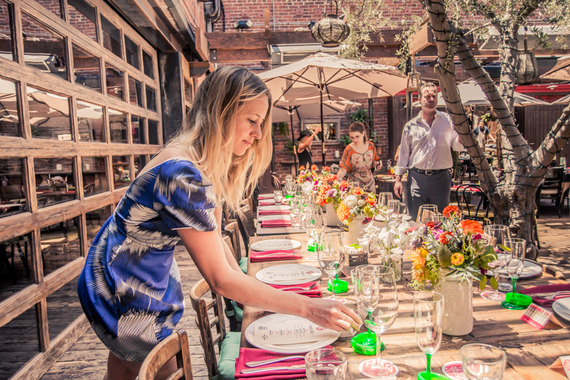 Tamsin checking last minute details on table setting at Aventine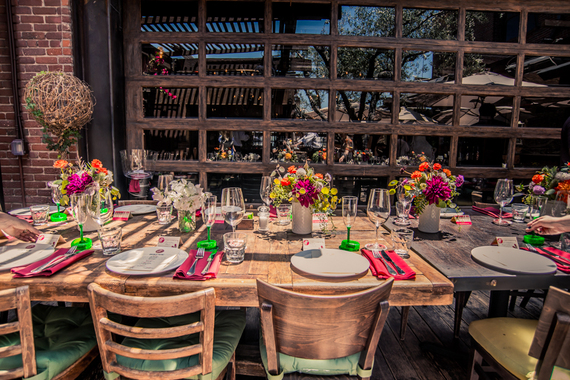 Supper Club Brunch Table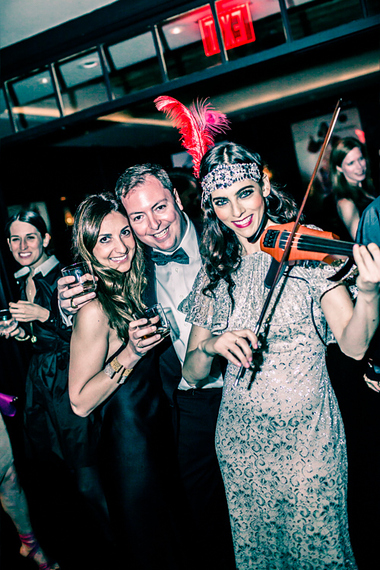 A beautiful violinist Rebecca Cherry entertaining Supper Club guests, Cristina Incisa di Camerana and Marcello Tallarigo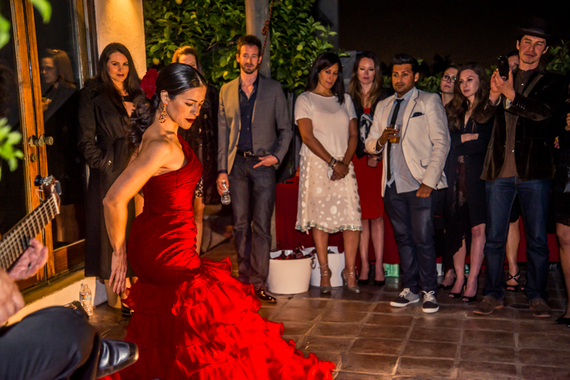 Flamenco dancer and Spanish guitarist entertaining Supper Club guests in Hollywood Hills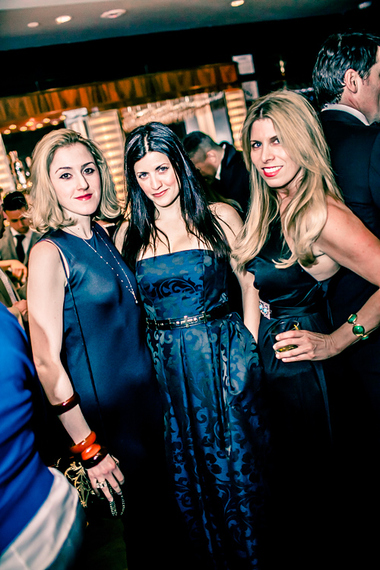 New York Supper Club members, Flavia Masson, Keren Eldad, Kim Bates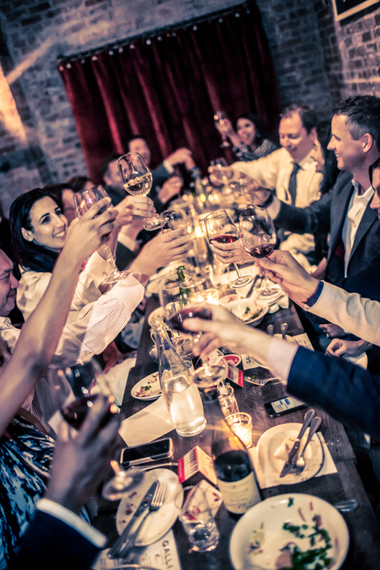 Clicking glasses at a Supper Club NY dinner event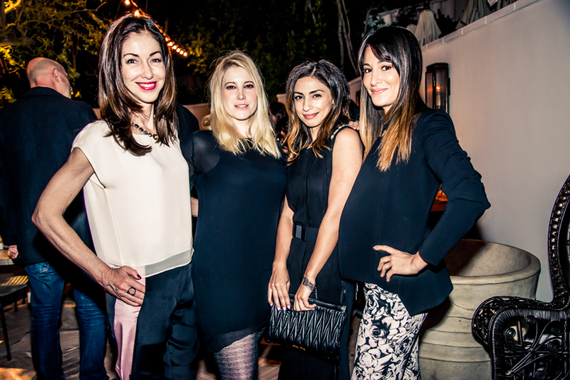 Mae Brunken, Susan Foster, Sarvin Ghaemian, Samantha Haas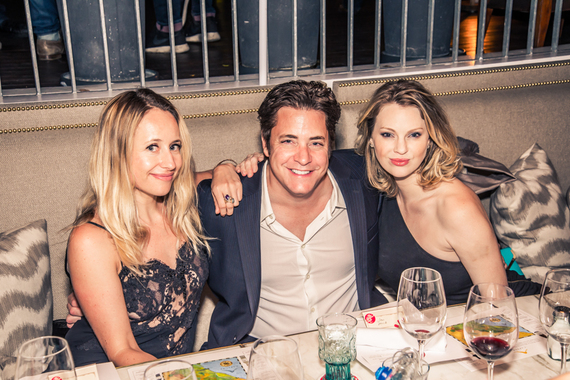 Tamsin Lonsdale, Sam Paola, Leah Hardy at a Supper Club dinner at Herringbone
Villa Maria Wines hosting bar at a Supper Club event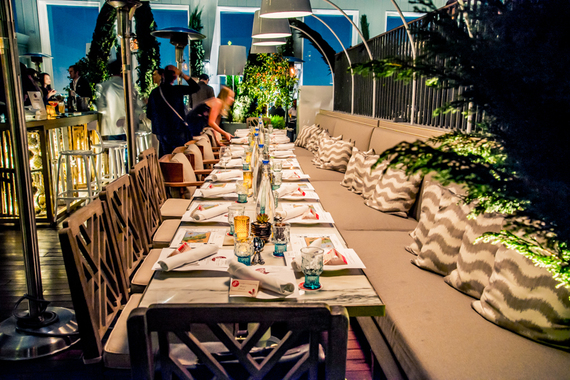 Supper Club event table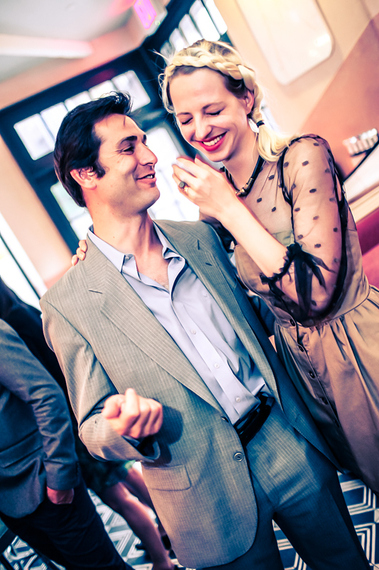 New York Supper Clubbers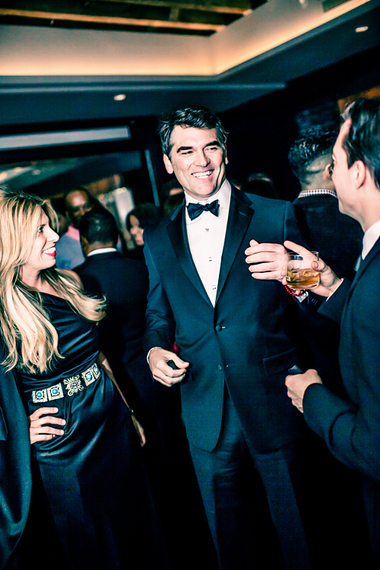 New York Supper Clubbers, Sebastian Doggart and Christina Clare
Supper Clubbers Grissel Camacho and Rafe Rafahi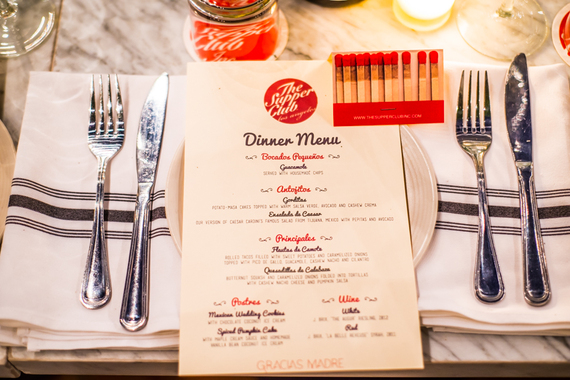 A typical Supper Club table set up
Where did you grow up?
In Hampshire - Jane Austen countryside and the inspiration for many of her novels.
How do you think your family & and upbringing shaped your personality??
Quite a lot. We grew up in a liberal household and were sent to the most liberal school in England - Bedales - famous for not having many rules and being progressive with a creative approach to education. My parents were both hippies in the 70s (my mum a fashion model and dad the founder of a chain of denim stores in London named The Jean Machine) and our upbringing (myself and 3 younger sisters) was very relaxed with not so many rules in the household either. All this helped to encourage my entrepreneurial spirit. Inspired by my dad's success as an entrepreneur in the rag trade I always knew that I wanted to work for myself and have my own business, and so I chose to study business and accounting at the University of Edinburgh finishing with a first class degree.
Describe yourself at 9 years old, and 15? and what about at 21?
At 9 - sweet - I think I was voted the cutest girl in my year at school around this time, at 15 - rebellious, just discovering that there was a life beyond ponies and parents namely parties...
at 21 - intrepid adventurer - having caught the travel bug at 18 after spending a year traveling around Australia, I proceeded to explore a whole host of other countries during my holidays at Edinburgh, which spanned almost 4 months every summer - traveling to Morocco, Cambodia, Laos, Thailand, Vietnam, The Philippines, Guatemala, Mexico, Belize, Honduras, India, South Africa, Brazil, to name just a few.
What was your favorite family vacation as a child? Now as an adult, where do you love to go for relaxation?
The Florida Keys- as kids we had a holiday home in Marathon in the Florida Keys, and would holiday there 3 times a year. It was the fondest memories, from fishing with dad to swimming with manatees, long bike rides down to K-mart, collecting hermit crabs, playing tennis at twilight, sailing on the Hobie Cat and eating BBQ'ed lobster on the dock, freshly caught out of the ocean that day.
Now as an adult I love to go to Antigua to relax, where my dad has a house. It's like paradise there, so quiet and lush, with beautiful secluded beaches. My favorite things to do whilst there are to get lost in a novel on the beach, go for sunset runs and take the boat out. I also love to go to Aspen, especially for New Years eve. I love to ski and the apres ski is not bad there either.
How did you get started hosting these amazing events, and when was The Supper Club born? how did you make it a business?
I must have been 13 when I threw my first party - for my birthday, inviting my whole class back to my house for pizza and cola. I have always loved planning dinners and holidays and bringing friends together. It was at Edinburgh University, when I got really into event planning both personally and professionally. For my birthday every year I would rent a big mansion or fort in the Scottish countryside, and invite 50 of my closest friends for a 3 day party, complete with big dinners parties, deejays flown in from Russia, lots of dancing and treasure hunts - and always a theme - from Cowboys & Indians to Boogie Nights and Lord of the Rings. Whilst at university I also started 2 regular clubs night, a trance party held monthly called Aswang, with my best friend Chaz - we'd decorate the club with real ivy and hammocks, and serve spicy chai tea and fruit to guests at the end of the night, and make all of the decor, mainly UV fairies and pixies on giant size drapes. That was a lot of fun. The other club night was an 80s party, called Glitterati, held bi-weekly.
When I graduated university I toyed with the idea of working in the city as a management consultant, but decided against that (and pleased I did). I tried my hand in corporate events, property, was a fashion stylist for Italian Vogue and even moved to Cape Town for a year before falling into The Supper Club. At first it was a hobby - I missed the big dinner parties we used to throw at university and meeting new and eclectic friends around the dinner table and wanted to revive this in London which at the time was more about going out to nightclubs, where the music was so loud it was difficult to have a conversation. My first Supper Club dinner party was held in 2004, at my father apartment in London, around an oversized table, for 20 friends. I remember staying up all night the evening before, cooking fish pies in preparation for all of my guests the next night. It was only after a year of organizing these underground dinner parties very much as a hobby, that I realized there was a gap in the market and people would pay a premium for the service I provided. It was then that I decided to set The Supper Club up as a fully fledged business and charge a membership fee. It was an instant hit and after 2 years in London I then took it to New York in 2007 and shortly after that to LA.
From small quaint dinner parties to elaborate themed parties, how do you decide what is the next party?
Good question - it's more about how I decide what the next 8 parties are though, as we host up to 8 Supper Clubs a month, mainly in NY and LA. Currently I have about 30 events I am planning, as I tend to plan out few months in advance, as well as having private clients ranging from The Guardian Newspaper to America Express. I've also been hired quite a bit to plan our members birthday parties, and a few weddings!
There are a few factors though that determine what the new party will be - new restaurant openings (we always like to be the first into these restaurants, makes it an extra special experience and occasion). Most recently we hosted a pop up Supper Club dinner at Botequim, a new Brazilian restaurant just off Union Square in Manhattan. The husband-and-wife restaurant owners, Marco Moreira and Joann Makovitzky were a dream to work with, the food excellent and the setting magical.
I also let seasonal social and sporing events dictate my parties, from a 'Brunch at Wimbledon', 'Polo Day Out' and 'London Olympics Viewing Party' to a 'Mad Hatter's Easter Tea Party' and 'Nightmare before Halloween' themed gatherings. I love a good theme and have an endless supply of ideas for these -the limit is my imagination!
It's also important that I see the space first before deciding the theme - most recently we hosted a Summer Solstice celebration in a gorgeous home in the Hollywood Hills, with Villa Maria wines, and it was only after seeing the home that I knew this would be the perfect theme - due to the clean and modern lines of the house, making it perfect for entertaining, killer views and a infinity pool with glass bottom which was just dying to have a mermaid in it!
The next themed parties we have coming up that I am most excited about are a Film Noir Garden Party in September at one of our members, Mae Brunken's gorgeous home in the Hollywood Hills. She's a fantastic interior designer, and her house reflects her talents. Often our members love to open up their homes for our events. At the end of July we are hosting a Sustainable Summer Soiree at the founder & CEO of LivingHomes, Steve Glenn's, LEED certified Santa Monica property.
I am also really inspired by our Supper Club passport series, where each year we invite members to join us on a number of different exotic holiday locations. Last year we went to Cape Town and Kruger park, and this year we are planning trips to Bali and Morocco.
What is your personal favorite style of event or party?
I've always love Old Hollywood - you can't beat it, its classic, timeless, and everyone looks glamorous. Masquerade parties are fun too.
I also love day time events, from pool parties to sunday brunches.
What was your proudest press moment?
I loved the write up we received from Joshua David Stein in Page 6 Magazine, as well as the NY Post piece , back when I was launching The Supper Club in NY.
I also loved this piece in Brit newspaper the Telegraph written by one of our Supper Club members Sebastian Doggart.
You have hosted many celebrities at your parties in the past, which celebrity would you like to host or plan an event for in the future?
Hmmm. Good question. Richard Branson, Tim Burton or Baz Luhrmann - The last 2 because they have amazing imaginations and a planning a party for them would need to reflect this. The former (R Branson) because I've always admired him as an entrepreneur, and his mind also seems to have no limits.
You traveled a lot, where is your favorite city to live and why?
Los Angeles. I've lived in London, Australia, Cape Town, and New York and it was not until I landed in LA that I found the place I was happy to put down roots in. I love the climate, the ocean and healthy lifestyle - it brings my life balance, what with the hectic nature of event planning. I also feel in LA that I get to live my life, rather than my life living me. In LA I get to slow down and focus on other things beyond work. I've learnt to surf and play polo and love going on road trips up to Big Sur and Napa and skiing at the weekends. I've also made incredible friends in LA and my business is really busy.
What is your favorite country for vacation?
Favorite country would be India - I like Rajasthan best, the colors and spices, it's out of this world and exotic, it feels like a proper holiday, escaping and immersing oneself in a whole new and different culture. I have not been to Costa Rica yet, that's next on my list.
What was the most lavish party that you hosted for your members?
In London - Mary Greenwell's (make up artist to the star's) birthday party at Beach Blanket Bablyon - inspired by F Scott Fitzgerald - a Beautiful and the Damned birthday party, and we had some many celebrities come, from Uma Thurman to former bond girl Maryam D'abo, Mike Figgis, Jemma and Jodie Kidd to name a few.
In Los Angeles - a Black Dahlia themed party- with menu and cocktails to match and lots of entertainment, hosted at Sowden House one of my favorite party locations in LA, a Frank Lloyd Wright designed house and it's also where the Black Dahlia was found murdered, so it was very fitting for our party.
In New York - a Jazz-Age picnic held in the garden of a historic Harlem mansion, where we transported guests there on a big red British double deck bus as well as vintage sports cars (for the celebs).
What brands have you had a working relationship with in the past that you really loved collaborating with?
Pernod Ricard - especially Absolut Elyx. Moet Hennessy - in particular Krug champagne. Bacardi - we recently hosted a spectacular party with Facundo rum.
The 86 company - owned by one of my members, Malte Barnekow, as well as tasting good, their packaging is beautiful too - from Fords Gin to Cana Brava Tequila - we've worked with the whole portfolio. Jim Beam's small batch bourbons.
Who can be a member at your Supper Club?
It's all about personality - we look for those bright shining stars, people that you would naturally gravitate towards at a dinner party - with great energy and charm, style and charisma. Many of our member are the industry leaders as well as rising stars, entrepreneurial in spirit and international, with a hunger for life and experiences.

What are the criteria you look for when looking for a venue to plan the next event?
It's important that the venue is excited about working with us, as this translates into the end product 'the event'. Food, atmosphere and service are also all extremely important too and I tend to do a food tasting before an event if I've not dined there yet.
What venues do you like to work with most? How is it different than a house party?
New restaurants and local neighborhood gems as well as private homes. Private homes make for the best spaces to host our events in, as they deliver a truly unique one-of-a-kind experience, however they are also the most work because you are essentially starting from scratch each time, from bringing in the chef, staff, rentals, valet, entertainment, cleaning crew etc. So I tend to limit these events to once a month, to allow myself breathing room in between.
You always impress your members! How do you come up with the next theme? Your recent "Summer Solstice" party at the amazing home of Andrew Nikou in Hollywood Hills, you hired an elegant mermaid to swim around the infinity pool all night. Marquis made delicious cocktails like "Marquis Fleur" with elderberry, my favorite, and with Owls Brew and Villa Maria Wines, all fit together so elegantly. How do you connect the brands you choose to bring to the particular parties-the entertainment you choose and so forth?
In terms of working with brands, we work with many, high end luxury brands, and it's important that we always weave them into our events organically. For our Summer Solstice party we teamed up with Villa Maria wines, who had a whole marketing campaign around the Summer Solstice, so this was just such a natural fit. Their wines are also top notch, so it was nice to treat our members to a sampling of some of their finest vintages.
Which activity do you prefer doing on your day off? Hiking, playing polo, riding or surfing?
You know me too well - running is a huge passion of mine. I start every day with a long run around Runyon Canyon, it gets the day off on the right foot! I also tend to end the day with a sunset run too, if I have time. I also adore to play polo and show jump, as well as reading, decorating my new home, cooking, road trips and planning the next holiday (I am off to Ibiza and Barcelona later this month).
I love Ibiza, we should plan the next one together. You're so competitive when you play polo, when we go riding and your fearless in jumping, do you feel challenging yourself has helped you in your business as well?
Yes! I am driven and ambitious, which has been helpful in pushing myself further to take my business further, without this I might never have had the inclination and courage to move from London and open The Supper Club in NY and LA.
You make it look so easy, always cool under pressure, but I know you are detail oriented and a perfectionist, how do you look so calm and relaxed at your events? What helps you? what happens if something goes wrong, how do you deal with unforeseen issues?
Practice makes perfect and I've been doing it for a while now.
I think though, it's because at the end of the day I truly enjoy all of my events, so it does not feel like work. I am lucky in this respect that my job is made up of all of the things I am most passionate about - entertaining, meeting new people, bringing friends together, trying out new places, eating and drinking and traveling the world.
Tamsin, what is the difference with your members at your parties in LA, Miami, NY, and London?
Not so much. Our members are really international and embody many of the same personality traits - charismatic, interesting, interested, stylish, creative, fun, smart, successful... However in terms of professional fields/industries we tend to have more members in LA in music, art and film, whereas in NY we have more members in finance, fashion, media and design.
Which brands do you look forward to working with more in the future?
There are so many. I've really been enjoying working with The Guardian recently, creating a custom Supper Club series just for them, as well as the Chef Agency and Audi. I am also looking forward to working more with Jim Beam, Bacardi, and Casamigos ultra-premium Tequila and Matches Fashion.
You have been featured in so many magazines and websites, name a few that you personally felt proud to be written in, the recent one for CNN was quite cool...
CNN for sure! NY Post, Page 6 Magazine, GQ, Vanity Fair, Telegraph.
Your Hollywood Hills house is decorated so impeccably, you're latest hobby seems to be interior design? Is that something that you feel helps you when you are planning a dinner table?
Well thank you to Mae Brunken, one of my members, whose been helping me with the interior design of my home...But yes. I am a very creative person. It's in my genes. My whole family is pretty creative. My sister, Chloe, is a fashion designer and owner of MiH Jeans and my other sister, Tahnee, is an incredible artist (I recently commissioned her to do a piece for my home). My events give me a creative outlet - I see them very much as a blank canvas - where the theme, chef, location, and entertainment are the colors making up the final painting. It gives me great satisfaction to see it all come together and the end product being the members having a fantastic time at the event.
You are a true fashionista, always so stylish, where do you love to shop most, if anywhere in the world?
Beckley, Intermix & Barney's in LA. In NY, I like to wonder around Soho and West Village diving into all the little boutiques, in London - Portobello market and Top Shop.
What is your favorite types of music to you listen to? What band do you want to see next in concert?
I'm quite eclectic in my music taste, I love bosa nova, in particular Bebel Gilberto who I never get tired of listening to. I love Goldfrapp, Lykke Li, Fleetwood Mac, James Taylor, The Killers, Feist, Carla Bruni, Mystery Jets, Prince, The Cure, MGMT. I also adore jazz music. Whilst I love concerts, I prefer festivals, where over a few days I can watch lots of bands and really relax into the whole experience.
We are musical soul-mates! What do you prefer to be in? Heels or flats? Dress or jeans?
Skinny jeans, t-shirt and boots in the day, but at night time if I'm going out, definitely heels and a dress.
The way you set up your company is brilliant you could literally do Supper Club anywhere in the world which must be so liberating. Did you realize going into this that you would have this sort of freedom? It's priceless...
Not so much, unlike most businesses I never had a business plan, it was more organic in the way my company grew. I love the way that I can literally pick anywhere in the world to live and could take the supper club with me, that gives me a tremendous sense of freedom and empowerment. However whilst it may seem like I have a lot of freedom, I am to some extent anchored to the cities my events are in. I host all of my events in LA myself - I think in the last 5 to 6 years I've been in LA, there's only been two dinners I've missed. In NY I personally host one event a month, flying in especially for it. I have a great team in NY that coordinates and hosts the dinners when I am not there.
You are a bit of a matchmaker?
Yes you could say that. I've got a good eye for matching people up and have quite a few marriages under my belt, especially in London.
You are a savvy business woman-yet so much fun to be around, beautiful and quite a catch! If I were a man I would absolutely kidnap you! What do you look for in a relationship?
Haha! A man that is passionate, kind, accomplished, generous, stylish, social and smart, and likes to travel.
What do you like taking with you when you fly?
A good book, magazines, my cashmere blanket and laptop.
If you had a pet, what would it be, and what would be it's name?
German Shepherd. Rum, or a horse, dying to have a horse.
I agree on that, as your humble loyal riding-buddy! So what is next for Supper Club?
Possibly opening a bricks and mortar venue in Hollywood, and opening an outpost in SF, as well as brining out a beautiful glossy coffee table book on party themes.
What is your all-time favorite film? and book?
For books I loved: Papillon a memoir by convicted felon and fugitive Henri Charrière and Thousand Autumns of Jacob de Zoet, by David Mitchell. Really anything by David Mitchell is great - loved Cloud Atlas. Hunger Games was also a great read and I love His Dark Materials, an epic trilogy of fantasy novels by Philip Pullman.
For movies I loved Vanilla Sky, Elysium, Oblivion, Independence Day, Hunger Games. I really love si-fi and I guess anything with Tom Cruise (laughing).
Me too! What do you feel makes a splendid friend?
Loyalty and positivity.
I cannot agree more!
(Here is a photo of Tamsin and I together on my birthday, where she hosted exquisitely at Mari Vanna on Melrose Place last Spring).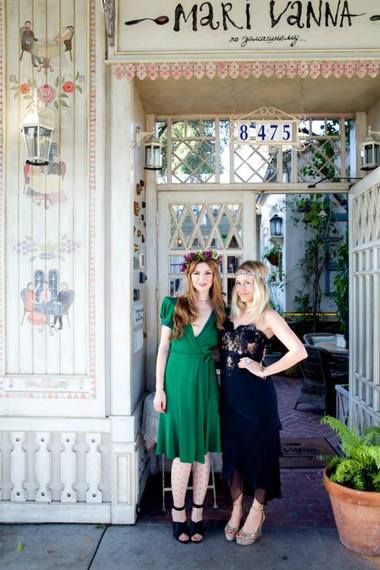 (all photos belong to Tamsin Lonsdale and are used here with permissions)