Gently, I take out my grandmothers dress from the garment bag and inspected it. It's in pristine condition. I remove my clothes and put it on ever so slowly, as if to savor each moment. I slip on my suede heels, and turn to glance in the mirror. Then I proceed in searching for my thin black velvet belt by frantically going through all my drawers. I found it! This would cinch the already taken in waist, just a little bit extra to make it right.
This chic dress is circa 1960, and it was one of my grandmother favorites. It is the vintage collector's ultimate treasure. It's by Louis Féraud, a couturier who made beautiful dresses for the French elite and politicians' wives, and actresses like Brigitte Bardot who wore his designs in many of her films. The fabric of this dress is a thick wool crepe combination that is almost futuristic in the way it heavily lays, though the design is impossibly classic. The color is a vibrant mango-red. The top of the body has a sort of built-in bust, like they made in the 1950s, where the fabric is protruding, as if to be sewn onto the body. The detail right under the built-in bra is a intricate design that goes all the way around. It has a side zipper, with a deliciously well-made, attached slip. A lot of time went into sewing this dress; the underneath is just as delicate.
When I put on this dress I become a character, like a ballerina in costume, there is feeling attached to the dress; it carries a song. I feel special in it. I feel regal. The length is a tea length with full skirt (A-line). I could easily say that this dress is magnificent.
It's just one of the several treasures my grandmother gave me on one of the trips when she was visiting us from Iran. This particular dress might have been purchased on one of her travels with my grandfather, or from a posh boutique in pre-war Tehran. The dress is not just special because it's by one on the most influential French designers that ever lived, but because it belonged to her and she loved it. There is a photo of it I shared on my Instagram.
We lost my grandmother to her battle with Alzheimer's this past summer. Her name was Eshrat Atoofi. She was the muse of great man -- my legendary grandfather Rahim Moeini Kermanshahi. He is known as one of the greatest living poets in Iran. They were married for more than sixty years. A true love story. She loved him and nurtured him so that he could be the famed, published author that he is. She always joked that she never even let him worry about getting a glass of water for himself, when he was thirsty it just magically appeared in front of him while he continued the daily ritual-hours of writing. He was able to be focused on his work and become a national asset to his country. Her legacy lives on with her five children, each with artistic talents, among them my mother Noushin, an author. Ten grandchildren adored her, including my sister Klara and I. My grandmother, the great lady, sophisticated, charismatic, humorous, modern, but traditional, and an ultimate hostess. She was a patient mother, and I see a lot of her in my own mother and my aunts. As a writer's wife, she was responsible for the household, and was brilliant with finance.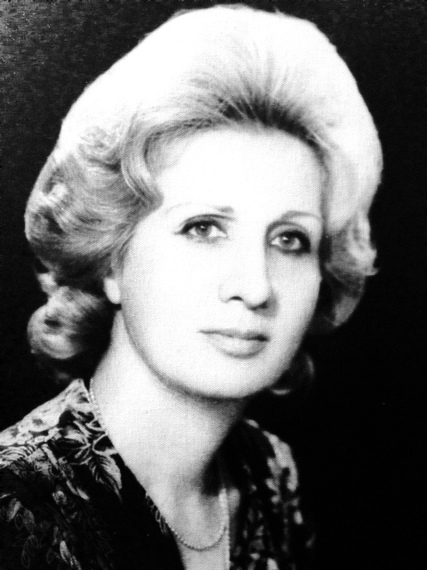 At her memorial service, everyone spoke of her as though she was royalty. I recall how many times I witnessed her walking into a room, and everyone was just in awe of her beauty and elegance. An ethereal creature, tall, svelte, with her soft shoulder-length, blonde Grace Kelly-esque hair.
Her lovely, sea-green sparkly eyes, she always kept her cool and composure under any circumstance. There were so many treasured lessons and secrets I learned to remember her by.

I still can hear her beauty advice she used to give to me. She'd say: "Less is more." She'd say that good undergarments and sleepwear are important. She'd say: "Great posture is key." She'd tell me I am pretty enough without adornment or makeup. She loved expensive perfume and good shoes. She loved to laugh more than anything. She hated to argue. Her guilty pleasure was to hear the occasional gossip. She loved parties, especially if she was the hostess. She was very picky about how her hair looked; it had to be above her shoulders and softly curled in at the bottom. Her nails were not too long and always polished -- her lady-like advice. She loved to wear pearls and lipstick. She'd also say a woman glows most when she can love purely. It was evident she did. Madar joon is what we all called her, which means "mother dear" in Farsi. She loved her husband, her children, her grandchildren, all of us with all her being. She would hold my grandfather's hand with her wise, old hand squeezing his. I looked up to her all my life. I miss her everyday. To finish this difficult year, and say farewell to 2013, I will be paying homage to my grandmother by wearing her perfect dress on New Years Eve, holding my husbands hand, squeezing it.