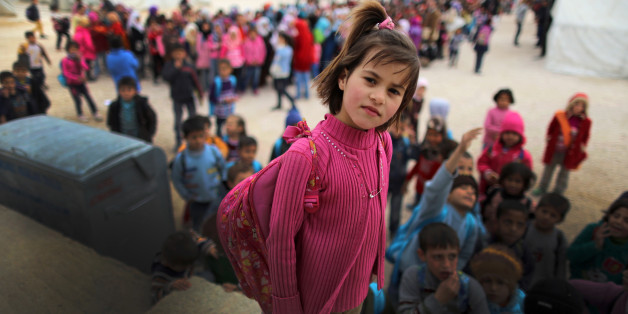 LONDON -- Three years into a war that has now displaced more than six million people, killed 130,000, injured 500,000 and created two million refugees, the United Nations and humanitarian organizations are fighting an uphill struggle to arouse the conscience of the world. The Syrian people also have a new enemy: donor fatigue.
A few months ago in Kuwait -- at the instigation of United Nations Secretary General Ban Ki-moon -- nearly $2 billion of a much-needed $6 billion was pledged by donor countries for Syrian refugees.
But even as the refugee numbers escalate and the death toll from fighting climbs from 130 to 200 a day, according to the Syrian Observatory for Human Rights, there is a growing sense that the world is turning away from one of the worst humanitarian disasters we have ever seen.
A year ago when the planned military intervention was called off, both opponents and proponents of military action dutifully pledged that they would show greater urgency in providing for the victims. But the minute military action was off the agenda, the pressures to provide aid diminished and the public interest in delivering emergency humanitarian action dimmed.
Funding requirements for 2013 of $4.4 billion were only 70 percent fulfilled by the end of the year. Now amidst the bombs and bullets of an even more brutal few months of civil war Syrian refugees, desperate to return to their homes, are asking: 'Why have you abandoned us?'
The compassion fatigue that is hurting Syria's victims is all the more tragic because, even amidst the slaughter, we could so easily be writing a new page in the history of delivering rights to children in conflict.
After forming a unique partnership for children's education with the Lebanese government, UN agencies and international education charities, we have been on the verge of a breakthrough in delivering rights to 435,000 children in camps, huts and tents through operating a double shift system in 1,500 local Lebanese schools.
If successful, we would establish, for the first time, a new principle of international aid that finally achieves for education what the Red Cross achieved for health care 150 years ago.

If successful, we would establish, for the first time, a new principle of international aid that finally achieves for education what the Red Cross achieved for health care 150 years ago. Then the precedent was set that even in the most dangerous theatres of war, health care could be delivered.
Almost 40 years ago, Medecins Sans Frontieres went one step further when they established that, even in the most dangerous parts of the world, health care could be delivered irrespective of borders.
Now, as it is about to welcome its one millionth refugee from Syria, the small troubled state of Lebanon -- where refugee children already make up 20 percent of the school age population -- is the location for a pilot program to establish this new humanitarian idea for education: Even in times of conflict children must have the benefit of a teacher and a school.
Already in the small village of Akroum in the north of the country, Syrian refugee children arrive for their schooling in the afternoon and evening, time-sharing their classroom with Lebanese children who do the morning shift. By sharing classrooms, education can be delivered to refugees at little more than $400 per child per year.
The provision of schooling is crucial, not because food, shelter and vaccinations are not but because we have found that in crises the one thing that children need is what education gives them -- hope. It is the hope that they can plan and prepare a future for a post-war world that motivates even the most disadvantaged of children.
It is little known that the typical child refugee spends more than 10 years away from home. They are at risk of losing their childhood and becoming part of a lost generation that will never know what it is to go to school. And action is urgent because every month that a child is out of education makes it less likely that they will ever return to school.
The war-weary, aid-fatigued but socially-concerned public of donor countries must make their views known if we are to raise the $195 million needed to get 435,000 children to school. And if we make progress in Lebanon it will help child refugees in Pakistan, where one million await schooling, assist camp children on Burma's borders who are still denied an education, aid the children in South Sudan now deprived of the most rudimentary of schooling and encourage action in the conflict-ridden Central African Republic, where children have been out of school for years.
It would be the biggest signal yet that the world is determined to meet the United Nations Millennium Development Goal for universal education for all children.
A few days ago 4 million people watched a "Save The Children" film in which western children imagined a winter without food, warmth, health care and schooling. More than 13 million have seen a Norwegian video in which, imagining the bleak, piercing cold of a Syrian winter, passers-by offer their coats to a shivering boy at a bus stop in Oslo.
Having reframed the Syrian conflict so we see their children as our own children, let us now establish the principle that, even amidst the rubble and the ruins, the right of children to education can be upheld.