Hawai'i Pulp Fiction
Yes. It's true. In Hawai'i, everyone has six or seven jobs going at one time. It's the least you can do to scratch out a meager existence. Anything less, and you are popping a tent in a park.
My fourth job serves as editor, creative director and project manager for a talented Hawai'ian guy who has no idea what he wants. It doesn't matter, because he's having fun. For me, it beats digging a ditch.
His epic creation has been a YA novel, a webisode series, a graphic novel, a zine and a magazine serial. I can't get him to stop writing long enough to finish and fabricate just one platform. Whatever the new turn, his basic concept is fantastic, literally and figuratively.
Set in the not too distant future, Hawai'i has seceded from the US and established a monarchy. This is a result of the "Bloody Siege of Kauai," which is often referred to and yet to be explained. The new Kingdom is faced with an explosion of heated issues, including sustainability, power brokering, economies, basic services, the new national anthem and flag design. Everything is a nag.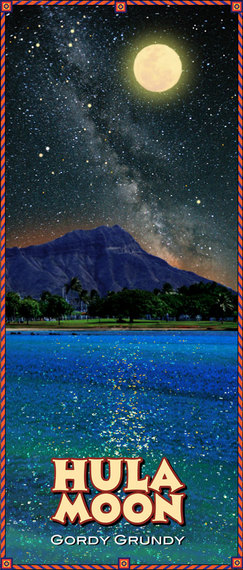 The first effort in this futuristic epic was a graphic novel. The story was a classic melodrama of power told in the style of Alan Moore. Hard decisions must be made for the future of the new nation. Classic palace intrigue. Much rests on the shoulders of Princess Ailani, daughter of the new Queen. Without any power of her own, the princess must navigate through the hands and fists that are muscling for island power.
The best part of this epic is Ailani. She is a twenty-two year old grad of Kamehameha, Punahou and a Yale MBA. Long and leggy, she surfs always and plays volleyball on the fly. While the Princess is a powerhouse and a clean thinker, she is also saucy and hilariously funny. I fell in love with her and wanted to read more.
But my client fell into a distraction. He started to have fun with the story of her mother.
In that story, the establishment of the new monarchy was a mess, a comedy of self-interests. The purest bloodline was the winner. After much blood testing, DNA samples, scientific wrangling and court hearings, the closest, purest blood relative to Queen Lili'uokalani was a harsh discovery and a larger than life reality.
In the narrative, the new Queen is closer to a wild, loud character on the "New Housewives of Waikiki." My client was having fun coming up with these hilarious shenanigans. He created a novela, like the Mexican graphic magazines that use photographs to tell the story.
The new Queen insists that everyone call her "Auntie," until they cross her. Once poor and a scammer, Auntie is now getting used to her new wealth and standing in the international media limelight. It's funny and outrageous like anything on Bravo or E! Her lolo relatives reminded me of "The Beverly Hillbillies." The new royal manor is a three story penthouse in Waikiki, with lots of doors to slam and chickens on the balcony.
Then, my client started to get serious again; I think his marriage was grumbling. He started thinking of a YA novel, because the character of Princess Ailani is so amazing and interesting. As Ailani tries to establish a democracy and an economy, this surfing princess gets sidetracked into a clandestine intrigue. A Chinese agent, a contractor for an electrical company, aims to sabotage the Honolulu Power Station. Her right hand man, Waimea Ward uncovers a Russian plot to take over the new kingdom as a military interest. Lolo Kai, a hippie firedancer, accidentally saves many lives and the crisis is averted.
There are harder ways to make a nickel. The buzzer on my iPhone rings. It's a reminder to jump to my next job. I am pulling a tooth; it shouldn't take too long. Then I'm off to my sixth job as a sommelier. No rest for the weary. It's just Hawai'i life.

File Under: I Wish I Thought Of That
From their website:
"HE>i (HEgreaterthani) is a lifestyle brand. Our mission is to celebrate God's greatness by creating quality products, inspiring thought and conversation, and providing creative and relevant options in the marketplace for those who wish to express their faith.
"The idea came in 2003 on the North Shore of Oahu, Hawaii. While trying to think of something clever to put on the main screen of a Nokia phone, the '>' symbol seemed to stick out. John 3:30 (from the Bible) came to mind. It's one of our all-time favorite verses. It says, 'He must become greater and greater; I must become less and less.' The phrase 'HE>i' stuck on the phone for a few days and rapidly caught on amongst our group of friends. It was then that we decided to print up some shirts and stickers with the logo on it.
"Today, we are a full-time company sending out orders across the U.S. & globally. Our home base is on the North Shore of Oahu, Hawaii. By choice, we only sell our products in our own shops (Haleiwa, Honolulu & Newport Beach), and our online store (hegreaterthani.com)."
Aloha says Hello and Goodbye.
Gordy Grundy is an O'ahu based artist, arts writer and libertine. His visual and literary works can be found at www.GordyGrundy.com.
A collection of HULA MOONs can be found here on the Huffington Post or on Facebook.