A Diploma And A Dealer
Carolyn and Mark Blackburn recently hosted a swank soiree in the lush Garden Courtyard of the Halekulani. Ostensibly, the event promised an Asian Art lecture (and sales pitch) by Bonhams auction house. The true raison d'être was the announcement of the creation of GalleryHNL. Now, not only will the art grads of the University of Hawai'i at Manoa receive their sheepskin on graduation day, they will get an art dealer to boot.
Busy Gaye Chan is the Chair of the Art Department. Given the university budget blowout, Chan is constantly looking for brainstorms to fundraise and promote her ways and means. Career opportunities are rather harsh for the creative artist. Her new program promises a little warmth and comfort against the chill, hunger and obsolescence of a glamorous and thrilling life in the fine arts.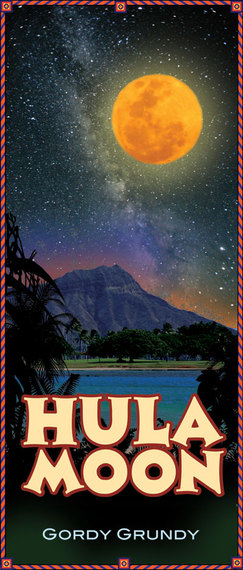 "I guess the best way to describe GalleryHNL is an art agency," says Chan. Selected artists from the UH and a few of the faculty will be represented, presented and promoted. The inaugural voyage sails Saturday, May 2 with the crew of Mary Babcock, Theresa Heinrich, Jonathan Swanz and Tom Walker at the Gentry Pacific Design Center. The champagne bottle hits the bow between 6:30 and 8:30.
The captain and first mate of the GalleryHNL are Mark Blackburn and his wife Carolyn who are providing savvy navigation through the roiling waters of the art world. Talk about shark infested! Known for their world-class collection of Polynesian art, the Blackburns are well schooled in the mores and practices of the fine arts. Architect Sanford Hasegawa has signed aboard for the voyage. "I am thrilled to be connected with these guys," says Gaye Chan, "They have basically taken this on as a philanthropic project. They are such strong advocates for my department and so incredibly influential."
The event at the Halekulani was far more substantial than wine and cheese. The Bonhams and Blackburn bonhomie helped raised three new scholarships to the program!
GalleryHNL is a win-win-win. The newborn artists can cut their teeth in a safe harbor with a little promotion and a commission. Partial proceeds benefit the UH to support new programs and their business as usual.
Most interestingly, GalleryHNL may score a direct hit with the recruitment of new students. Among our esteemed national universities, there is a great deal of elbow shoving and eye gouging for tuition, prominence and glory-mongering. GalleryHNL is a smart advantage to an outstanding art program. To share the love, visit www.galleryhnl.com
Pow! Wow! Wow! Wow!
Pow! Wow! Hawai'i is busy shaking hands and slapping backs after a very exciting and ever-growing 2015 festival. Celebrating its fifth year, our hometown street art advocate has been expanding in size, international scope and worldly cool. The new all-arts focus has widened the circle and loving reach. Now, we can't live without 'em.
Directors Jasper Wong and Kamea Hadar are proving to be very sharp and savvy operators. Despite the paint on their hands and fumes in their eyes, top-notch sponsors are courting them madly and passionately.
This year's Hawai'i fest was bigger than ever. If ya don't believe me, CLICK HERE for the video recap. Pow! Wow! is an essential group to eyeball--there is always something worthwhile going on. Their website can be found HERE.
Taimane Gardner Versus the Gods of Wind and Rain
As I walked onto the grassy grounds of the Bishop Museum, the wind was playing in the evening light, a reminder that All Is Alive. The skies were moist and unthreatening. A beautiful girl smiled. Her long hair was shimmering gold and her eyes winked. "Welcome," she said with a warm smile, "I am Venus." And I believed her. Small diamonds glittered across her chest. Her white diaphanous gown danced with the breeze. She handed me a shell, a beautiful white polished spiral. I was grateful for the gift and humbled by its beauty.
The week before was not so heavenly. The skies raged. The winds howled and the Gods shed their tears without recourse. A celebration to honor the new music of Taimane Gardner and her ukulele was cancelled and a light was dimmed.
A week later, Venus ushered me and my pals to a choice spot on the lawn. We were a few of the several hundred who had gathered for the rescheduled colossal event.
Across the Bishop grounds, entertainers from the IONA Dance Theater gave personal performances with gold and silver and glitter. A pyramid had been constructed, from which aerial acrobats danced in space. Taimane is a loving figure in the island's arts community and all had come to celebrate and support.
This night was a party for Taimane Gardner to unleash her new album "We Are All Made of Stars." The collection of original compositions has been burning in Taimane's soul for a long time. Tonight she presented the masterwork to the world. Eleven tracks identify, celebrate and personalize her favorite planets that glide in unison around our big wide solar system.
Again, the Gods wanted to rumble. Perhaps they were jealous of Taimane's musical beauty; Gods are known to be capricious and jealous. The winds began to whip. The rains began to fall. Taimane Gardner and her ukulele would not stand down.
The fire dancers circled. The Quadraphonix, a fusion of funk and jazz, sounded the beat. Taimane and her band of performers laughed at the rain and played the new album. At one point, the rain grew so heavy that the drummer was hammering a cascade of water, diamonds caught in the light.
This being Hawai'i, no one left. The crowd stayed put. Taimane doesn't have fans; she has family. CLICK HERE to buy the new album "We Are All Made Of Stars." A sizeable portion of the audience are part of the loyal cadre that support Taimane most Friday nights at the Hyatt in Waikiki. CLICK HERE to check her schedule and visit Taimane's website.
Aloha says Hello and Goodbye.
Gordy Grundy is an Oah'u based artist, arts writer and libertine. His visual and literary works can be found at www.GordyGrundy.com.
HULA MOON is a celebration of Hawai'i. Send Hula Moon tips and scoops to hulamoon [at] GordyGrundy [dot] com. Anonymity always guaranteed.