Phaidon Drinks Pussy Riot Vodka
Give a little Aloha. Get a little Aloha. A buddy and I are flattered to be included in a new book by Phaidon Press, the glam publisher of all things tasteful.
With over 1500 titles in print, the Phaidon focus is an eyeful of fine art, architecture, photography and design. They also deliver a mouthful, with a large food series.
Happily, Phaidon has a sense of humor, hence my inclusion. The book is tentatively titled Visual Impact and will be "an accessible and richly illustrated guide to the most influential and highly politicised imagery of the 21st century." Sounds good to me.
The author, Liz McQuiston, chose three visuals from my Pussy Riot Vodka piece. Several years ago, I was outraged by the arrest of Russia's all-female Pussy Riot, the wild punk art collective that was tweaking the nose of the political and religious establishment.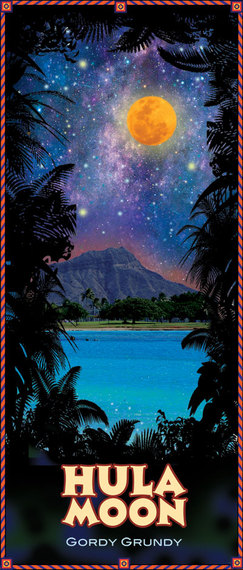 At the time, all of the arty celebs with a pointed political elbow, like Madonna, the Red Hot Chili Peppers and Sting, were expressing their outrage to the cameras. As a weary pop culture warrior, I knew the celebrity attention would fade as fast as a limelight without electricity. (Amnesty International supported them throughout.) What could we, simple artists, do to keep the attention on our Russian sisters while they froze in the gulag?
Comrade Michael Delgado and I created the world of Pussy Riot Vodka. We didn't whip up a batch in the bathtub, but we did engineer marketing materials, websites, a business plan, designer products with logos and all of the ephemera that a leading brand might offer.
Social media was the ocean that our corked bottle bobbed upon. Tweets and retweets, likes and shares, we kept floating a Gulf Stream of new content material to keep the spirit of Pussy Riot in our consciousness throughout their long prison term. The cocktail recipes offer good taste and a laugh.
Happily, Pussy Riot is now free to roam the world, albeit with an eye on the rear view mirror. Hopefully, those wild troublemakers will keep at it.
When Visual Impact comes out, I will donate a copy to the Makiki Community Library, that odd little Honolulu private library run by steadfast volunteers. It is a temple to community and civic-mindedness.
So, tonight, instead of a Hawaii Hoedown or a Waikiki Whaler, might I suggest a Red Square, a Cosmonaut or our classic Putini! Aloha!

Kamehameha Waltzing Through Life
The trippiest song on my iTunes keeps popping up faster than it algorithmically should. Trippy because it stands alone in genre and style in my electronic jukebox. Trippy because I like it so much.
I'm not sure how I imported the Kamehameha Waltz. It may have been part of an Elvis and Hawaii collection or a Best of the Slack Key or just maybe magic.
My Kamehameha Waltz is powered with a grand philharmonic, presumably the Royal Hawai'ian Orchestra and the strong, operatic windpipes of Emma Veary AKA "The Golden Voice of Hawai'i."
Emma Veary started to sing opera in Hawai'i at age five. With a lifelong successful career as a Waikiki entertainer, she was inducted into the Hawai'ian Music Hall of Fame in 2006. Her crisp pitch and clear enunciation of the Hawai'ian lyrics against a classic waltz are ethereal.
The sweep and grandeur of the waltz makes one think of Victorian Hawai'i and gas lit lamps. The song was not a tribute to royalty but to the spirit of one's school. Charles E. King wrote the waltz in 1915 as an ode to his alma mater. Every school has a fight song. Why not a waltz?
I suggest that one not translate the Hawai'ian lyrics into English. The lush score suggests a wild romance and a night of true love ecstacy. It's not. This song is really a rap to school and king.
King was a quarter Hawai'ian and very close to the royalty. Queen Emma was his godmother and Queen Lili`iuokalani taught him music. He was in the first graduating class of The Kamehameha School for Boys, hence his passion and devotion.
Worthy of further study, Charles King was a prolific composer of Hawai'ian hits. His civic-minded life is evidenced by terms as a legislator, teacher, bandleader and musical authority. He loved Hawai'i.
King is best known as a fiery advocate for the original slow, easygoing tempo of Hawai'ian music. Throughout his life, he went after the haole and foreigners who were jazzing up the true classics.
The Kamehameha Waltz is also designed to be played on a simple ukulele. I think I prefer the huge orchestra; it's like a jolt of a double espresso upon waking up in Wonderland. Trippy.

Lanikai Blues
It's been almost 24 hours since I went swimming off Lanikai. The colors of the sea are still lingering, bobbing along, over and under the surface, in my head.
Aloha says Hello and Goodbye.
Gordy Grundy is an O'ahu based artist, arts writer and libertine. His visual and literary works can be found at www.GordyGrundy.com.
HULA MOON is a celebration of Hawai'i. Send Hula Moon tips and scoops to e-mail address hulamoon [at] GordyGrundy [dot] com. Anonymity always guaranteed.

PHOTO GALLERY
Drink Pussy Riot Vodka! Join Our Art Performance!