Secret Smoke Spots of Stoner Barry, Part I
'Ualaka'a Overlook
Puu Ualaka'a State Park
The beauty of the panoramic view can only be described in elaborate poetic terms, a task I will leave to others. High in the hills above Honolulu, a short walk onto a vast lawn will present a beautiful view of Diamond Head. To the west, infinity stretches to the very Far East. Most excellent for making out, romantic propositions and endless relationship discussions. Privacy can be an issue; traffic is indeterminate. A rating of Five Lids is easily earned for the sheer scale of the view.
2.5 miles from Punahou
5 out of 5 Lids
The Community Gardens
Makiki District Park
At Keeaumoku Street and Wilder, a park, next to a loud, mad freeway offers the benefit of convenience. On the downer, tennis courts, a swimming pool and a large playing field of healthy, active, clear-minded people create a guilt trip as you try to light up. The warren of community garden stalls is best for smoking privacy. An easy walk; a car is not required. Munchies are just two blocks away at coffeehouse The Sure Shot.
0.3 miles from Punahou
4 out of 5 Lids
Paradise Park
Manoa Valley
Paradise Park offers a romantic Hawai'i jungle fantasy. Once a tourist attraction with a tropical bird show (WTF?), the ruins provide a trippy discovery. Bring your sweetie; the location is most excellent for making out. There are many places to get lost and go Tarzan. Non-smokers will enjoy the hike up to Manoa Falls.
2.9 miles from Punahou
5 out of 5 Lids

Rain Without a Cloud in the Sky
This morning, Yuriko sent a text to her friend back home. "In Hawai'i, just now, it's raining, but there's not a cloud in the sky." Then she sent a picture of her smiling waiter from Egg's 'n Things and typed, "You were right about this place."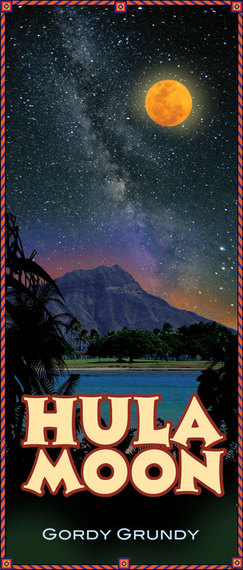 "In Hawai'i, it can be raining, without a cloud in the sky," wrote Florrie Amsterdam onto the postcard with a pencil, "And my hair spray can't hold it down. These beach boys don't want a poodle. Rita Hayworth was seen at the Royal Hawaiian yesterday. We are going to go over there for drinks. Hob nob, ya know..."
"We came over on the Lurline. It was a beautiful crossing. When we arrived in the harbor, canoes and outriggers filled with leis, paddled out. Streamers and confetti were flying. Kids were diving for coins. The Royal band was playing. It was beautiful." Helen Ann was in Honolulu to celebrate her 18th birthday. A gift from her godparents. Her godfather was a famous radiologist who helped start the Transpac Race. "As the steamship entered the harbor, with all of this celebration, there was this most beautiful light rain," she said. "In Hawai'i, it can be raining, without a cloud in the sky."
Sailor Boris Gavrai was standing on the bow of the Nikolai, a warship in Waimea Bay on the island of Kauai. "At home, just outside of Moscow, we would dread the rain. The rain was thick and wet and cold. Nyet. But here, it is wonderful." Boris was just making conversation and killing time while smoking. "In Hawai'i, it can be raining, without one cloud in the sky. It's wonderful." Kyrylo nodded in agreement and sighed.
"It can be raining, without a cloud in the sky," said David Nelson. The Englishman was putting his thoughts toward his new environment. At sea, conditions are constantly changing, but on land, one gets a sense of the pace, the growth and the place. These new Sandwich Islands offered a wonder at every moment. "A fine rain, not a mist, but small drops. It is a soft rain. And there are no clouds above." Botanist David Nelson thought the notion might be an intelligent observation to make to Captain Cook at the next lull in dinner conversation.

Sweet Economic Drivers, Part 2
Chocolate production on the Hawai'i islands raises many interesting questions and potentially exciting opportunities. What we know now is that:
- Hawai'i is the only state in the US that can grow cacao.
- Demand is much greater than supply.
- It takes 3-5 years for a plant to bear fruit.
- Chocolate has an international luxury market.
Beyond the economic and agricultural issues, the aesthetics of chocolate are becoming an industry. Currently, there are a number of manufacturers or chocolatiers who are making their skills and efforts known, all across the islands.
The alpha chocolatier is Manoa Chocolate with their HQ in Kailua. Local boy Dylan Butterbaugh lives and breathes cacao. Born in Kailua, schooled at Kalaheo High School and educated at UH, he is everywhere at once, as his website will attest. Happily, he governs every aspect of this operation. Dylan is mindful of the science, biology and styling of chocolate. I would guess that even when Dylan surfs, he is thinking of chocolate.
Located above local favorite restaurant Cinnamons, the Manoa Chocolate Factory is in some ways a museum to the company's growth. Hanging on the walls are some of Dylan's early inventions. There are many steps to create a candy bar and Dylan has created a Rube Goldberg contraption for each process.
Manoa Chocolate is a stylish, friendly place with daily tours and many innovative tastings and pairings. Dylan is as aggressive about sharing the enjoyments of chocolate as he is about the science and production. The guy is scouring the world for the finest ingredients.
As the Hawai'i chocolate industry grows, Dylan Butterbaugh and Manoa Chocolate will be on the front line. He is an enthusiastic spokesman, a responsible innovator and a passionate artisan.
Manoa Chocolate has a clean website and ships everywhere. www.manoachocolate.com This chocolatier will be on your radar.
Aloha says Hello and Goodbye.
Gordy Grundy is an O'ahu based artist, arts writer and libertine. His visual and literary works can be found at www.GordyGrundy.com.
A collection of HULA MOONs can be found here on the Huffington Post or on Facebook.