Celebrity tattooist Megan Massacre is riding high. While surfing requires the luck of a beautiful wave of proportionate speed and shape, the surfer must grace the undulation with skill, timing and great dexterity. The success of Megan Massacre is a beautiful confluence.
The evolution of the tattooist has been a slow offshore build into a spectacular crest. There was a time, no so long ago, when getting a tatt was synonymous with going to Hell. Tattoo parlors were once sketched in the Tenderloin; now they can be found in the bright lights of a shopping mall. Today, a tattoo, and all the beauty of the art form, is a glamorous accessory. Even your church minister has one.
Megan Massacre is a girl who just wants to have fun. Her amusement is her guiding light. When challenged to draw a picture, she drew and landed a tattoo apprenticeship. Her wild and sexy style prompted a photog to ask her to model. The camera, and much more, kept clicking. As a long set of waves kept coming and growing larger, the minx was skillful enough to ride into the brighter lights of the media. Her presence on TLC's NY Ink and America's Worst Tattoos is indelible. Like they say, success is when opportunity meets genuine talent.
While the Pacific Ink and Art Expo in Honolulu Hawai'i is a wild kaleidoscope of quickly moving colors, Massacre caught my eye with her flame-colored hair, gypsy air and sweet smile. Her fashion and artwork is as capricious as she. Old school tattooists and fine artists are known for a singular style and the repetition of it. Not Megan Massacre. The only consistency to her aesthetic is color and fun. While her ink elders have counseled the importance of a signature style, Massacre carelessly shrugs and says, "I've never repeated a tattoo. Every one is an original."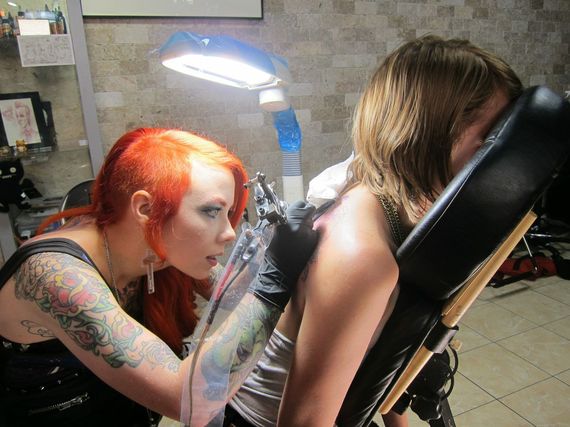 Massacre is riding the wave of technology and fashion culture. Back in the dark ages, Don Ed Hardy was probably never asked by a biker for fuchsia, non-Harley Davidson oranges and unheard of pinks. As the tatt grew into acceptability, so did demand. Faster and sharper needles allowed realistic shading and depth. Women wanted color. Massacre did not have to paddle far; the answers lay in her doodled sketchbook.
Most tattooists go gimp in their Forties. The pressure on agile fingers attached to a weary wrist ends many a career. Megan Massacre has heard it, seen it and felt it. "I will tattoo until I can't," she smiles. This is the art form that has defined the woman. Nonetheless, fashion calls. The house of asphalt and motor oil, Affliction, has featured her design in their new 'American Tattoo' line. Her piece 'Envy,' a Day of the Dead one-off, is growing quite popular. Affliction may ask for more. When Massacre is not sketching her tattoo whimsy, she is thinking about her design liaison with the garments of Grit N Glory. It makes her heart beat faster.
Massacre loves animals. She does not eat them and her efforts for peta2 are a testament. As a spokesperson, she counsels on cruelty-free make-up and fashion tips. While Massacre may have attained a well deserved and in-demand following for her beautiful dog tattoos in realistic and fanciful costumes, she owns a lizard. For a gal on the go, one needs an appropriate pet. Every year, Megan Massacre attends more than twenty tattoo exhibitions around the world. This year the southern Americas are her bullseye with trips to Brazil, Guatemala, Mexico and Chile. Her fan base keeps growing as she racks up the miles. "I really want to stay on the road," she says, "You never now what's next. I like that."
Now that every network features several tattoo-themed shows, Massacre rode on the first and best wave. Miami Ink was a quirky surprise, but the success of NY Ink established a legacy. America's Worst Tattoo has littered a series of copycats. Massacre has no idea if the show is over and she is ambivalent about their future. For a girl who just wants to have fun, a hot mic, a camera crew and little privacy puts a damper on Massacre's natural zeal. What does make her smile is the thought of her own show. There wouldn't be any of the competitive madness, just the creation and whimsy of a gaggle of girls and all that influences them. Massacre is enough of a Hollywood vet to know not to place too much hope into the project. She is focused on things that she can control and create.
Megan Massacre loves filmmaker Baz Luhrmann. Nothing grabs her like his Gatsby and Moulin Rouge! Her musical tastes are as varied as her artistic influences; she likes everything and everybody. This gypsy wants to keep traveling and absorbing it all. That's how one makes great art and keeps life fresh.
The advent of a TV celebrity tattooist is a recent phenomenon. Tatt pioneer Sailor Jerry would sputter up his rum at the brilliance of the notion. "Being around the entertainment industry," says Pacific Ink co-founder Danny Casler, "I have seen so many personalities and talents come and go. It's always a treat when you find someone who has real talent and they are able to harness it without all the other stuff. Megan is a genuine, sweet soulful person who exhibits humble characteristics." He's right. She's just a girl who likes to tattoo.
----
Gordy Grundy is an artist and arts writer. His new book "Artist's Pants" is available on Amazon Books. His visual and literary work can be found at www.GordyGrundy.com.

PHOTO GALLERY
Riding the Big Wave with Tattooist Megan Massacre