Every city has a bard, a teller of tales, who reveals the city's history. Newport Beach along the southern coast of California is lucky to have sired Judge Robert Gardner. The Superior Court judge who passed away in 1995 authored Bawdy Balboa in 1992. This month, the Newport Beach Historical Society Press has published the sequel, Naughty Newport. The book offers history with charm, astute observation and great humor. Greg Escalante, co-founder of Juxtapoz Magazine, confesses, "If there were more books like this, I'd be reading all the time. It's the wild west version of Newport Beach."
Today, most know of Newport as the heart of "The OC." The popular television confection introduced the city as a wealthy enclave of fast-living, unrestrained beauty. Several ugly reality shows have bronzed the excess. Naughty Newport takes us back to a kinder, more gentle time when the city was losing ground as a port town and finding new life as a resort.
Born to a railroad man in Wyoming, young Gardner was sent to live with relatives in Newport when a railroad strike turned deadly. The beach town was a wide-open playground and Gardner was all over it.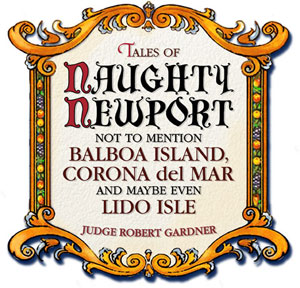 As a storyteller, Gardner has a keen eye for detail. His prose may be succinct but he easily transports the reader to a florid world of sun, fun and many amazements. The young waterman once rode on the shoulders of Olympian and surfing legend Duke Kahanamoku. The author turns the reader as giddy as he when the young boy encounters film star Elmo Lincoln, the first cinema Tarzan. He makes horse fishing come alive, as teams of horses poetically haul a wide ocean net to shore.
Naughty Newport chronicles the evolution and growth of the city from the 20s through the 80s. As an early resort town, Newport was full of sin. Gambling, rumrunners and snoozy cops made for a lively beach town. As the city matures and population grows, Gardner follows the leaders, entrepreneurs and policy makers that influenced the community.
Much of the humor in the book comes from Gardner's depiction of the local characters. They come alive. Dollar Dolly is the town whore. Shorte Charle is a fast-fisted prankster. The local iceman Bob Reed takes a beached whale and creates entrepreneurial chaos. One chapter is devoted to a drunken tug boat race in the harbor, a challenge between the Balboa Island Punting and Sculling Society and the Rest and Aspiration Society from San Diego. A woman overboard would not stop the race. I have concluded folks had more fun in the days gone by.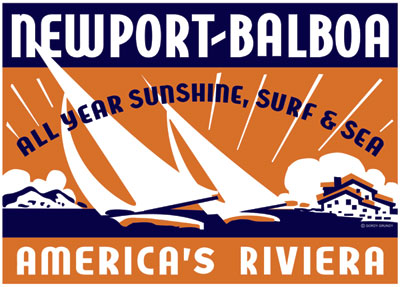 Today, you cannot ride a bike without a helmet. Back then, kids flew free. Gardner had many jobs before he was a teenager. His work history chronicles many adventures as a dishwasher, a bouncer at the Rendezvous Ballroom where Stan Kenton found his swing, as a cop and a judge. Naughty Newport is breezy. It shares an attitude of possibility, a wonder of the world and a shrew love for humanity.
Naughty Newport is more than a book with a local look. It is an American story of growth and 20th century progress.
Naughty Newport is available on Amazon. Both books Bawdy Balboa and Naughty Newport are available at www.Americas-Riviera.com.

GORDY GRUNDY is a Los Angeles based artist and arts writer. His visual and literary work can be found at www.GordyGrundy.com