Caviar, vintages, and decadent suites aren't just reserved for luxury hotels. The movement towards all that's bigger and badder has soared sky-high.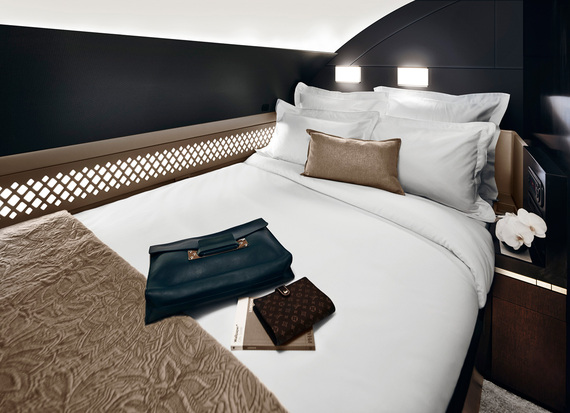 Etihad 'The Residence'
With Etihad's introduction of "The Residence" -- an elaborate three-room fully staffed suite -- the ante has officially been upped. Compared to "The Residence", traditional flat-bed seats and vintage rouge seem like kitten's play. If Etihad Airways is "Jones", what will the other airlines do to keep up?
One-upmanship is nothing new when it comes to airlines' premium class flagship products. Singapore Airlines introduced a double bed suite for two, Emirates fired back with the first in-air shower, and come December, Etihad will temporarily end the war with their new mega lux cabin.
One must wonder--with some of the glitz and glamour aside--what is the best first-class cabin in the world? Does an onboard shower really make an airline number one? Is a bed for two actually more comfortable?
The Top 24 First-Class Cabins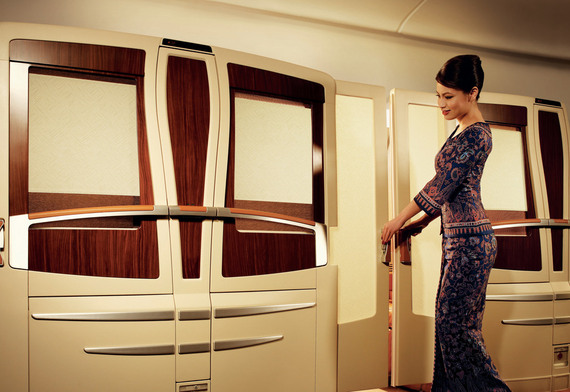 Singapore Suites A380
By sorting through the clever marketing, Swarovski crystal, and fine linens, myself and the flight experts at Flightfox have set out for answers. To crack the code of the best first-class cabins in the sky, we weighed: seat size and comfort, the unexplainable "rockstar factor" (pyjamas, private chef, onboard bar, caviar, limo service etc.), and food and wine. In addition, we crunched the numbers to uncover the cheapest routes each first class cabin flies.
The Top 24 Rankings:

Best Seat Award
Seat configuration, size, aisle access, and suite privacy. These seats are king.
1. Lufthansa
2. Singapore Airlines
3. Cathay Pacific
4. Air France
5. Malaysia Airlines
Rockstar Factor Award
The "it' factor is a combination of champagne served, PJ's provided, caviar plating, limo service, onboard bar and onboard chef.
1. Singapore Airlines
2. Cathay Pacific
3. Emirates
4. Etihad Airways
5. Lufthansa
Food and Wine Award
Who's got the best dining at 30,000 feet?
1. Etihad Airways
2. Lufthansa
3. ANA All Nippon Airways
4. Emirates
5. Cathay Pacific
Cheapest Routes
You can test-ride five of the top 24 cabins for less than $850 per flight. First-class doesn't have to mean remortgaging your house after all.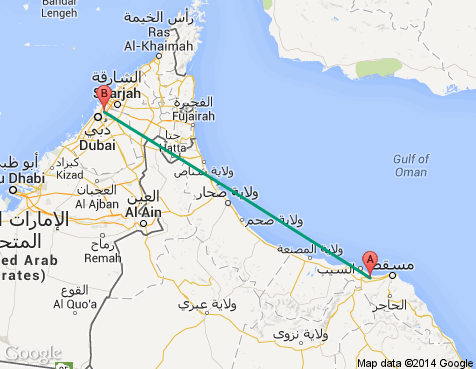 1. Swiss, $355 from Muscat to Dubai
2. Qatar, $684 from Riyadh to Doha
3. Cathay Pacific, $713 from Taiwan to Hong Kong
4. Emirates, $824 from Auckland to Brisbane
5. Air China, $849 from Beijing to Guangzhou
To see the full list of rankings and cheapest routes, check out the original article published on Flightfox.