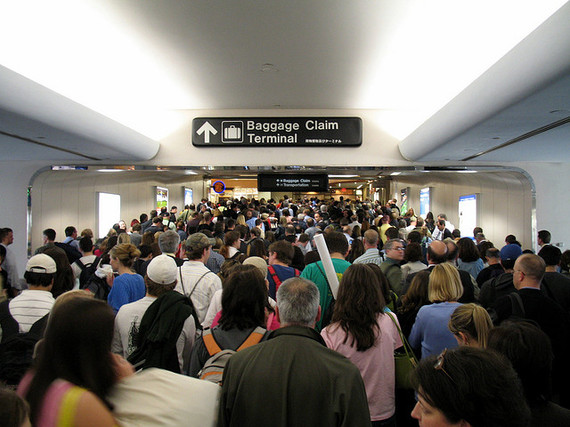 Airport lounges ooze exclusivity and warm muffins. They are also a revolving door for the travel elite and road warriors - the "cool kids" of the air. But how can the everyday traveler escape the hustle and bustle, and gain access into this coveted airport territory?
While most airline lounges are reserved for premium class travellers and top-tier status holders, there are ways to 'cheat' the system and ditch the crowds.
Purchase a Day Pass
If you're flying with an American airline, you're in luck. Most major North American airline clubs offer day passes. In addition, a trend in independently operated airport lounges have begun to take-off.
Here's the low-down on the most popular clubs offering day passes:
Admirals Club
American Airlines was the first to start VIP lounges back in 1939 starting with LaGuardia Airport in New York. The Admirals club now has over 40 airport lounges worldwide that accept day-passes.
Amenities: Complimentary wine, beer, spirits, light snacks and Wi-Fi.
Known for: Impeccably kept lounges.
Cost: $50 per person, or $100 for a 30-day membership.
Best Lounge: Dallas, TX (DFW).
What the DFW Lounge Boasts: 7 showers, business centre, music room, and exercise facilities.
United Club
This United Airlines club has over 45 locations worldwide.
Amenities: Complimentary beverages, light snacks, phone service, and Wi-Fi.
Cost: $50 per person.
Known For: Great staff and service.
Best Lounge: Houston, TX (IAH).
What the IAH Lounge Boasts: Showers, conference room, family room, and fun bar staff.
US Airways Club
This US Airways club has over 20 American locations.
Amenities: Complimentary beverages, snacks, and Wi-Fi.
Cost: $50 per person (or $29 online), or $120 for 90-day membership.
Known For: A wide range of free eats.
Best Lounge: Philadelphia, PA (PHL).
What the PHL Lounge Boasts: Large lounge with healthy snacks, conference room, comfy chairs and tons of plugs.
Independent Lounges
Recently, a new wave of independent VIP lounges have been popping up, and opening their doors to travelers willing to pay a flat rate. Some examples are the Airspace Lounge in BWI Airport and the Oasis Lounge in JFK Airport. Pricing ranges from $15-50 per person daily, or hourly rates starting at $10.
Servisair is an independent Executive Lounge company that has mostly a European presence, but also has a global reach to countries like Hong Kong and United Arab Emirates. Depending on your lounge and flight departure time, you are quoted a price (starting at $28 for a 3-hour stay). The amenities include the usual beverages, snacks and Wi-Fi.
Snag a Guest Pass
Annual airline club memberships don't just give members lounge access, but often grant access to member guests as well.
Road-warriors are often flying solo, and are looking for someone to bide their time with. If you're not interested in loitering around lounge entrances and profiling the right members to leverage your potential for free entry, there are often posts made on travel blogs and forums by these travellers offering to bring in guests. Blind date anyone?
Flyertalk and Milepoint are two good forums that often have these types of posts made by club members or Business-class flyers. In addition, lounge guest passes and day-passes tend to pop-up on Kijiji and Craigslist at discounted prices.
Memberships
Buying a membership requires more commitment since on average they cost about $500 every year. But if your office is in the sky and you haven't earned status with an airline, buying a membership could be a worthwhile investment.
Admirals, United and US Airways Clubs
On top of the American lounges you can access with a standard day pass, with club membership you also get access to international airports. However, you generally have to fly with the same alliance (i.e. American Airlines = OneWorld, United = Star Alliance).
US Airways has the most reasonable annual fee at $450, while Admirals and United clubs are both at $500. If you travel often with your spouse, they have free entry, as well as children under 18 (21 for United and US). But if you and your spouse travel independently a lot, then a combined membership works out cheaper ($675 for US Airways, $750 for United and $825 for Admirals)
---
Ultimately, many lounges are accessible to the everyday economy traveler. With a little exploration, you'll be ready to ditch the seedy airport bar, and head straight for the lounge with confidence.
This article was originally published on Flightfox, a human-powered travel platform.