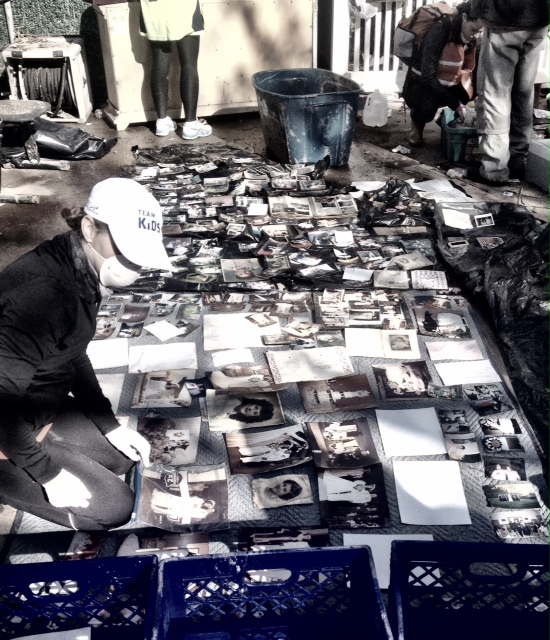 Photo courtesy of Manuel Colón
Each time the Empire City has been faced with a disaster -- whether natural or otherwise -- New Yorkers have shown remarkable resilience, rallying together to help affected communities, organizing food and clothing drives, opening their doors to friends and neighbors less fortunate and beginning the long process of rebuilding. The response to Hurricane Sandy has been no different, with scores of New Yorkers turning up to help out those who faired the worse. One of the most active and effective communities involved in helping out in the aftermath of Sandy, was the tech community -- and for good reason.
Techies thrive in uncertain environments; they're well versed in damage control after something goes wrong. They're used to new and unexpected things. They know how to be resourceful -- scrappy even -- with limited resources, and how to come up with the quickest, most effective and oftentimes most unique solutions on the spot. So it's not surprising that the New York tech scene has been so active in finding ways to help out after Hurricane Sandy ravaged their city.
Airbnb -- the home rental site -- was one of those leaders. It waived its normal fees for hosts -- those whose homes weren't physically affected and were willing to open their homes to those in need -- and guests -- those who were left without electricity, heat, running water, or even homes.
With the entire subway system shut down and a major shortage of cabs in the city, the popular car service Uber initially took on $100,000 in costs the day after the hurricane hit -- convincing drivers to continue their service by paying them double but charging passengers the normal fee. After footing the hefty bill, however, Uber announced they would have to start charging at surge prices while there was still limited access to transportation. "For the uninitiated, surge pricing helps maximize the number of Uber cars on the system during times of extreme demand, maximizing the chance that there will be a car available when you need one," a post on Uber said.
Zaarly, an online local marketplace, released a feature allowing users to donate food and services to those in need -- announcing that all proceeds would go to the American Red Cross. Bo Fischback, the co-founder and CEO of Zaarly, said, "Many of us at Zaarly have spent a lot of time in New York. Some of us have even called it home. Watching the news coverage, we felt helpless and started thinking about how we could use our technology to help people help people. We decided to create a single page to list services available to aid in the recovery effort. From anywhere in the country, you can use Zaarly to send your friends and loved ones in New York City local services that will make their lives easier during this difficult time. We've talked with the participating sellers and they're excited to pitch in and help. Also, we are donating our transaction fee to the Red Cross to continue to help those in need."
GILT, the popular flash sales site, launched "Donate Today, Save Tomorrow" -- which "enables people from all over the world to make a donation to one of six established charity relief efforts. As a show of thanks, donors will receive a voucher that can be used for a discount or special offer at businesses affected by Hurricane Sandy and other businesses both local and national, that are supporting the relief efforts."
Crowdtilt, a crowd-funding site, also waived any fees associated with raising money to help those affected by Sandy. James Beshara, co-founder and CEO of Crowdtilt, said:
After the storm hit the East Coast, we started seeing multiple fundraising pages for Sandy victims launched on our site. So we reached out to Balanced, our credit card processor, to see if they'd join us in waiving all fees for these types of fundraisers. We shared with them some of the stories and they were as moved as we were by those in need. So Thursday morning [after the storm], we decided to waive all fees for these current fundraisers as well as any future ones for Sandy relief efforts -- and that's when word got out and relief efforts started to skyrocket on the site.

We have seen it over and over again in past Crowdtilt campaigns, when friends and family come together to help out somebody in need, the collective impact they have on somebody else's life is really powerful. We wanted to remove that last barrier (fees) that would keep somebody from launching their own fundraiser, knowing that all money collected is going to the person in need. So far, families and friends have raised over $170,000 for relief efforts on the site, and the number is growing rapidly. Everything from people raising money from their networks for the Red Cross or to travel to help on the ground, to people raising money for specific causes like flashlights and waste equipment for those most affected. It's been one of things we just couldn't stand by and not actively try and support with our own resources.
The New York Tech Meetup (NYTM), which has a membership of more than 28,000 techies, also did their part by building a database of volunteers willing to donate their technical skills to small businesses, non-profits, schools and governmental organizations. One of the projects NYTM is working on is called NeedMapper -- a site that connects those affected by Sandy with volunteers who can help.
SandyBaggers, a group founded by local tech entrepreneurs, organized hundreds of volunteers to provide relief to Sandy victims in some of the hardest hit areas -- including the Lower East Side, the Rockaways, Staten Island and Red Hook. The group was led by Divya Kapasi, co-founder of SandyBaggers and founder and CEO of GoodList.co; Matthew Kochman, M.E.S.S. Express founder and CEO; Antonia Dunbar, Prance Wear co-founder; Jonathan Swerdlin, co-founder of Fdbk; and Daniel Husserl, Aellon co-founder & CEO.
Kapasi, whose GoodList.co site is dedicated to connecting investors and other professionals with non-profits and social good enterprises, explained how the idea for SandyBaggers came about. "In a city normally so loud, it was strange to see it fall dark and silent so fast. In the six days of my own refuge, a small group of close friends and I kicked off a grassroots effort to provide immediate relief to Sandy victims of truly devastated areas. By leveraging our communities and existing social media tools, we created SandyBaggers.org. In just one week, we amassed hundreds of volunteers and distributed thousands of pounds of donated supplies," Kaspasi said, adding that their efforts were ongoing.
But at the end of the day, the helping hands -- whether they were from tech entrepreneurs launching donation drives or from concerned neighbors who left out extension chords for passersby to charge their phones -- were primarily from New Yorkers; resilient community members who didn't let the storm, or the follow up nor'easter, stop them from donating food and clothes, volunteering their time and energy, waking up early weekend mornings to head out to devastated areas to help with clean up and rebuilding efforts, or hosting friends who had lost power, heat, or their homes altogether. But despite the level of devastation, the resounding theme was one of perspective, appreciation and community.
Jamie Abrego, a Long Island resident who lost his home in the storm, said he has never appreciated the simple things in life so much as he does today. "I never knew how much I could miss hot water, heat and light -- all the things we normally have and take for granted. When you get it back, you really do have a newfound appreciation for them. The first time I was able to take a hot shower after the storm was amazing, it's like you feel normal again. There's this crazy comfort," Abrego said despite losing his home in the storm. But Abrego realized that even for him, it could have been worse. "But I'm well, thank God. There are others who are in a much worse place. Everything is relative."
Manuel Colón, who works at Morgan Stanley, shared his experience helping those in Staten Island who had lost their homes and possessions to the storm. "One of the women we helped explained to us, the water rose six feet in less than 30 minutes and she had to swim out of her home onto higher ground to get into a neighbor's car that would keep them warm. But she is grateful to be alive and was extremely appreciative of our efforts.
"You always hear in the news about tragedies and natural disasters, you also hear the phrase 'communities coming together,' but I realized that you really have no idea what that means until you actually see it firsthand. I saw neighbors helping each other move things out of their basements. I saw volunteers taking photo albums that had been soaked, and laying picture-by-picture on the ground to dry out in the sun in an attempt to save their memories. This is a long term job to get the community back on its feet, I hope I can keep going as much as I can and do my part because we have it too good here compared to what they have," Colón said.