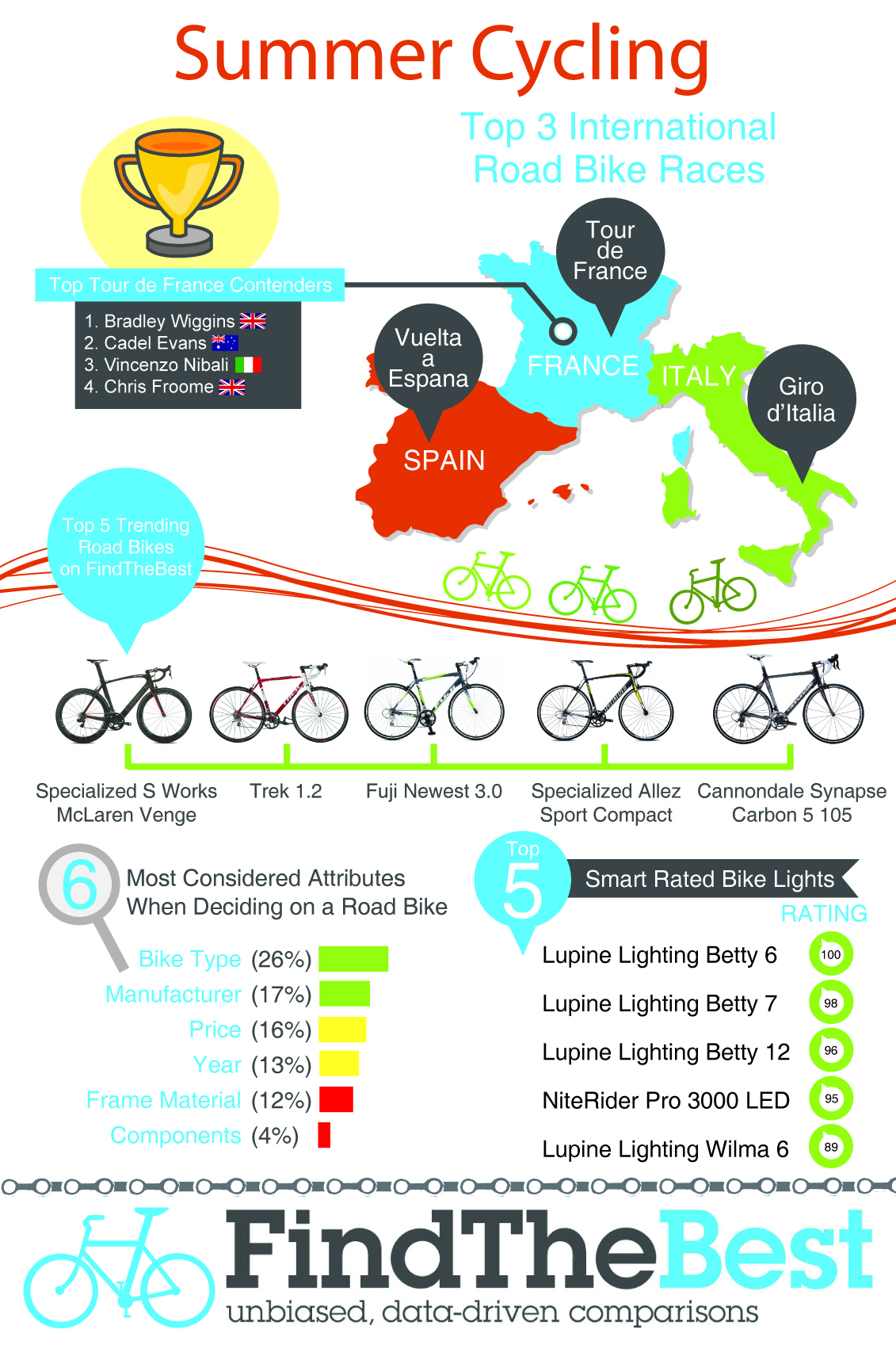 This bikes infographic was created by FindTheBest, a data-driven comparison engine.
Stats on the Tour de France 1903-2011:
The tour typically covers 2,110 miles over a period of 23 days with only 2 rest days.
On average, riders burn about 5,200 calories per day and about 110,000 calories for the entire race.
More than 10,000 riders have been contenders in the race, but less than 60 percent have completed the Tour de France.
Approximately 250 different cyclists have worn the Yellow Jersey, but there have been only 98 winners.
Maurice Garin of Italy was the first ever cyclist to win the Tour de France in 1903, and Cadel Evans of Australia is the most recent Tour de France winner.
Between 1903 and today, the Tour de France has skipped 11 years, between 1915 and 1918 -- during WWI -- and between 1940 and 1946 -- during WWII.
This year's race began June 30 and will end July 22.
Top 5 riders with the greatest number of Tour de France wins:
Lance Armstrong, USA: 7 wins
Jacques Anquetil, FRA: 5 wins
Eddy Merckx, BEL: 5 wins
Bernard Hinault, FRA: 5 wins
Miguel Indurain, ESP: 5 wins
Top 3 riders with the greatest number of stage wins:
Eddy Merckx, BEL: 34
Bernard Hinault, FRA: 28
André Leducq, FRA: 25
Countries with the greatest number of wins:
France: 36
Belgium: 18
Spain: 13
United States: 10
Italy: 9
Luxembourg: 4
The gruesome stats:
Four contenders have died during the Tour de France; 26 bystanders, officials and other non-contenders have also died during the tour.
Adolphe Heliere (1910) drowned during a rest day.
Francisco Cepeda (1935) died while biking down the Col du Galibier.
Tommy Simpson (1967) died of heart failure during a climb.
Fabio Casartelli (1995) died while descending the Col de Portet d'Aspet.