"I chose this location for the inaugural Leadership Summit because as a teenager I helped my father clean these very same buildings."
--Frank Carbajal, Author and Founder of Silicon Valley Latino Leadership Summit
I first met Frank Carbajal at a National Society of Hispanic MBAs conference, as he was writing his book, Building the Latino Future: Success Stories For The Next Generation. I was impressed that someone was intentionally interviewing Latinos in leadership positions to show them to the world. Little did I know how much that first meeting with Frank would influence my own work. At his book launch the following year, Frank inspired me to complete my own book as he revealed that, like me, he is raising a child with special needs. He assured me that like everything else in our especially complicated lives, it would simply take more time. He said, "When you're ready to make it a priority, it will happen."
In that moment, he was the leader I needed to hear. A convergence of events led to a coffee meeting in the fall of 2009. Frank shared that he was thinking about creating a leadership summit in Silicon Valley. I loved the idea. I had just published an article about Latino leadership in the green economy; clearly we both wanted to show positive images of Latinos missing from the airwaves. I supported his idea and after securing Hispanic-Net as a key partner, Frank began to organize.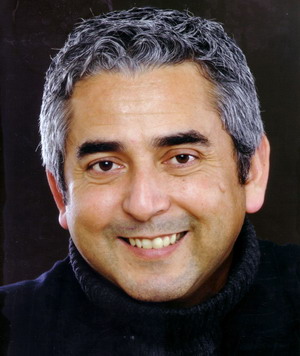 In May of 2010 at the inaugural Silicon Valley Latino Leadership Summit, 150 leaders from the San Francisco Bay Area community, plus several from out of state, gathered at the Quadrus Conference Center on Sand Hill Road near Stanford University. Frank greeted the attendees by sharing a story about the event location. He revealed that as a teen-aged janitor, he had helped his father clean these same buildings. It was a symbolic way to forcefully state he had achieved the dream. He had educated himself into a higher quality of life. He was able to return to these very same buildings as Founder of a Latino Leadership Summit. It was a story that none of us would ever forget.
Frank observed few organizations hosting leadership events in Silicon Valley to bring Latino leaders together into one room to deliver a message, to collaborate, to hear topical panels and to confront important issues with action. He also knew Latinos wanting to pursue entrepreneurship; he knew venture capitalists wanting to connect with entrepreneurs. Frank wondered why not bring these communities together? He also realized the kind of networking needed in the community wouldn't happen in just one summit. He put forth the strategic idea to focus on a vision of more visible Latino leadership by 2020. The goals of this leadership summit in Silicon Valley, now moved to the Stanford University campus, are simple yet unique:
First, from today's educational straw, build a strong, solid, thick educational pipeline of Latino students who will pursue higher education and graduate. Once in the pipeline, encourage those college students to immediately begin to lead on campus. To do this, the summit includes aspiring high school students who connect directly with leaders of educational foundations such as Hispanic Scholarship Fund and Hispanic College Fund. Martin Mares brings high school students from California's agricultural Central Valley, many from migrant families. For over two decades, his Ivy League project has placed students at Harvard, Princeton, Yale, Columbia, and Brown.
Last year, a van full of college students from Utah made the trip to Palo Alto. Student Ivette said, "The most important thing was the networking, the unique opportunity to actually talk to these professionals and interact with them. It's a much higher level of networking than the university can provide." Student attendees connect with strong mentors, to grow their networks as they prepare to either enter college or to graduate.
Second, connect small business owners and entrepreneurs with venture capitalists such as Ebetuel (Beto) Pallares, Co-founder of Cottonwood Capital Partners and Alex Mendez, Founding Managing Director of Storm Ventures, both of whom will attend this year's Summit on May 19th. These are just some of the Latino VCs that small business owners and aspiring entrepreneurs might not otherwise meet. It's a day of unparalleled access.
Third, connect executives (including diversity officers) of medium/large businesses with new retention strategies and access to the Latino talent pipeline. Frank wants to help companies get positioned to be successful in attracting the fastest growing demographic in America, first as employees, then as consumers.
Lastly, emphasize and showcase Latinas in leadership. Frank recognizes, beginning with his amazing wife Molly, that Latinas are stepping into leadership roles across society. In many ways, we're outnumbering the number of male Latinos doing so -for example Latinas graduate from college at twice the rate of Latinos. Latinas are also winning mayoral seats to run cities and starting many businesses. "Latinas Defining Leadership in the United States" is a panel added this year. Authors and leaders such as Angélica Pérez-Litwin, Publisher and CEO of New Latina Magazine, Dr. Yasmin Davidds and Isabel Valdes will share wisdom. Frank states, "Latinos must understand that there's a lot to learn from the successful leadership examples of today's Latinas."
This is what leadership in action looks like. Frank Carbajal took the network he built while writing his leadership book and turned it into a leadership event to inspire young people, connect professionals, and enable new business connections and friendships to blossom. The Summit showcases leadership in many forms so attendees take away lessons to use immediately.
Frank is writing his next book using the F.U.T.U.R.E leadership model developed in the first one. He'll bring us more leadership profiles to inform mainstream America and provide more role models for Latino youth. In this mission, Frank and I share a common vision and understanding: if we do not interview and write books about our Latino leaders, and make the stories highly visible, the perception will be that they do not exist. So we research, we interview, we write and we publish, because our Latino leadership stories matter. Frank and I see the need to document these leadership stories for the long-term. Frank knows that intentional leadership is the only way to tackle our toughest problems. He's one of the rare ones, who put his leadership skills into action to create a compelling leadership forum for Latinos, in the very visible spotlight of Silicon Valley.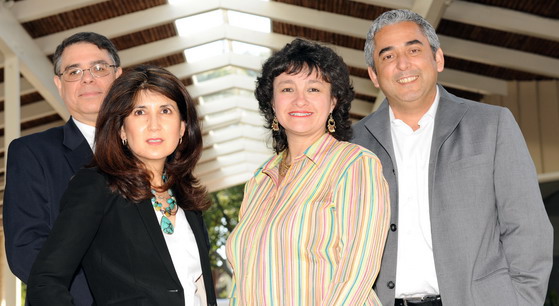 It's time for Latinos to meet and support each other and bring more into leadership. It's time to stop being invisible as we lead. As Frank says, "Es tiempo!" and it's coming up again in a few weeks.