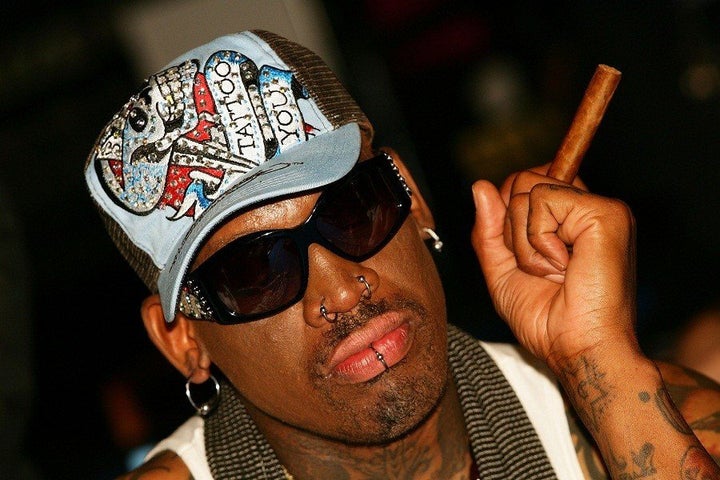 I recently sat down with NBA Hall of Famer Dennis Rodman for an episode of "In Depth." Rodman discusses his emotional speech during the Hall of Fame induction ceremony and why he was unable to hold back the tears. "The Worm" looks back at his NBA career and his contributions to the game. Rodman goes on to share stories about his sex life, including his relationships with Madonna and Carmen Electra. He details his own sexuality and offers his thoughts on Anderson Cooper's sexual preference. He also talks about once considering suicide, why he's still excessively partying at age 50 and how long he expects to live.

Highlights:
Dennis Rodman talks about his relationships with Madonna and Carmen Electra. He explains how Madonna pursued him:
Rodman: "I'm like, whatever, great ... hooking up with Madonna, but I thought her music sucked! ... Obviously, I could have married her..."
Bensinger: "She was interested in marrying you?"
Rodman says he's still friends today with Carmen Electra and reveals that his favorite memory is playing Pearl Jam for her when they had sex: "I put earphones on her while I was making love to her, and she started crying."
Dennis Rodman, an open book when it comes to sex, says he will sometimes visualize being intimate with men and goes on to say that people wouldn't be surprised if he said he was gay: "Back then it was like, 'Oh, my God, he's gay.' If I told people I was gay, they would say, 'Oh, we knew' -- [laughs] -- 'we was just waiting for you to come out!'"
He also brings up CNN's Anderson Cooper, saying, "Look at that guy on '360' ... he is fucking gay as fuck ... and he's still making 25 million fucking [dollars] a year."
Dennis Rodman says he has been burning the candle at both ends for a long time. He admits his partying days will likely have to end soon: "I think as I get older, you know, I think I'm regressing and saying to myself, 'Enough has got to be enough.'" He goes on: "I think what makes me happy is the gratification that actually I'm still living ... I'm still living, people thought I would be dead at 40 or 45, because of the way I was burning the candle at both ends."
Early one morning, after being out all night, while playing for the Detroit Pistons, Rodman sat in his vehicle in the parking lot at The Palace of Auburn Hills with a loaded rifle in his lap, contemplating suicide: "I just wanted to kill the individual, because I was too much of a follower."
Dennis Rodman on his reasoning behind getting tattoos and getting his scrotum pierced:"When you lose your family, when you lose your wife or girlfriend and your family and kids, stuff like that, you would try to find any avenue to alleviate that pain."
Dennis Rodman discusses why he became so emotional during his Hall of Fame induction speech: "Easy: my life. My life. Simple as that. My life. It ain't a bed of rose. You can always hide behind money and fame. You can always hide behind that, but you don't know behind the closed doors what is really going on. So basically I just let all the doors open, and there you go."
Dennis Rodman, who attended college in a small, Southern town, explains being taken in by a white family when he was 22 years old and just starting college at Southeastern Oklahoma: "[It] kept me actually interested in life, because, you know, I really didn't have anything ... I didn't have a relationship with my mother, I didn't have a relationship with my sisters."
Dennis Rodman speaks about getting arrested after stealing more than 50 watches from a store at Dallas/Fort Worth International airport while he was working as a janitor following his high school graduation. Rodman on what his future looked like at that point in his life: "You can go to jail or you can be a drug dealer. That was my future right there, there's no ifs and buts about it."
Dennis Rodman on his life growing up in the ghetto and how that connects him with homeless people:
Dennis Rodman offers his take on a wide range of current NBA topics, including lockout, Kobe, Shaq and LeBron:
Dennis Rodman on coming into the NBA at age 25 and winning two championships with the Pistons:
Dennis Rodman on the pregame routine and practice responsible for his success:
Dennis Rodman: "I never spoke to Michael Jordan." Rodman tells why he never spoke to his teammates and how it helped him:
Dennis Rodman tells why the Bulls had so much success after signing him:
The Dennis Rodman episode (the clips contain bonus content unable to make the full episode due to time constraints):