If you are one of the few U.S. citizens to have not yet noticed all that media exhorting you to get out and vote, well, now's the time, and it is running out. If like great numbers of us, you've already punched in, mailed in or clicked on your choices, the temptation is great to sit in front of a TV somewhere and wait, wait, wait, for the picture of our future government representation to be clear.
However, there are alternatives to this anticipation marathon. Here are a few things you can do today for the planet after you've done your bit for the country.
1. Turn Off Your TV. Rake leaves instead. It's better for your heart (at this nail-biting moment in history) than watching excessive election coverage. And wait! There's more. If you don't have a compost pile to put all those gathered-up leaves in, now's the time to bone up on composting basics and turn Mother Nature's excess into rich compost for next spring's Victory garden. No leaves to rake? How about setting up a Nature Mill indoor composter that's perfect for apartment dwellers?
2. Buy A Tree, Plant A Tree, Green New York. At $100 a pop, it's not a decision we can all take lightly. But Bette Midler has come out strongly for the New York Restoration Project plan to plant a one million trees in New York in the next decade. Your tree pays hidden dividends of cleaner air for a greener Big Apple.
3. Deck out your bike with winter-ready LED lights. (Or go ahead and buy a bike!). Days are shorter, nights are colder, and dusk comes quickly. But there is cold-weather bike riding pleasure still to be had. Ear muffs are a must, and windproof gloves. In addition, the best addition to extending your bike season is excellent, dependable lights. Light & Motion's new Seca 700 is a serious high-performance light that warns you when the battery is low. For lots of other alternatives and more info than you've ever needed at Bicycle Lighting Systems.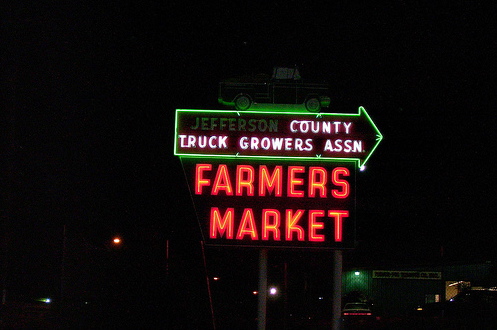 Photo acnatta @ flickr.
4. Make pumpkin soup, roasted pumpkin salad, or easy roasted pumpkin seeds for the first time. If the culinary desire isn't there, how about a pumpkin face mask?
5. Don't give up on local. Winter is coming, yet there's still life left in many a farmer's market nationwide -- find one at Local Harvest. Or sign the Food Declaration, a manifesto from Roots of Change and Slow Food Nation for healthy food and agriculture that hopes to get a million signatures.
If none of these succeed at luring you away from the powerful pull of the election, how about making sure it's a green election day party?