In its article on the "third generation" of bike sharing programs, the New York Times profiled Barcelona's Bicing in particular as demonstrating the success of bike sharing in getting people out of their cars and all over their cities.
The first generation of bike sharing started in Amsterdam in 1968 where free white bikes were left at key points around the inner core - an exciting concept yet too unorganized (bikes were rapidly trashed or stolen) to morph into reliable urban transport. The second generation used coin-op or cash systems to rent out bikes for short city hops.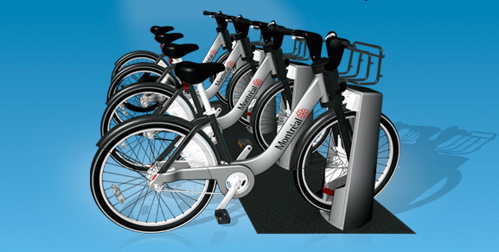 Now RFID (radio frequency identification) tags and Smart Card payment systems have created a third generation of bike share programs popping up all over Europe and finally starting to penetrate North America.
TIME just gave Montreal's public bike system Bixi an award as one of the 50 best inventions of 2008, even though Bixi will not formally launch with 2,400 bikes until April 2009 - it now has around 40 demonstration bikes. Bixi bikes are RFID enabled, but TIME also lauded the rugged components on the bikes and the fact that that bike rack stations are web-enabled and solar powered. And Bixi bikes are locally assembled, in Quebec.
On the downside, Montreal's real winters means Bixi will run only from April through November. That seems a bit short-sighted, as once you start relying on a bike, inclement weather is only a signal for better clothing, not a riding deterrent.
The most exciting thing about the higher profile of bike sharing is that the systems are finally making their way to more Canadian and American cities. Washington, DC is perhaps fitting as the home of one of the first U.S. bike share programs, SmartBike DC, with ten bike rack stations.
And that means a handful of other U.S. cities will be playing catch-up in the next year to roll out their own programs. Denver and Minneapolis-St. Paul have a one-up on other cities such as San Francisco, as Freewheelin" implemented temporary bike sharing in both those cities as a highlight of the Democratic and Republican national conventions this year. Freewheelin' also installed a small-scale bike sharing in Louisville, KY for the Ideafest convention.
SF is straining to produce a bike-share system, Albuquerque's will be in place by next summer, and Boston is planning a 2010 launch for bike sharing. New York and Philadelphia are pondering their options. In the meantime, bike-sharing for university campuses is also set to boom, with NYU and the University of Minnesota designing programs.
Bike share programs aren't problem free - there are the hurdles of car-centric infrastructures, equitable pricing and even helmet concerns to overcome, but it is great that so many U.S. cities are beginning to give the bicycle it due in improving citizen health and city air. Now don't forget the suburbs!
More from TreeHugger on bike sharing
::Bike Sharing Goes Global - Five Program You Should Know About
::Montreal Want Paris-Style Bike Sharing
::DC Bike-Sharing Program Launches Today, First in the USA
::Short Film on Velib, World's Biggest Bike-Sharing Program in Paris
::Bike Sharing: A Tale of Two Cities