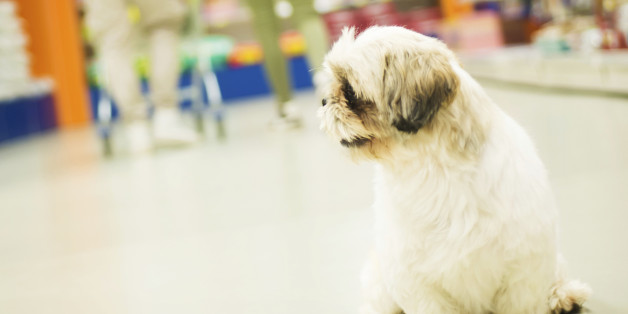 My dog, Orchid, makes my heart sing. She spends many of her waking hours with me. She is always at my side as I write each day for HoneyGood.com -- so I consider her my little partner. I thought it would be fun for you to read a blog from Orchid.
Good morning to all of my Mistress's readers,
My name is Orchid Good. I am a Soft-Coated, 40-pound Wheaton Terrier. My mistress, Honey Good, wants me to look "very girly" so she keeps my hair very long. I am one feminine Wheaton!
I am 8 years old and a city girl! I live in a high rise building on the 71st floor that allows me to overlook the beautiful city of Chicago and Neiman Marcus, where I shop with my mistress!
I love riding the elevator four times a day because everyone pets me and tells me I am beautiful and sweet. I am a people person pooch, and I respond to all humans with my wagging tail and kisses. I am not bragging when I tell you I am the favorite dog in our building, because everyone tells me including, my master and mistress that, "Everybody loves Orchid." You probably did not know that the average dog understands 200 words and I am not average! So, I pick up on what is going on!
I lead a very full life and believe me, not a "dog's life" (I really find that phrase very insulting!). I have many dog friends as well as people friends. I spend happy time outdoors in the park with other doggies and my mistress. My mistress and I window shop and stop in at the doggie store for something new and stylish! I know how to ride the escalators and am a pro at riding the elevators. I go into shops with my Mistress and know the sales girls who admire me. I also lunch with my Mistress in the summer at little outdoor cafes! I am a service dog, so I fly with my Master and Mistress! I love the hustle and bustle of airports, the Admiral's Club and the sound of the airplane engine. I lay at my Mistresses feet and sleep only to get up for water, which the flight attendants offer me! The passengers cannot believe my perfect behavior and the flight attendants want to take me home! I guess you could compare me to "Eloise at the Plaza!"
I consider myself a very knowledgeable dog because I have been exposed to life! I have the "GOOD" fortune to be my Mistress's co-partner at HoneyGood.com! We blog together daily. I am her sounding board and it does not matter where she blogs; I am always by her side. She talks to me and I can sense her every move and every word.
If her voice is happy because she has thought of a great topic or sentence I look at her approvingly with my huge black eyes! If I sense that she is thinking too hard, I kiss her several times and feel her body relax next to mine. And if I hear her overjoyed I wag my wagging tail and she leans over and rubs my head and back and tummy and tells me that she loves me to the moon.
I am her anchor. I always have a positive disposition and we both see the glass half-full. I am so proud of her and she knows this by my protective and loving attitude. We are partners through and through!
Licks and Wags,
Orchid