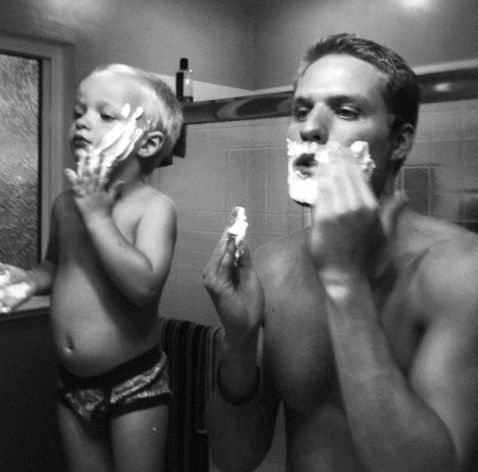 Last week I asked my grandchildren the question, "What is special about your dad?" These were some of the responses:
"Everything! I want to be like my dad when I grow up."
"He listens to me."
"I like that my dad gives to homeless people on the street."
"My dad loves my mom. He is always kissing her."
"We go to hockey games together."
"My dad makes me laugh a lot."
"My dad is strict. Sometimes I don't like it!"
"Everybody likes my dad. He shows me how to make friends."
And on and on came answers from my cherubs. I then asked myself, "What is special about my sons-in-law as fathers?" My answer, "I see them as both mother and father to my grandchildren!" I say this tongue in cheek, but in actuality it is a truism. The fathers of my grandchildren are as much their children's mother as their father! In other words they get the importance of parenting!
With great pride, Let me introduce them to you: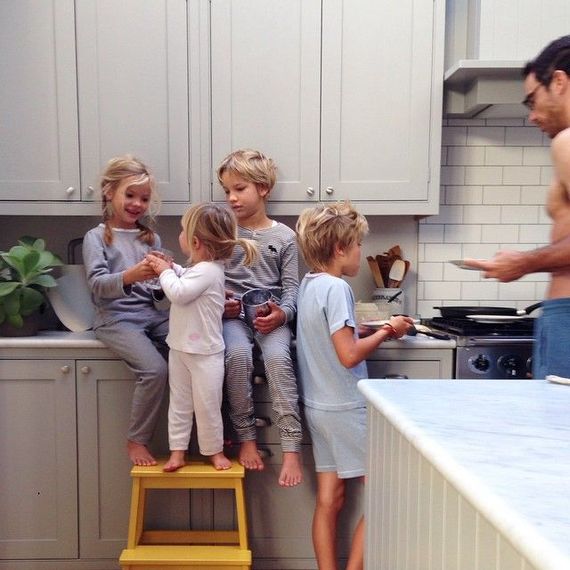 My son-in-law, Bruce, is Jenny's husband. My nickname for him is Mrs. Doubtfire! He can and does everything a wife can do! Everyone knows him at the grocery market and deli! He prefers to do the grocery shopping, because... he says, "Jenny spends too much money!" He is the family chef because, "Jenny only cooks breakfast and anyway she would rather cook up a piece of art in her studio than a brisket in her oven!" He makes the best matzo ball soup. "I cannot share my mother's (she passed away) recipes. They are a gift to me and sacred." He grills steaks to a perfect medium rare, picks his own kosher hot dogs at the deli, and wears his chef's hat proudly! He is a cheerful budinski, always giving his opinions, theories and offering to help you with everything.
He is the father of my three grandchildren, all disciplined athletes and students because of his dedication to his children's routines. He hires private coaches and coaches the kids, talks when needed to his children's teachers, and travels to my grandchildren's out of town games.
On one occasion we met them in a small Southern city to watch our granddaughter play softball. Arriving early we knocked on the door of their hotel room and there he was ironing my granddaughter's jersey! He is truly a Mrs. Doubtfire. The family travels together, spends their weekends together and their greatest joy is sharing their lives as a tightly knit unit of "one."
He is a 100 percent family man. He is big, burly, a hockey player and golfer and owns his own insurance agency. I would describe him as a big teddy bear! He loves and adores my daughter Jenny, with a passion, since the first day he met her on their college campus. I applaud him for making his family as important as his career. I dearly love and enjoy him and wish him a well-earned Father's Day.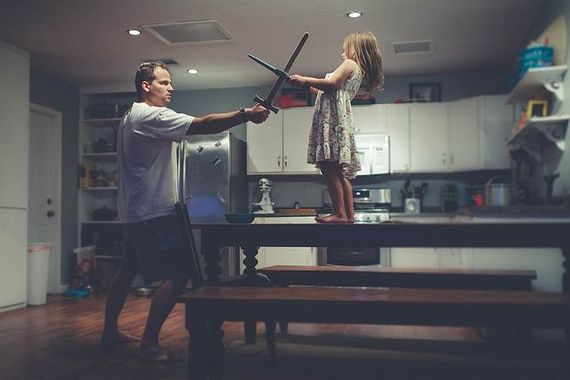 My other son-in-law's claim to fame is provider and father to eight children! He says,"My wife (Lizzie) is the engine that drives the train."
I say, "Not quite! He supports the passengers on the train!"
He cooks the turkey on Thanksgiving, barbecues on the weekend, captains the family boat on Lake Michigan all summer with all my grandchildren onboard fishing and water skiing. He presides at the family Shabbat Dinner, with Lizzie lighting the Shabbat candles and my son-in law speaking in fluent Hebrew (he is Israeli), every Friday evening so the children will learn their religious traditions.
The house is always filled with family and friends! He is a family man in every sense. Loving and caring! If I had to describe him in one word, it would be Superman! He has shown, by example, the importance of hard work with no entitlements and the importance of observing religious traditions.
My sons-in-law are the sons I never had. Their mothers passed away so I am "the mom." They also call me Honey! I know if I needed them they would rush to my side. Mrs. Doubtfire and Mr. Superman are two of the finest men I know. I am relieved Lizzie and Jenny chose so well in picking husbands. Thank God!
A TRIBUTE TO MY FATHER

My father was a gentleman and a gentle man. He wore his badge of honor quietly. His quiet strength provided substance in all that he said and all that he did. He was a man that always took the high road. There is not a day that I do not think of my father. He is and will always be 'my moral compass,' this father of mine.
Do something GOOD today: Enjoy your family to the fullest. Give them all big hugs and kisses!
For more Good Morning Stories, click here.