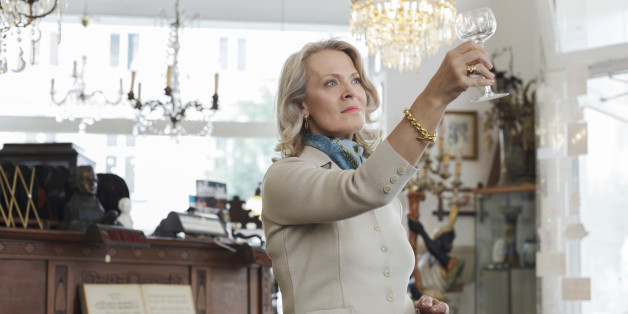 Hanging in the window of my home, in a special room of my own, is one of my favorite treasures. This one holds a special place in my heart. I have no idea who was the original owner. I have no idea its age. I know I have owned it for over 30 years. It was an accidental find.
Or was it?
I dropped off my young daughters at school. Driving home, I noticed a white house with a beautiful sign that said, "Antiques." It was the sign's artistic look (not the words "Antique Shop") that pulled me into the house. From the time I was a little girl I had a love of beautiful objects ranging from the material to the natural. A sunset over the Pacific Ocean or a material item brings equal joy. My mother would say to me at age 8, "How do you find the most beautiful article of clothing on the rack?"
Wandering through the shop, I noticed a stained glass piece of art hanging in a window. The sun's rays penetrating through the glass made the piece jump out at me. I remember the words that raced through my mind that early fall morning, I stopped my car for a reason. It is 'meant to be' that I wander through this big white house filled with a million antiques. This piece of stained glass is waiting for me to give it a real home. I love it and it will always remain one of my treasured finds ... my daughters profiles carved in stain glass.

Of course I quizzed the shop owner about the piece. She told me she could not remember its history. She obviously was a woman who did not delve into the stories of the pieces in her shop. I felt sorry that she lacked the inquisitiveness to know the history of each piece and I wondered why she was drawn to antiques! I paid for the piece and hurried home to hang my daughter's faces molded in stained glass in a sunny window in our home. It remained there for years. My joy never diminished when I passed it each day.
When we moved to Honolulu, several years later, I carefully took my beautiful treasure out of the window and packaged it for moving. I held it to me, loving it as much as the first time I laid eyes on it. I sat and carefully examined it. As my eyes glanced over it, I noticed there was a word etched into the stained glass on one of the faces. I had not noticed the writing years ago on that beautiful fall morning when I knew I was suppose to own this treasure. It said: SISTERS. Today, they hang in a "room of my own" in our home in California.
Do Something GOOD Today: Share a story of your own treasures with your family and learn what their "treasures" are!