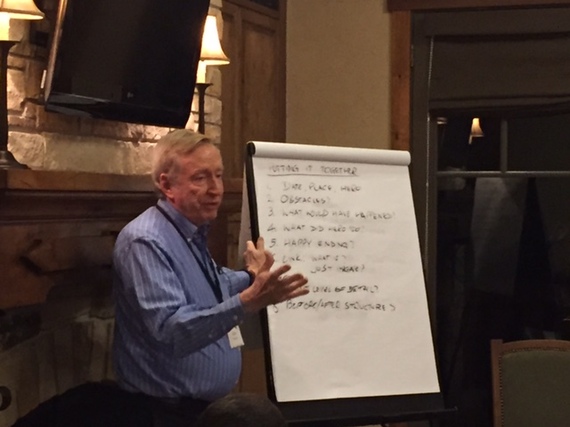 Photo: Steve Denning leads a storytelling workshop.
The one-year-old Center for Innovative Cultures, led by business professor Michael Pacanowsky in the Bill & Vieve Gore School of Business at Westminster College, recently held its premier event, the Collaborative Culture Summit, at Utah's gorgeous Hotel Park City on September 29th through October 1st.
A vibrant international blend of CEOs, non-profit and government leaders, academics and thought leaders came together for three extraordinary days to connect around the cultural innovations needed to unleash the talent, passion and potential of people at work.
The Center event planners designed the flow of the event with exquisite precision, allowing for lots of spontaneity, serendipity and group interaction. Day One launched mid-morning with broad table discussions about the meaning of workplace culture, and why it's important. Participants learned about the work of MIT culture guru Edgar Schein and business lifecycle theorist Ichak Adizes, and processed several models for solving the puzzle of organizational culture.
The day continued with introductions, followed by a deeper dive into the meaning of culture. What makes a good culture? What makes a bad culture? Where does culture come from? What cultural practices are needed to instantiate one's axioms, values and principles? What are the benefits of a good culture?
Scientist and marketing expert Jeanne Ambruster concluded the day, drawing on her deep experience at W.L. Gore & Associates and as a founder-consultant of The Avenues Company to share her thoughts on the crucial distinction between intentional and default cultures.
Day Two required attendees to engage in a rapid-fire series of activities and presentations around workplace culture.
Day Three concluded the conference with reflections, discussions around next steps, and closing remarks. An understated benefit of the conference: the opportunity for participants to share and learn from each other's experiences and perspectives, and to build lasting connections for the journey ahead.
Supported by outstanding facilitators, excellent staff work, and supportive participation from Westminster College representatives, the Center's first Collaborative Culture Summit created vibrant discussion around what the Deloitte 2015 Global Human Capital Trends Report describes as the most important challenge companies face around the world: employee engagement and culture.
The event promises to become an annual highlight for serious business culture explorers.
Doug Kirkpatrick is the author of Beyond Empowerment, The Age of the Self-Managed Organization. He is an organizational change consultant, TEDx and keynote speaker, executive coach, writer, educator and SPHR.
He played the first season of his business career in the manufacturing sector, principally with The Morning Star Company of Sacramento, California, a world leader in the food industry, as a financial controller and administrator. He now engages with the Morning Star Self-Management Institute, Great Work Cultures, The Center for Innovative Cultures and other vibrant organizations and leaders to co-create the future of management. Contact Doug at Twitter @Redshifter3.