Did you know that your old mattress can produce jobs? It does in the world of Greater Bridgeport Community Enterprises (GBCE) where reuse and recycling activities are turned into quadruple bottom line, nonprofit businesses that put difficult-to-employ folks to work at meaningful, well-paying jobs. We do this in Bridgeport, Conn., a Northeastern rust-belt city, struggling to overcome high unemployment in these economically challenging years.
Since 2009 we have created 33 jobs by developing two green, nonprofit enterprises: The Green Team, a contracting business in weatherization, environmental remediation, and deconstruction; and Park City Green, a mattress deconstruction/materials recycling enterprise, opened this past summer.
GBCE enterprises are nonprofits paying a living wage and exemplifying the "quadruple bottom line" of environmental sustainability, social good in training and hiring disadvantaged populations, family economic stability that includes access to health care, and neighborhood economic development.
We create jobs for returning veterans, long-term unemployed, those with low educational attainment, public benefit recipients, and ex-offenders. To qualify them for jobs in GBCE enterprises and with other employers, GBCE provides work readiness, job skills training and counseling/case management. Over five years, we have trained 213, graduated 98 percent and placed 65 to 85 percent, depending on the specific job training and season.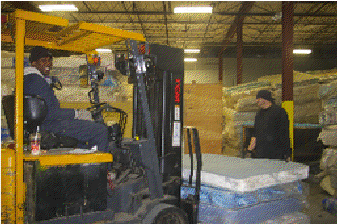 At our Park City Green factory in Bridgeport, Rocshay Thomas (left) and Angel Morales stack old mattresses to be deconstructed so that the component parts can be sold for re-manufacturing. "I'm earning a living wage for my family and helping my community at the same time. I'm also looking forward to learning more about running green enterprises like this one," says Rocshay Thomas. Park City Green has created five jobs in its first six months and will create 20 jobs total in the next two years.
Impact! The new jobs we have created in our own enterprises combined with job placement for our graduates with other employers have pumped an estimated $3.1 million into Bridgeport's struggling urban neighborhoods since 2007.

GBCE's goal is to create 90 to 100 additional jobs to address high unemployment and poverty in urban areas and to develop a model for replication across the country. We will achieve our goal by growing our two current enterprises and by using our experience and expertise to develop another two to three green businesses over the next four to five years.
The Huffington Post's JobRaising Challenge will help us reach our job creation goal by funding a new Green Business Hub for shared services and expertise for current and future GBCE enterprises. As the cornerstone for our job creation and new enterprise development, it will house GBCE's offices, new business R&D and job training.
In the Hub, GBCE's enterprises will access professional development and mentoring; TA and operational guidance; back-office IT and administrative support, accounting and HR services; workforce development; and forward-looking identification of emerging trends and market opportunities. This package will help our current and future businesses to grow, succeed and create jobs. We will grow our marketing expertise and R&D capacity as we identify and research new and emerging markets; and as we develop and implement coordinated marketing strategies. One of our goals is that the Hub will become a center for expertise and TA for similar green start-up enterprises throughout New England.
Impact! $4.3 million to 90 to 100 disadvantaged families and $2 million pumped into our struggling urban neighborhoods over four to five years. And beyond that, these 90 to 100 new jobs will bring $2.5 million to disadvantaged families each year who will invest $1 million annually in their communities.