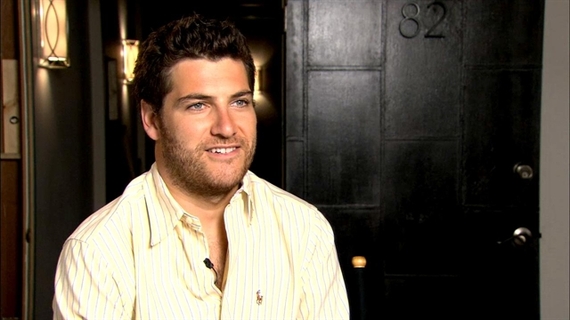 Photo: Fox
It's not quite breaking news, but anybody with any pop culture savvy already knows that Adam Pally gives good "bro." The quintessential buddy/guy-next-door/bro-you-can-hang-with has become one of TV's more reliable supporting players. It may have started with his role in ABC's cult hit Happy Endings. (Fans are still miffed over the show's cancellation.) But when Pally turned up on the Fox hit The Mindy Project last season, the actor added a rare creative combo platter of smarts and humor with his character Peter Prentice. He blended into Mindy Kaling's star vehicle so well that it helped fuel another season pick up.
But Pally is good at being a team player. After climbing the ranks of New York's improv scene, the New Jersey-born actor eventually found himself orbit around the TV Universe. His comic verve goes beyond that, however. Case in point: his collaboration with Philips Norelco and YouTube titans like The Warp Zone spawned an online outing dubbed Game of Bros. Sure, the branded comedy videos promote Philips Norelco's Click & Style razor but they also reveal Pally's broad range and impressive ability to morph into the "American Bro."
Here, on the eve of the season three premiere of The Mindy Project, the actor opens up about comedy, the secret to being part of a winning ensemble and other quirky anomalies.
Adam Pally: What's up, dude?
Greg Archer: You know, I'm evolving. How are things with you?
Adam Pally: I'm alright. I'm getting "evolved."
Greg Archer: Good. Tell me: What are you enjoying most about The Mindy Project?
Adam Pally: I like working there. It's such a great work environment with Mindy. It's a super fun place to be.
Greg Archer: You all click as an ensemble, so what do you think it is that makes you "click?"
Adam Pally: I don't know if there's any one thing. I know that the show went through a bunch of transformations--casting and such--until they found one that worked. The other show that I was on before this--Happy Endings--we had magic from day one. But there's really no magic formula to the ensemble thing. You kind of pray that you can get it and once you get it, you got to follow it.
Greg Archer: I get it. You know, I miss Happy Endings, as I am sure others do, too.
Adam Pally: Thank you. Yeah. I miss working with my friends. But I don't know if anybody else misses it, because I don't know if anybody else ever saw that show. [Laughs]
Greg Archer: It was really inventive. But so is the show you're on now. So, what's the trick for you being a part of that ensemble? How does that work for you?
Adam Pally: For me, a lot of it has to do with my work at Upright Citizens Brigade in New York. Though going that training, you really learn how to trust a group; an ensemble. You learn the best way to do a scene and the best way to do a scene with a person and help them be as funny as they can be. It trickles down from the top. I owe a lot now to doing work in ensembles; to doing the training I did at that theater.
Greg Archer: I was going to ask you about your time at UCB, but let's go back farther than that. Did you always have a sense that you would be performing? Or wanting to be an actor, or comedy?
Adam Pally: My family moved around a lot when I was a kid. I was in different schools and around different groups of people and I found that if you could make people laugh, it was easier for them to enjoy spending time with you. When I was 16, I was taken to a show in New York and we saw Andy Daly on stage and we were just kind of like, "Oh my God. This is what I need to do." Since then, I always knew I would be doing something in comedy.
Greg Archer: Any other strong influences growing up?
Adam Pally: Well, I am the first child in a Jewish family. So, whatever I said I wanted to do, my mother thought I was a genius. I was lucky enough to have that. My heroes--Gene Wilder was probably my No. 1 hero. Bill Murray, Albert Brooks--people who really formed a lot about me just by watching the way they performed. Will Ferrell. The whole gamut. And of course, Amy Poehler, is probably my No. 1 influence. Not just in comedy but in how to be a cool person.
Greg Archer: I was curious about Game of Bros. Good for you. Can you talk about the impetus behind that?
Adam Pally: That was one of those things with Norelco doing this online campaign. You know, I just think there are so many ways to do comedy and if you can be funny doing something like a commercial, it's all part of the gamut of your experience.
Greg Archer: Would you say that you are naturally funny?
Adam Pally: No, no. I would say I am really insecure. In order to combat that, I have become unnaturally funny.
Greg Archer: Did that start long ago? I suppose we're all insecure on some level.
Adam Pally: Well, I was a chubby kid. I moved around a lot. Those things had a lot to do with it. And just ... a bunch of Jewish neuroses.
Greg Archer: Yeah. I had Polish-Catholic neuroses. I can sort of relate.
Adam Pally: Nope. Not at all.
Greg Archer: Yeah, I guess not.
Adam Pally: Although ... if you have Polish neuroses, doesn't that mean you are freaking out about the screen door on your submarine or something?
Greg Archer: Yeah. Well, you're kind of freaking out about everything, perhaps. It's kinda like thinking Stalin is coming over at any moment. What can I tell you?
Adam Pally: Yeah, yeah. And Jews--they just know Stalin is coming over!
Greg Archer: You're right. That's an incredible distinction. We fear it and you know it.
Adam Pally: Yeah. There you go.
Greg Archer: So, onward. What do you find most humorous these days in the entertainment world, or the world at large?
Adam Pally: I love the show Silicon Valley. I think anything on Comedy Central right now is funny. I love Fargo [on FX]. I loved Guardians of the Galaxy. But you know, I have two little babies [with spouse Daniella Liben] so I don't get to see that much stuff.
Greg Archer: What are their ages again?
Adam Pally: Two-and-a-half and one-and-a-half.
Greg Archer: Perfect. So, what's the best thing about being a dad, then?
Adam Pally: Oh--nothing! [Laughs]
Greg Archer: Well, there has to be one thing.
Adam Pally: Best thing? That I am not the mom.
Greg Archer: Well, there's that. That's a perk. So, one more thing. What's some of the best advice you have been given about life?
Adam Pally: I think for me, it's from something I got at UCB. They tell you not to "think--"Don't think!" I try to go with that. Sometimes, obviously, you have to analyze the situation, but most times, I am going to act or react--right from my gut.
The Mindy Project airs at 9:30pm (8:30 CT) Tuesdays on Fox.