The floats passed by me. The celebrations happened. The rainbow flags were waved -- some, in fact were worn (as underwear). So how is it that I came out the other side of Gay Pride month (June) more confused then ever?
Fear not, fellow gays, I'm not turning straight. I'm turning inward.
That's right, it's soul-searching time. (Who's with me?)
Oh, I dig Gay Pride. I do. A celebration for who you are, deep to the core? Please -- fun. Necessary even. Civil rights, right? It's just that somewhere between the mid-life crisis I've been nursing for a couple of decades -- I was an early starter at 20 -- and the modern-day social pressures found in the suddenly fast-paced and curiously beefed-up world of male homosexual Utopia -- OK, I get it: big biceps and tight T-shirts! -- I realized that while being without a partner is not a bad thing (marry yourself first, is what I say), it may be suddenly throwing my dating GPS off, sending me down avenues I don't recognize.
When you're a professional and 36 -- fine, 40 (alright 43!) -- and realizing that you can't buy your a career a drink -- although the opposite is true -- how do you maneuver through the changing gay dating scene?
My investigative reporting came up with the following:
Therapy: All the cool gays are doing it. Kidding aside, when one becomes the perfect barometer for their own emotional weather, they, in turn, come to realize that much of what their potential partner says or does has very little to do with, well, them. In other words: Don't take things personally. Do the inner work. Somebody has to. Know thyself and thou shall be happier (on occasion). Note to self: Should somebody recommend couples therapy right off the bat... move on.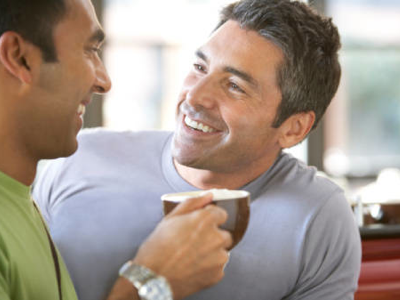 Courtesy Manifesto Denver
Picky is Passé: Back in the day, when the day found me years younger than I am now, my friends used to tell me that I was being too picky when it came to having a relationship. Back then, I didn't fully realize that dreaming up a lumberjack type who can cut down a tree, chop the wood, carry loads of it into the house, light a fire, then sit down at the table across from me and be totally intrigued by my dinner conversation was, well, self-involved. (See "therapy.") Best not to be overly picky, I say. Muster up the strength to consider -- just consider -- that the connection you/we/the whole lot of us, are seeking is more of an internal one. Broad, solid pectorals are great to look at -- well, touching them isn't that bad, either -- but if the dude sporting them can't dot any internal "I's" or cross his emotional "T's" ... what's the point? I've often asked single people on the search -- both straight and gay -- what they're really looking for? Inevitably, it comes down to connection. Real connection. And then there's...
"Connection" Needs A Reboot: With all these new ways to "connect," are we really connecting at all? (Hello, iPhone, Twitter, Facebook.) Have we -- like, everybody -- become a nation of addicts and ADD-ridden folks? You betcha! Nowaways, in the gay dating world, Grindr is a hit. It's an App that allows the user to locate other gay men on the prowl -- near them. Think of it as a Gay GPS. It's a frisky roadmap to an amore -- for the night. But that's all it is. Those who are single and really interested in meeting somebody new would benefit best from the best connections of all -- friends. Those friends have -- get this -- other friends, who, in turn, know -- what's this? -- cool people. (Those are always fun to have around.) Better to be introduced to somebody through a friend of an acquaintance -- you know, the "old-fashioned" way. Beyond that, groups like GLAAD or the Human Rights Campaign, and many, many locally-bred LGBT organizations tend to have functions. Interesting, professional people typically attend those functions. Go to one. Connect.
Fate Date: Sometimes, the best thing to do is, well, nothing -- in that, don't look for "it." Live life. Be happy. Be social. Be you. ...and the Universe tends to take care of the rest. In Oprah speak... "live your best life, girl." Healthy and happy inside and out tends to attract a similar vibration. Much like checking oil in your car, check your vibe. What are you "putting out" there, man?
Speed Dating: Sometimes it's good to take a break from diving "deep." But speed dating? You never know what somebody might say in a 3-5 minute mini "date" interview. Sometimes that's all it takes to glimpse a real possibility. One such outing piqued my interest so much that I had learn more. Armed with integrity and a fierce determination to uncover the truth, take note of what my investigation uncovered: