It's not the most earth-shattering news, but it certainly forced my eyebrows to arch: Mario Cantone, that loud, out and proud New York actor-comedian has never performed in San Francisco? I'm at a loss for words--something Cantone never seems be in short supply of.
Yes. It's true. Cantone hits San Francisco for the first time Saturday April 10 at the historic Castro Theatre. And it's perfect timing. Hello? Have we seen or read the news? Jesse James, a Sarah Palin reality show, the debate over gays in the military? Please. The pop culture smorgasbord couldn't be more delicious for comics right now.
It was in July of last year when I first experienced Cantone's humor live. I was covering the taping of the Comedy Central Roast of Joan Rivers, where the comedian boldly took the stage and suddenly began channeling Judy Garland, then Liza Minelli and then guest of honor, Joan. Savage.
Creatively, Cantone is a frenetic, smart-mouthed New Yorker with a savage tongue and biting wit. He's that shamefully honest pal you always wished you had--a gutsier Will Truman with splashes of Rhoda Morgenstern tossed into a comedic blender set on high. Downright fun.
But real.
Beyond the stand-up, Cantone is also a celebrated New York stage actor, who really turned heads with his Tony-nominated one-man show dubbed "Laugh Whore." The festive outing, which premiered in fall of 2004, shed more light on the man who played Charlotte's best male bud in HBO's Sex And The City. He later reprised the role in the film version several years ago, and makes another splash with the Carrie and the gals in May's SATC sequel. (Hard not to forget his Comedy Central special or frequent appearances on The View, either.)
Meanwhile, Cantone, who turned 50 in December, took some time to answer a few of my "burning" questions. Truthfully, I really only had three or four for him to ponder, but in 2010, what with the political climate the way it is and gay rights still a pressing concern, a chat-fest was born. Listen and learn ...

Q: So, what's been on your mind lately?
A: Our black president can't say that he's for gay marriage. That is upsetting to me.
It is disturbing.
It's retarded. Dick Cheney was able to say it. And he can't say it? You're a cultured well-to-do, handsome, sophisticated, brilliant black man--you're not going to tell me your wife does not have any gay friends. C'mon! It's all religion and it's all annoying. It pisses me off. And, the health care passed and it's all great, and I know he's moving on things, but I want to hear that from his mouth. I thought before, "Well, he's not saying it, so he can get in." Then he got in and still's not saying it!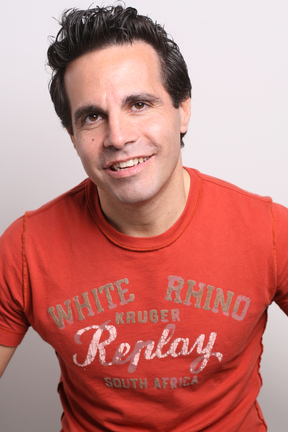 I voted for him and I love him, but even Clinton--now he's saying he's for gay marriage after leaving office?
Annoying.
I do have to say, I like Bill Clinton. I believe he [was supportive of gays] but didn't say anything. But he was tackling the military thing. And this was years ago. What he ran into with the idea of gays in the military was people around him saying, "Don't do it, because they'll kill you. Just like they killed Kennedy." I believe they were really like, "Just shut up." Now, with Obama, he doesn't have people saying shut up about all that. There are 90-year-old generals going, "So what? I've worked with homosexuals. I've worked with gay men in the military and they're some of the best in their jobs. So what?" They don't care any more.
So, what can the LGBT community do?
All you can do is keep mouthing off about it. Join the army and have sex with your sergeant? I don't know. I am so not militant and marching. I'm a humanitarian and things fire me up and I think we should all say what we need to say about it. I mean, I guess we can all write to our president or our congressman, but does that work? I don't know. "Write your congressman! Really? OK!" It's like, send your resume in and it's going into the waste basket. So ... I think what we can do about it is just be present.
So, Ricky Martin ...?
I think what Ricky Martin has done is really awesome. Some people are like, "Oh, we knew." But you know what, not everybody knew. People in the business knew. Guess what? Middle America didn't know. And his Puerto Rican Catholic fan-base, either they didn't know, or don't want to know. But, he's the first male sex symbol to ever come out in the peek of their beauty. So, I think it was really brave. And he may have waited [to do so], and maybe people told him not to do it [sooner] when his career was huge, but at that point, you're in it. And he waited till now, I think, for no other reason than because he was sick of it. His career would have been over if he did earlier.

Plus, everyone's coming out journey is different, so ...
I agree. Everybody grows at their own time. And you know, I've been out for a long, long time. And as a comedian, you're up there, and if you're hiding something, people know it. Even as an actor, as talky as I am, I understand why so many leading men in Hollywood aren't out--it would be the end of their career. I get it. If they can live like that, good for them. I could never do it. And it's not even about doing it for the community, although it is. Gay men, gay women still have a tough time coming out. Some want to kill themselves because of it, and they need to hear about this and see people working in their professionals and living free because that does help them. At the same time, I do it [live out] because it's exhausting to live the other way.
It takes a lot of energy.
Yes. But people's careers are very very important to them; money is very important to them.
When did you come out?
Coming out to yourself is really the first step. I was 12. And it just to friends and a couple of family members. I didn't do it on a loud speaker over the high school. [Laughs] Then, as a comedian, I didn't hide it. And I was in mainstream comedy rooms and it was a little scary. But after a while, I was interviewed for a gay magazine, and I had hardly been interviewed before, and somebody asked me and I said it. But it took me a while to be comfortable with it [professionally] but I also wasn't famous at all. Then Sex And The City happened. I've been out publicly for a long time. I'm from Massachusetts, where Nancy Kerrigan is from, and I was out in high school.
How was that for you?
In junior high school I was just tormented by all these jocks. It was horrifying. I was afraid to go places with my parents because I was afraid somebody was going to call me faggot. Then, all of a sudden in tenth grade, just through being a performer and showing what I can do onstage in talent shows and plays, the respect I got flipped over. And then, all these jocks that used to torment me, one of them, became a huge protector of mine. He wouldn't let anybody give me shit. And this was in the '70s.
A great time for gay rights.
In the '70s, the gay movement was really making strides. Huge strides. And then AIDS came along and slapped a judgment on it all and the Right Wing religious movement was like, "See. This is why, we told you." And it pushed back the movement 30 years. And we just made some strides in the last decade. But with actors and comedians, I don't think so. It's still very difficult being an openly gay performer.
Your San Francisco premiere is a good thing. What's on the agenda?
I am pretty much going to do an updated version of "Laugh Whore." Mostly a lot of stuff people haven 't seen yet. Some material is current. I think about stuff and talk about it.
I never know with me. I get up there and then I'm like, OK ... I structure it and then there are pockets in the show where I like to talk about certain things. I write "on my feet." I mean, I don't write with my feet like Daniel Day Lewis in My Left Foot, but I write on my feet.
What makes you laugh most?
South Park.
What really irks you?
I think our president not being able to say gay marriage--that pisses me off. And young kids getting killed in the Middle East. It's nonsensical. And reality TV stars. Ugh. Kate Gosselin--horrible and talent-free.
One thing that makes your relationship [with Jerry Dixon] work?
Comfort. Silence. And traveling well together. It's been 20 years.

What's the best advice you've been given about life?
Talk yourself down.
I think I needed to hear that.
I'm telling ya, it's a good thing. It works.

So, what's the most interesting thing you've learned about yourself lately?
That I can get through some really hard stuff. I mean, the things you think will never happen, you have to confront; those things that come into you're life that you thought you never could deal with, you do.
Check out my exclusive video coverage of the event below:

Learn more about the man here. Catch my Red Carpet interview with Cantone and others from the Roast here.