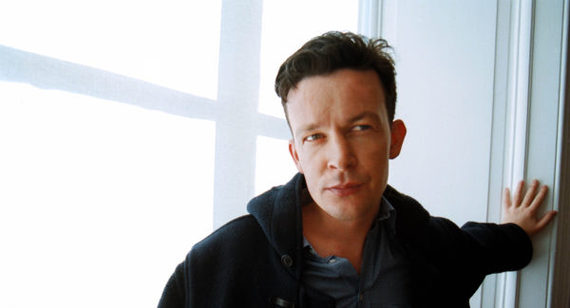 Courtesy: TheaterWorld
I often write about agents of change. You know, those enterprising souls whose work in the world somehow makes a positive difference. So inspired am I by the rare posse of filmmakers, authors and health advocates I come across, that I just have to learn more about them.
Enda Walsh is one of those unique humans. You may have heard of him by now. The Irish playwright nabbed a Tony Award in 2012 for crafting the stage version of Once. Known more for his dark, haunting works like Misterman and Penelope, the project became somewhat of a baffling surprise for the man, creatively speaking. Walsh came on board with musical supervisor Martin Lowe and the trick was to capture the right nuances of the tender story from the 2007 hit movie starring Glenn Hansard and Markéta Irglová.
They did a good job, obviously -- the musical garnered eight Tony Awards. It opens at San Francisco's Curran Theatre this week and runs through July 13. The plot of the stage version mirrors that of the film: A young woman takes an interest in the haunting love songs of a beleaguered Dublin street musician and their subsequent creative partnership alters their lives.
But how did a guy who typically delves into more disturbing psychological waters in his work manage to come up for some creative levity for Once. Burning questions. I learned about that and more. Read on.
Greg Archer: The musical was a big change for you wasn't it?
Enda Walsh: In terms of the content, it was a bit of a holiday from myself to work on something romantic and sweet.
Greg Archer: Yes. Well, your other works were a bit dark, right?
Enda Walsh: Yes. But we all had come from things like that. Director John Tiffany and choreographer Steven Hoggett did this amazing film Black Watch, about the Iraq war, which was really hard to look at. It was all very very frightening for all of us to be in the room and keep our hands off of the stage version. Once was a very beautiful film. It needed shaping and a dramatic structure and a language and to be framed for the stage, but apart from that, it was such a beautiful love story. It was just bizarre, a very weird mix having the four of us do it, to be honest. But when we were all making it, we all felt as if we were in a very good place. We wanted to make it as beautiful and heartfelt as we could.
Greg Archer: What did you find most challenging?
Enda Walsh: I think it was the framing. In theater, audiences are used to handling theme, whereas in film, it's more about controlling the story, so it was unlocking and maintaining the theme. It began in a sort of communal way, these oddly shaped people, from a creative standpoint, that shouldn't be together coming together and making something beautiful. It was the most difficult thing. I mean, oftentimes, musicals feel very needy to me--"look at me; don't look there." So we had to exhibit a kind of restraint, and the audiences seem to be bringing in their own love story experience when they experience it.
Greg Archer: It continues to move people, perhaps more than anybody anticipated. Why do you think that is?
Enda Walsh: A couple of things. For one, the communal aspect of it. It's so unflashy. Audiences love the aesthetic of it. They're like, "Oh god. That's it?" And it's like, "Yeah, that's it" ... Just actors playing and singing music very well. It's very naked. They are responding to that. What theater does great, when it's done properly, is that it really allows the audience time and to meditate and to be in it. That sort of takes some confidence -- to sort of strip it back and push all the right buttons.
Greg Archer: Did you ever imagine yourself doing something like this?
Enda Walsh: No. I was so ridiculously involved in my own things and initially, I felt a bit embarrassed that I was asked to do it. I thought, "This isn't really theater!" That's how pretentious I was. It's all just storytelling. But it has taught me a lot about theater and how to make it. It was a real shot in the arm to do something that was heartbreaking and wears its heart on its sleeve. There was something really strong about that.
Greg Archer: What surprised you the most about the experience, aside from picking up a Tony perhaps?
Enda Walsh: It was very interesting to watch the mechanics of something work and go, "Jesus Christ!" And to see a part of this big business -- Broadway. I had never experienced that before. We were lucky with the people that we worked with. They were ready and supportive. I thought we were going to be killed by them; thought we were going to be turned into a commercial piece of theater, but the beautiful thing about it was that they steered it really well. Basically it was the same show. It still works and they really stood by that and allowed us to have space, so for a commercial director, I was surprised that they gave us the space; that they trusted us. And you know, none of us had made any money in our fucking lives--ever. We go on to make our living, but this was very surprising.
Greg Archer: I often ask this of writers -- why do you write?
Enda Walsh: I write for myself. I have been writing fiction since I was 13. I wrote because I wanted to be around strangers and characters--to know what it was like to walk in a different set of shoes. It is really investigating strangers. But also, I do dig, more and more, sharing something with thousands of people in the theater. And sitting there, it's terrifying, initially. But it's very strong. It's not like putting a painting on the wall. It's much more dangerous than that. And I really respond to that; that communal aspect of it.
I also remember as a boy going to mass and really loving it. And going, "Man, this is great." And then of course, giving up on God when I was 10 and going, "This is bullshit." But I do miss that communal aspect of it and theater has that-- everybody facing one direction and everybody being a part of the community.
Greg Archer: Many writers have told me that they have confidence issues. How about you? How do you cultivate and nurture something like that?
Enda Walsh: I am never am very good at disappearing and getting lost in a story and coming out the other end. Also, I know I am a work in progress. All writers are. I think it's a matter of being in the moment and staying with the work and saying, "Well, this is really the best I can do." And then going into another project and sort of learning again. I feel much more confident than I did when I was in my twenties. I have learned a lot more I suppose.
Greg Archer: Who were some of your influences early on, creative and otherwise?
Enda Walsh: All Irish people are writers. Everybody is a kind of storyteller. Although, my mom was an actress and I come from a large family and she had given up acting by the time I came around. I was the second youngest. But my dad was a salesman and he was my introduction to performance; watching him work the shop floor and change his body language and that sort of thing. That was his stage. That was my first introduction to "theater." In terms of writing, you know, I loved poetry when I was a kid. Irish poems--Yates and such. I feel really lucky that I come from a country where it's not an embarrassment to say that you're a writer. People go, "Wow, great. What?"
Greg Archer: What is some of the best advice you have been given about life?
Enda Walsh: An actor gave me great advice once. He said, "Never be afraid to punch someone. Just hit them." But that's not good advice. [Laughs] I think it's that all you really need to do is to get lost in the process; to trust the process and stay with the work and concentrate. When you look back your life, it's just short periods of time. I only worked with these people three weeks of my life. But it was three weeks of 15 years of experience and just concentrating and letting it go. Just trusting the process, listening to the characters, listening to the work and allowing it to find its way. And you carry that sort of philosophy to everything--that things will sort of find their way. You need to just allow it.
Once plays at San Francisco's Curran Theatre through July 13. Catch up on the show here. Read other entertainment stories and watch red carpet coverage from Greg Archer here.