Roseanne Barr is the titular comedy legend that went from "domestic goddess" to über sitcom empress with her Emmy-winning ABC romp Roseanne. She survived scandals -- Tom Arnold, singing (or was that purposely butchering?) the National Anthem -- numerous changes in her physical appearance, tons of criticism (and just as must praise, actually) only to head into the millennium as a hip, Earth Mama overseeing operations of a Hawaiian macadamia nut farm (see Roseanne's Nuts for reference) and came out the other side as a vocal presidential candidate running on the Peace and Freedom platform.
So, how do you dismantle an icon that's survived it all?
Cranking up the heat helps. For that, we have have Comedy Central to thank. The grilling happens at the network's festive Comedy Central Roast of Roseanne, which airs at 10 p.m. Sunday, Aug. 12. Yes, this is pretty much the mother of all roasts and could go down as one of the most enjoyable comedic slayings the franchise has ever produced.
Things to know: Glee's Jane Lynch is this year's roastmaster. As for the dais, it's filled with a lively posse that includes Seth Green, Amy Schumer, Anthony Jelsinik, Jeffrey Ross, Ellen Barkin (really? yes, really!), Katey Sagal, Wayne Brady and the incorrigible Gilbert Gottfried -- no comic can match his undeniably savage, unrelenting delivery. But watch for Carrie Fisher to offer some of the evening's most intelligent barbs. (Is that the first time "intelligent" and "barb" were ever used together?) The prolific author whose one-woman show Wishful Drinking was a hit on Broadway not too long ago, is in fine form here. Take note: Tom Arnold's "surprise appearance" is a keeper.
As for Roseanne... has this woman ever looked and sounded any better?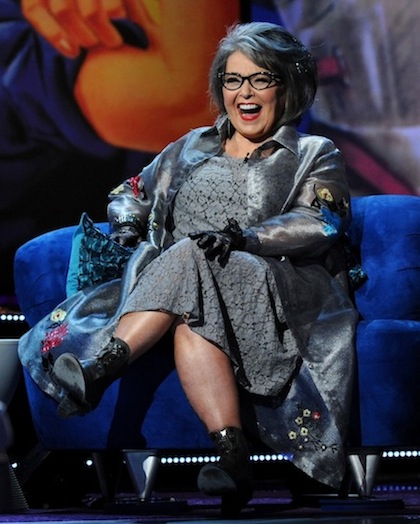 Photo: Courtesy Picture Group
The comedy barbecue was taped at the Hollywood Palladium. As for the after-party -- always fun to have one of those -- it was held at the swank Boulevard3 on Sunset and proved to be just as amped. Ro even hit the dance floor. Flanked by fans, she shook her groove thing, posed for pictures and then seemingly ventured off, disappearing into a cloud of smoke. (Insert marijuana joke here -- yes, that would be because Ro has a long history of being pro 420. Try to keep up!) Other Roast attendees were in the house, including Michael Fishman and Alicia Goranson (of TV's Roseanne), roasters Ross and Schumer, Glee's Chris Colfer -- nice dance moves, buddy! -- and a denizen of others.
(Here's a shout out to Ross and Schumer. Both comics have upcoming outings on Comedy Central. Ross, the "Roastmaster General," actually has two. The first is a one-hour special dubbed Jeff Ross Roasts America (11 p.m. Aug. 11) in which the comic roasts his way across America, "one city and one group of masochistic volunteer roastees at a time." (Best bet: watch for Ross to roast a statue of Abe Lincoln in Washington D.C.) His other caper is a weekly gig called d The Burn with Jeff Ross, which premieres Aug. 14 -- Ross takes on the week's sizzling topics and current events. Other comics come along for the ride. (Think Chelsea Lately -- but louder, perhaps a more testosterone-driven savage affair.) Meanwhile Schumer, one of the best female comics to emerge from the annals of modern-day comedy, should turn heads with Mostly Sex Stuff, a one-hour stand-up soiree -- her first (you go, girl!) -- that was filmed in San Francisco's historic Fillmore and which airs at 11 p.m. Aug. 18. The show wanders through Schumer's "messed up" details of her dating and sex life.)
Back to Ro. Even though the comedy goddess was ripped into at the Roast, the evening ended with plenty of praise. It would be hard not to toss accolades her way, though. Roseanne is, after all, a vigorous trailblazer. She's one of those rare creative beasts who, like Henry Rollins or Sean Penn before her, is able to generate a conversation on topics not typically being addressed in traditional media -- from LGBT rights to environmental causes and more.
Eager pop culture traveler that I am, I thrust myself onto the red carpet -- actually, it was brown like the rug in her famous sitcom -- prior to the Roast for some fodder.
Come along for the ride below: